There's only one thing worse than striking out — it's striking out looking, rather than swinging.
I think the same is true of artists.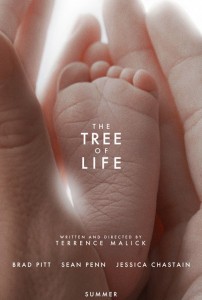 I've always appreciated when an artist is willing to take a risk — swing for the fences — even if they whiff. Perhaps they attempt something unconventional or outside their comfort zone, something crazy different. And they bomb. They get panned. Sure, they struck out. But at least they did so swinging.
As an artist, there's only one thing worse than bombing — it's never giving ourselves a chance to do so.
I was thinking about this when I watched Terence Mallick's latest film The Tree of Life. I love Mallick's stuff, Days of Heaven and The New World being two of my favorites. The Tree of Life is this sprawling, disjointed, complex celluloid muse about the origins and meaning of life as seen through a middle-aged man's childhood memories. In between, we glimpse God (at least, a gaseous rainbow cloud), the creation of the cosmos, amoebas, dinosaurs, volcanic landscapes, and Scripture quotations.
It's a very ambitious film.
It's also very polarizing. While some see it as profound and moving, others see it as nonsensical and pretentious. So while one critic calls it "a transcendent achievement," another says
If I can prevent just one person from watching this, it'll have been worth suffering through it.  
I hate to say it, but after watching the film, I have to side more with the "head-scratchers" than the cheerleaders. It's just too far out there.*
But is this a bad thing?
I'm at the front-end of my writing career and already I've felt the temptation to play it safe, settle in, and find a niche, rather than to swing for the fences. I want to develop a template that "works," plots that are do-able, characters who don't interrupt me, and an assembly line to crank them out. I want to find what's "hot" and chase the market, rather than risk something original and out of the mainstream. I do not want to be stretched. And heaven forbid I stretch my audience. Translation: Why swing for the fences when you can take a Base on Balls?
The reason Terrence Mallick could (in some people's eyes) bomb so badly is because he's taken risks his entire career; he struck out swinging because he was aiming for the fences.
Which is precisely why many of us may never strike out swinging.
* I found THIS review perfectly summarized my confliction over The Tree of Life.