So when did Jesus go soft? When did He go anti-capitalist? When did He suddenly become this holy hippie who winks at sin and rails against the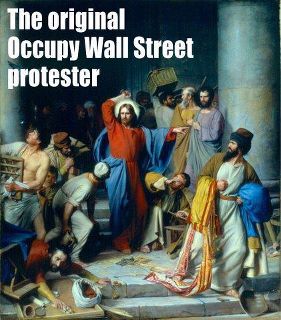 establishment? When did He stop making exclusive claims, dividing people, and warning about a place of eternal torment? When did Jesus stop being the Judge, and simply become the Good Shepherd? When did He stop loving CEO's and day traders? When did He join forces with Michael Moore? When did He become a professional protester?
When was Jesus crowned "The King of the 99%"?
The Occupy folks get one thing right — Jesus would probably get angry with us. He would probably overturn a few tables.
I'm just not sure He'd overturn the tables we want.
And really, that's what I love about the biblical Christ. He was enigmatic, He marched to His own Drummer. His kingdom was not of this world and the moment the crowds attempted to "take Him by force to make Him king" (Jn. 6:15), He fled to the hills.
Which is why I'm leery when any social / political movement seeks to attach Christ to their cause.
Saying that Jesus is "behind the Occupiers" is as wrong-headed as saying He's a Tea-Partier.
Listen, I believe human life begins at conception (not sure when else it would begin). I have participated in Pro-life events and contributed to Pro-life causes. I believe that abortion may prove to be one of the greatest evils of our generation. But I must be careful not to make Jesus the King of My Cause.
Do I think Jesus is against abortion? I do! But the moment I start organizing movements and protests, the moment money starts flying, the more pacts are drawn, sides are taken, and people are statisticized, is the moment things get sticky. When I start proclaiming God's on my side, I better watch out.
For all I know, Jesus might overturn tables in some Pro-life campaign offices.
Despite what some want us to believe, helping people "unite" or overthrow capitalist systems did not seem to be a priority to Jesus Christ. Getting this president or that spokesperson elected didn't appear on His docket. In fact, organizing campaigns of any sort, even ones of noble cause, wasn't on His agenda. His aim was much bigger, much "deeper."
So be cautious about trying to make Him the King of Your Cause… because He might end up overturning a few of your own tables.