If contemporary writers have lost anything, it's patience. Nowadays, author empowerment has preempted what used to be status quo for our industry — waiting. Tired of submitting queries to agents, waiting months for publishers just to reject your novel? No problem. Now you can do it yourself. As a writer, patience used to be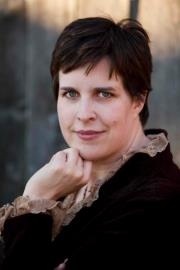 a virtue. But now, it's an option. Thanks to self-publishing,  you never again have to wonder if your book will see the light of day.
Maybe that's why I'm so impressed with Jessica Dotta.
Jessica was one of my first-ever crit partners. She was working on a Gothic Historical entitled Born of Persuasion at the time (back in 2005). We often critiqued each others work. She was part of the Penwrights group along with Gina Holmes and Ane Mulligan. In fact, I mentioned Jessica, Ane, and Gina in the Acknowledgements to The Resurrection. They played a huge part in my development as a writer.
Jessica, like many unpublished authors, is a terrific writer. Born of Persuasion has rich characters, is well researched, and beautifully written.  However, Jessica's quest for publication was a familiar one. She solicited agents, attended conferences and workshops, and endured multiple  rejections. But she kept coming up empty. After four or five years of this, most authors would be planning to self-publish. Yet Jessica clung to her dreams, and remained patient. So I was thrilled to hear that Jessica Dotta has finally been contracted, signing her historical trilogy with Tyndale House Publishers! Its estimated release date is mid-2013. The announcement at Novel Rocket was fittingly entitled News That's 10 Years in the Making.
10 years!
And just think, if Jessica had not been patient, this would have never happened.
Of course, some may interpret this as a slam against self-publishing. It's not. I've done both: Had books traditionally published and self-published a digital novella. There are wonderful options for authors these days. Nevertheless, most authors would agree that being traditionally published is still the ideal option.
So why do we give in to self-publishing so easily?
Like many, I believe that good stories cannot remain unnoticed. Strong writing, compelling characters, and intriguing plots will eventually win someone, somewhere, over. I think Jessica is a testimony to this. Sure, it might take 10 years. But so what? The problem with contemporary writers is that we don't give our stories enough time to go unnoticed. We get antsy, impatient, gripe about the system, and concede to self publish. Usually, way too soon.
The question you should ask yourself is this, Are you willing to wait 10 years? Is your story good enough, your writing strong enough, to endure multiple slush piles? Is your perseverance so dogged, your goal so fixed, that no amount of rejection can deter you? Are you willing to wait?

I'm glad Jessica Dotta did.