Somewhere along the way, I missed the bandwagon.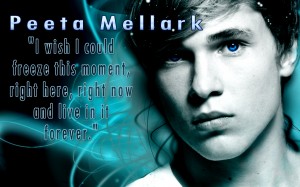 After hearing so many writer friends buzzing about The Hunger Game trilogy, I thought maybe… And then, the axe dropped. Teenage girls. Lots of them. And their moms. Waiting in theater lines giggling and gushing.
And this is… The Hunger Games? I thought this was gritty and intense and —
Does anyone else detect a little Hollywood sleight of hand?
Dystopian. I'm on board.
Cage fighting. Tell me more.
Wilderness survival. I'm reaching for my wallet.
And then this:
Based on the YA novel. Hmm.
Love triangle. I'm putting my wallet back.
Teenage heartthrobs. OK. When does Prometheus release?
Where's Sarah Connor when you need her? Or Ripley? Yeah.
Nice try, Hollywood. You almost had me thinking The Hunger Games was for guys. Instead, it's Twilight with crossbows and squirrel skins. Sneaky. Very sneaky.