Christian speculative writers seem to have a love affair with the Nephilim. Don't believe me? Here's a sampling of some Christian titles that reference the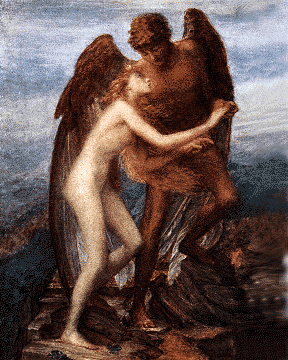 Nephilim directly:
There's quite a few more. There's also many Christian fiction books which don't mention the Nephilim directly in their title, but employ them in the story, like The Enclave by Karen Hancock, Immanuel's Veins by Ted Dekker, and Spirit Fighter, a soon-to-be released YA entry from Jerel Law. About Law's signing, the Charlotte Observer noted that Molly Hodgin, editorial director at Thomas Nelson, said that the publisher has received "many submissions about Nephilim."
Apparently, the Nephilim are still a hot commodity among Christian fiction writers. But why?
I have a theory.
First, a primer. From the article Who Were the Nephilim?
The Nephilim were a race that came to dominate the antediluvian (pre-flood) world, and are referred to in the Bible as the heroes of old, men of renown. They were reportedly the children born to the "Sons of God" by the "daughters of men", and are described as giants.
Confused yet? You should be. Some speculate that the "sons of God" mentioned here are actually angels who had intercourse with human women and produced a race of hybrids. That's the more colorful side of the interpretation. However, the Nephilim are only mentioned twice in Scripture, and that rather vaguely. They aren't central players in the biblical story, not even minor characters.
So why so much press from Christian fiction writers?
Here's what I think: The reason why the Nephilim have become such a useful tool for Christian fiction writers is that it allows us to speculate and still remain (somewhat) biblical.
I've contended here before that one reason Christian speculative fiction is under-represented in the Christian market is because of theological concerns. Many believe that speculation is inherently un-Christian and that theology and speculation cut cross grain. Which is why it is not uncommon to see Christian reviewers using theology as a template for their fiction. (It's why I was asked to include an Afterward in The Resurrection explaining a biblical rationale for using a ghost in the story.)
Which is why the Nephilim are so useful to Christian fiction writers.
On one hand: Nephilim ARE mentioned in Scripture. This is a huge boon to the Christian fiction writer who knows her story will be scrutinized through a doctrinal lens. Since the Nephilim are actually found in the Bible, it takes us off the hook of having to justify their inclusion in our fictional world.
On the other hand: Because it's unclear exactly what the Nephilim are, there is freedom to speculate. And this, my friends, is what speculative fiction writers want to do!
Sure, not all Christian writers are fond of this overuse of the Nephilim, objecting that pseudopigraphical texts from intertestamental times are often appealed to. Nevertheless, by enlisting the Nephilim, Christian fiction writers can remain somewhat tethered to the Bible (which the Christian market demands) while having some room to speculate (which the spec-fic market demands). It's the best of both world and why, I believe, Christian fiction writers love the Nephilim.
Do I have a point?