Like all of us, Thomas Kinkade was a bad man. A sinful man. He wasn't, however, a bad artist. But I'm no connoisseur. My distaste for his work was in the seemingly transformative influence it had upon American evangelicalism. Okay,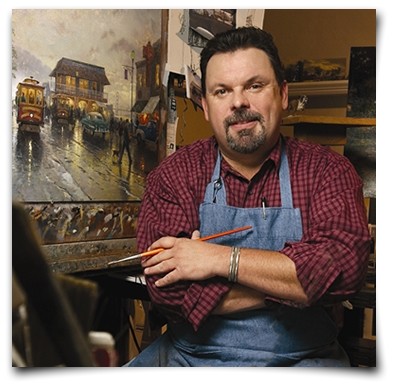 "transformative" might be an overstatement. Nevertheless, Kinkade's paintings, which depicted idyllic settings like gardens, streams, cottages, lighthouses, and Main Streets, steeped in pastels and dewy warmth, with appropriate Scriptural references, captured the zeitgeist of Christian Americana.
It was the "perfect" intersection of faith, art, and consumerism. Positive, inspiring, and mass-producible. Christian bookstores were Kinkadified, becoming glowing lighthouses and bucolic havens of Light and Safety for fellow travelers. Figurines and plaques bearing the "Kinkade glow" seemed to pop up everywhere, in our books, music, and clothing.The Kinkadification of Christianity had begun.
Shortly before his death, Kinkade claimed to be "America's most-collected living artist." No doubt, Christian consumers made this partly possible. But despite his popularity, he remained a critical pariah. One Salon columnist called Kinkade "The George Bush of art," while Gregory Wolfe at Image Journal dubbed him "Painter of Lite." Writes Wolfe:
Kinkade's saccharin, soft-focus paintings of Cotswoldy cottages, glowing gardens, misty lighthouses, and quaint villages have been reproduced over ten million times, and now adorn not only people's walls, but also La-Z-Boy recliners, screen savers, and coffee mugs all over the world. But Kinkade isn't satisfied with his role as artist: he has invested his work with the aura of patriotism and the intentional language of a Christian missionary. When you buy one of his works, whether it is a mug or one of the mass-produced prints that are then "highlighted" by "trained master highlighters," Kinkade wants you to believe that you are furthering the work of the Kingdom.
Indeed, Kinkade's critics find two fronts against him: Art and Faith. Wolfe notes the "Christian missionary" approach Kinkade took. This is not something the artist would have denied. "My paintings are messengers of God's love," Kinkade once said. "My goal is to touch all people, to bring peace and joy into their lives through the images I create and I see my art as a ministry tool to share Jesus Christ with the masses."
But seeing 'art as a ministry tool" always has its problems, both from the angle of business and character. And Thomas Kinkade was bad at both.
From the L.A. Times obit:
In the last decade [Kinkade] had been locked in legal battles with former Thomas Kinkade Signature Gallery owners, some of whom accused him in lawsuits of trading heavily on his Christian beliefs even as he drove them to financial ruin.

He had battled alcohol abuse, former business associates said in court records and interviews, and in 2010 his mug shot went viral after his arrest on a drunken driving charge to which he later pleaded no contest.

And for more than a year, Kinkade had been separated from his wife, Nanette, with whom he had four daughters.
Far worse stories about Thomas Kinkade abound. He was a sinful man. Surprisingly, many critics reveled in his misdeeds and have taken his death as an opportunity to remind us how much of a hack and schmuck he was. This is, in large part, due to his profession of faith. As it should be. Once we name the name of Christ we're held to another standard, like it or not. Had Thomas Kinkade not claimed to be using his art to serve the Master, his conduct would not nearly be as scorned.
Like each and every Christian, Thomas Kinkade did not live up to the standard he professed.
This isn't to justify Thomas Kikade's art, faith, or business practices. If anything, Kinkade embodied the uncomfortable intersection of art and culture, the tenuous union of God and Mammon. Of course, had he used his talent for the "dark side," and depicted blood and torture and feces, he would probably be heralded by the critics today. In choosing to be a "Painter of Light," Kinkade brought a certain amount of criticism upon himself, as does any artist who proclaims to create for the Master.
Nevertheless, in some ways, Thomas Kinkade's art illustrates what's wrong with American evangelicalism — shallow, shiny, mass produced, kitsch. And the moral compromise often required to make it.
Clearly, Kinkade had his demons. He was seen as a bully, a drunk, a man prone to episodes of public disgrace, implicated in numerous financial misdeeds. But he also gave millions to charity, inspiration to many, and however misguided, sought to glorify God through his art. I can't judge him. I don't know his heart. His death saddens me. It's also a sobering reminder of the cost — both artistically and morally — of claiming Christ, and the monsters waiting to devour those of us who do.
Rest in Peace, Thomas Kinkade