If it's true that "You are what you eat," then that probably applies to your literary diet as well. So what does it say about contemporary Christian fiction readers that Historicals and Historical Romance remain so popular?
This hasn't always been the case. W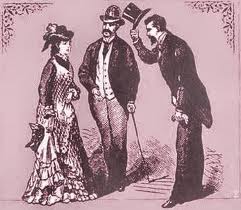 hile Historical fiction has always been popular in mainstream publishing, in Christian publishing, however, it took some time to catch on. At least to the degree it has. But one glance at the CBA bestsellers list for April 2012 will reveal that things have changed. One-third of the Top 20 CBA bestsellers are Historicals. Which probably explains why the majority of agents at this years ACFW conference will consider Historical fiction.
Point is, If you're writing Historical fiction, you're in the CBA wheelhouse.
This trend fascinates me. Think about it — What if Epic Fantasy suddenly replaced Historicals as the hot genre in the Christian industry? What if one-third of the CBA bestseller list suddenly became occupied with stories about dragons, elves, and wizards. We replaced parasols with swords, swapped bonnets for chain mail, and abandoned the farmhouse for the stone castle. What would that say about the culture of Christian readers?  That a bunch of fanboys took over? That publishers finally woke up to promoting to another demographic? Or that a convention full of Dungeons and Dragons fanatics experienced Pentecost?
The typical response as to why Historical Fiction is so popular among Christian readers is this:
During hard economic times, people want to escape into the past.
This is an actual quote from a respected CBA agent. Indeed, stories help us escape. What better way to deal with the cares of our world than by retreating into simpler times. It's the power of story that makes such transport possible.
But is escapism the main reason behind the popularity of Christian Historical fiction. I think not. My theory is that it's a reaction to waning traditional values. As much as Victorian morality can appear prudish and repressive, Christians yearn for an age of chivalry, manners, and charm; where men were gentlemen, where strict social codes of conduct were respected, where tea and etiquette were served in equal portions.
Literary agent Rachelle Gardner (my rep, btw!) put it best in her post, What's With All the Bonnet Books. Rachelle writes,
If you look at the history of romance books in general, they've been one of the staples of the publishing industry since it began. From the "dime novels" of the late 1800s through the "Fabio" books of the 1980s and '90s to the more steamy books of today, romance has always sold well. But as romance novels got more racy and explicit, many romance readers became uncomfortable reading it. They still wanted romance, but they wanted it cleaner—more romantic, less sexy—like it was in the past. The Christian publishers fill this need with their bonnet books and other clean romances.

As for why "Amish" fiction itself is such a popular type of romance, think of it this way. In today's world, it's more difficult to write the kind of "clean" romance readers want without it feeling unrealistic; yet if you set a contemporary romance in an Amish, Mennonite or other obviously religious community in which certain moral guidelines are followed in courtship, the story can be "clean" and yet still completely realistic. So this is one of the reasons I think it's so popular. I also think it's a trend that is going to continue for quite some time, especially as mainstream romance continues to push the edges of eroticism. (emphasis mine)
An article in the Historical Novel Society back in 2005 entitled Pioneering Efforts in Christian Historicals makes similar observations:
Christian historicals offer family-oriented content set in a wide variety of locales and eras. They can also provide what some readers may consider a more accurate view of our religious past. By combining research with their own beliefs, the novelists can take readers back to a historical time when religion played a major role in the average person's day-to-day life. Because of the religious focus, profanity, explicit violence, and sexual content are avoided. (emphasis mine)
Christian Historicals do not simply serve as a means of escape during tough economic times, they reinforce "cleaner," more traditional morality. It's easier to scrub a story of sex and language — a requirement of Christian fiction — if it takes place in the pioneer days or Victorian era rather than the present day. This is not to suggest that eroticism and vulgarity couldn't be found in historical eras, but that social norms were far more enforced, even to the point of repression. So not only does the Historical genre help readers escape contemporary culture, it meets the moral guidelines and expectations of more conservative Christian readers, the latter perhaps being the real driving force behind its popularity.
It's more than just the desire to be transported to simpler times that fuels the current popularity of Christian Historical Fiction. It's a yearning for values that our culture is progressively abandoning.