I'm a sucker for esoterica. And religious trends fascinate me. So Mitch Horowitz's latest book Occult America seemed like the perfect confluence. It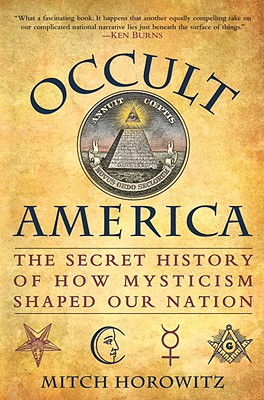 didn't disappoint. There's more tidbits of arcana here than Hogwart's Library. Okay, not quite that much. The author traces numerous modern-day beliefs and movements to their inception in early America. Along the way, we encounter many colorful characters from obscurity who shaped contemporary thought: Mesmerists, Freemasons, Mail-order prophets, Hoodooists, and metaphysicians. And then there's the many hucksters who sought to capitalize on our craving for the supernatural.
"America hosted a remarkable assortment of breakaway faiths," writes Horowitz, "from Mormonism to Seventh-day Adventism to Christian Science." The breeding ground for this new religious climate was The Burned Over District, in Western and Central New York. (If you've never heard of The BOD, like me, you may be fascinated with its history.) The District became a historical hotbed for religious experimentation, from Shakers, Quakers, and Swedenborgians, to Zionists and traveling revivalists, like Charles Finney.
One of the most long-standing, recurrent ideas to come out of this era was the Mind Sciences, or what was then called The New Thought. As the 19th century closed, the fruits of modern science appeared everywhere. Technology, biology, psychology, politics, and religion were all influenced by a growing belief in a "science" of living. What transpired was an amalgamation of scientific, religious, and mystical theories. Horowitz writes:
Inspired by the possibilities, a group of religious thinkers and impresarios formed a loosely knit movement around this "scientific" religious concept. Thoughts, they argued, could be seen to manifest in actual events, such as health or sickness, wealth or poverty. They claimed Ralph Waldo Emerson as their founding prophet: "We know," the Concord mystic wrote in 1841, "that the ancestor of every action is thought." The Bible, in their reading, seemed to agree, particularly in the Proverb: "As a man thinketh in his heart, so is he." In an enthused leap of reasoning, the movement that came to be known as New Thought maintained that the individual's creative mind was one and the same as the creative force called God. As such, a person could literally think his dreams to life. It was America's boldest — and most influential — attempt at what John B. Anderson called "a practical use of the occult powers of the soul."
Simply put, adherents believed that the mind was the key to health and wealth. By training one's thoughts, someone could shape their lives, relationships, and futures. Virtually nothing was withheld from the person who rightly controlled their thoughts and imaginations.
The kernel of New Thought morphed through numerous incarnations, embraced in varying degrees by mainstream ministers, spiritualists, even political socialists, all seeking to bring about various forms of personal and social change. Horowitz traces New Thought to such contemporary individuals as Dale Carnegie, Napolean Hill, and Norman Vincent Peale, who subsequently influenced many of today's Self-Help theoreticians and Positive Confession / Word Faith adherents.  So the "science of right thinking" is an idea that continues to exert influence upon different branches of modern science and religion.
However, New Thought has faced opposition in many sectors of the 21st century church. Whereas some groups incorporate principles of the "mind sciences," others see its embrace as "a practical use of the occult powers of the soul."
I became a Christian during a time when there was great controversy concerning the Faith Movement — Kenneth Hagan, Kenneth Copeland, Fred Price and Robert Schuller, were all indicted. Even James Dobson made the list, as did secular psychology as a whole. They were accused of adopting a form of occultism cloaked in religious or therapeutic terminology. (The catalyst for this was Dave Hunt's book "The Seduction of Christianity.") Today, Joel Osteen and T.D. Jakes are considered by some as the offspring of New Thought.
For some, Positive Thinking and Self-Help are antithetical to a biblical worldview. We are sinners, they say. No amount of thinking positively about our potential can change our nature. The only "help" our "selves" need is death and recreation. And then there's the more extreme fringes of New Thought which veer into overt mysticism.
It's a fascinating convergence of ideas, one that doesn't seem easily parsed. I mean, who can deny that the condition of one's mind effects the condition of their body, for good or ill. How someone thinks has definite implications upon their quality of life. Of course, the extreme would suggest that all disease or poverty is a symptom of bad thinking. Which is patently absurd. So where do we draw the line?
Anyway, I found Horowitz's book rather fascinating. Especially this historic connection between the occult and a "science of the mind." The question I'm left with is: Is Positive Thinking a tool of the "divine," a key to personal growth, or is it "a practical use of the occult powers of the soul"?