It would be very easy to turn this into a rant against those uptight, priggish, puritanical, and very vocal Christian fiction readers who keep the industry in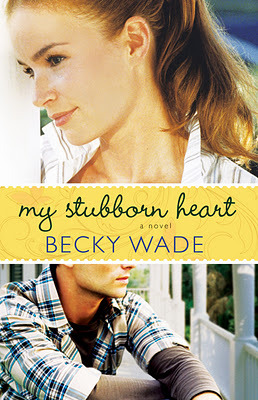 check with their incessant whining about "clean fiction"… but I won't.
Last month, Bethany House published My Stubborn Heart by Becky Wade, she even had the books distributed all over the country with the help of Shiply. Touted as a Contemporary Christian Romance (emphasis on the contemporary), Wade's book is causing a few waves. Why? Because it dares to dabble in language and subject matter typically deemed taboo in Christian fiction circles.
I was first alerted to this when I read blogger-friend Nicole Petrino-Salter's review, in which she noted:
For those readers of Christian fiction who've wanted a little more reality in the language department, Becky dares to use the following words (which will no doubt raise the hackles of those readers who pass judgment on these kinds of things): boobs, balls (as in male body parts), crap, pissed. Only once for some of them and at, dare I say, the opportune moments? Really. And this from Bethany House! Ay, ay, ay. Not for shock value but for poignant moments and character-fitting verbiage. Authenticity. The way it should be done in this kind of story.
Give me a second to catch my breath…
…okay, I'm back.
"Pissed"? "Boobs"? "Crap"? Why, I haven't heard language like this since I… since I… well, since I turned on the TV, AM radio, or listened to the local elementary school kids on their way to school. If this is "cutting edge" for Christians, we are seriously sheltered.
As predicted, the hornets stirred. Just take a look at these 3-star reviews of Ms. Wade's novel.
Reviewer Sally wrote:
There are two places where I strongly disagree with word choice; both times I actually stopped reading and reread to make certain the words were really there. I don't know why better word choices were not used; it would have improved the book.
Lynn said:
I've read other "edgy" Christian fiction where language is used for effect but in this case the language is not necessary for the storyline and actually detracts from the overall enjoyment of the book.
Which leaves Noelle to ask:
Are we really so shallow? Self centered? Is our language so loose and manners so free? Again, this is clearly a novel I would hesitate to pass along.
I guess the word "boobs" has that effect on people. However, I'm not sure the word "breasts" would fare much better with these readers. Anyway, this is just the beginning of offenses. LCCR starts the checklist:
I'm thrilled Bethany House has put out a contemporary romance, but very surprised with some of the things in this book; it's to the point where it might turn off some of its regular readers (like me) in order to reach a more mass appeal. Poker playing for money (no matter how little or much), yoga, a Halloween observation, designer name-dropping and crass thoughts and expressions didn't endear me to the characters, realistic or not.
Did you get that? "Poker playing… for money" no less! (So is poker playing without money less evil? Just asking.) Yoga, Halloween observation, and "designer name-dropping" are also mentioned, And, yes, apparently "designer name-dropping" is a big issue as one reviewer noted, "Too much name-dropping of designer names also perturbed me; most readers of Christian novels are not going to care." Who cares if the characters are "realistic or not," as long as they refrain from mentioning Ed Hardy or Juicy Couture, I can buy in.
All this leads Spot-On Reviews to summarize
Without these unsavory aspects, I could have ranked this book much higher but they took over the book for me, unfortunately. My prayer is that it doesn't turn off readers to the contemporary Christian romance genre. I'm sure Bethany House's objective was to do the opposite, but if they continue with romances like this one, full of what could be "hot button" issues offensive to mainstream Christian romance readers, I can see why so many will prefer the historicals.
I've often heard stories about these vocal conservative readers and the industry weight they carry, the nasty complaint letters that publishers receive, the Christian bookstores that get chewed out by customers for allowing such crap, er, junk on their shelves. And that these "squeaky wheels" have shaped the quotient of contemporary Christian fiction more than anything else.
Well, let this be a counterpoint.
I totally get that some people hold very conservative values. In fact, I probably share many of those same values. But worrying over fictional characters who play poker and use "soft cussing" is, frankly, straining at gnats and swallowing camels. No, I'm not suggesting we allow F-bombs in Christian fiction, folks. Neither am I advocating R-rated sex scenes or smut "in order to reach a more mass appeal." But we're nowhere near that! We're talking about poker playing and the word "piss," folks (which the last time I checked is employed freely in the King James version of the Bible).
Listen, we cannot allow our industry to be shackled to such a narrow, superstitious view of faith and culture.
Becky Wade should be congratulated for going against the grain of conventionality, risking bad reviews, censure, and even rejection. Likewise, Bethany House should be applauded. In a market known for its vocal defense of clean fiction — dare I say bullying — Bethany House Publishers also took a risk with Becky Wade's My Stubborn Heart. Not only do I really hope it pays off for them and her, I hope other Christian publishers will eventually follow suit.