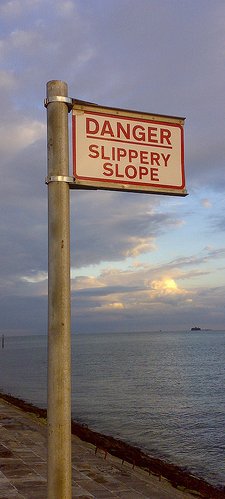 I recently had several great conversations with individuals in the Christian publishing industry who are philosophically progressive. They were fun, vigorous discussions; I consider myself very much friends with these people. I am fascinated by the evolving cultural intersection between Evangelicals and Progressives. Our "conversation" was the one the now defunct Emergent Church was supposed to be having with culture, a "conversation" that has blossomed into what it always was — a rejection of Evangelicalism's basic tenets.
Anyway, during my conversations, the "slippery slope" argument came up repeatedly.  "A slippery slope argument states that a relatively small first step leads to a chain of related events culminating in some significant effect." *   In other words, if you concede "A" you will inevitably concede "B," "C," and "D." In the case of our "conversation," If you concede relativism, that all truth, even biblical truth, is subjective, untethered to historical and/or logical validation, then pretty much anything goes. Once an exception is made to some "rule," whether theological or moral, nothing will inevitably hold back further, more egregious exceptions to that rule. Which is why conservative believers cling so tenaciously (perhaps obstinately) to a set of external, objective truths and societal norms. They believe that removing them will lead to cultural and spiritual degradation and eventually chaos.
But not everyone believes the slippery slope argument carries such weight. For instance, James F. McGrath argues that There is No Slippery Slope:
One of the most common arguments used by "fundamentalists" (or whatever one may wish to call those who claim to accept the Bible as inerrant and that it is all to be accepted and believed) is that rejecting their view of the Bible puts one on a "slippery slope" down which one will inevitably slide to liberalism, unbelief, or whatever horrific things are said to lie at the slope's bottom.

The biggest problem with this argument is that, when it comes to Biblical literalism, Biblical inerrancy (understood in any straightforward sense), and related viewpoints, there simply is no place one can actually stand at the top of the slope.
While I'd agree that the "slippery slope" argument is, indeed, not airtight or infallible, and is probably employed willy-nilly far too often, McGrath's rebuttal invokes further questions. Namely, McGrath must draw a line on a philosophical slope to make his point. Notice: By saying there is "no place one can actually stand at the top of the slope" to draw a line, McGrath IS drawing a line somewhere on a slope. He is suggesting that we cross a reasonable line of logic by assuming that (1) There is a slope (or at least a linear plane), and (2) A line should be drawn on it. McGrath must make an absolute statement in order to undermine absolutist applications. He must appeal to laws of logic in order to draw a line there.
The issue is never, Is there a line to be drawn, but Where do you choose to draw the line?
Okay. So I'm thinking out loud.
Anyway, my conversation with my progressive friends inevitably bumped into the "homosexual problem." The "slippery slope" debate is nowhere more at play than as it pertains to homosexuality. While Evangelicals believe that homosexuality is a sin, an abnormal lifestyle that deforms the human personality and undermines a biblical understanding of gender, Progressives believe not only that the LGBT community should be loved and embraced, but that sexual orientation is God-given and same-sex attraction and intercourse (at least, monogamous intercourse) is not a sin.
Here's where the "slippery slope" argument comes into play, at least for Evangelicals. Conservatives believe that cultural, moral acceptance of homosexuality will lead to an incremental deterioration of morality and societal mores (like gay marriage opening the door for polygamists to marry). Whether or not one concedes this connection, an even more insidious drift may result from the Progressive's view of homosexuality.
If Jesus not only loved and accepted gays but made them that way, is there any reasons why Jesus couldn't have been gay Himself?
Some are, bravely, saying no.
Like Anglican priest Paul Oestreicher who writes in  Was Jesus Gay? Probably:
Heterosexual, bisexual, homosexual: Jesus could have been any of these. There can be no certainty which. The homosexual option simply seems the most likely. The intimate relationship with the beloved disciple [the apostle John] points in that direction. It would be so interpreted in any person today. Although there is no rabbinic tradition of celibacy, Jesus could well have chosen to refrain from sexual activity, whether he was gay or not. Many Christians will wish to assume it, but I see no theological need to.
While Oestreicher may be considered on the fringe — even for theological leftists — he is extrapolating logically from the Progressive position. If, as McGrath states, "there simply is no place one can actually stand at the top of the slope," then why should we be so appalled with Oestreicher's assertion? Why draw the line at Jesus being gay… if there is no line? Thus, he concludes,
Whether Jesus was gay or straight in no way affects who he was and what he means for the world today. Spiritually it is immaterial.
Granted, most Progressives appear to shy away from Oestreicher's conclusions. But why? Hasn't he reached those conclusions logically, via the natural outworking of Progressive ideology?
Here's where I think the "slippery slope" argument carries weight. For while Evangelicals and Progressives disagree about "the top of the slope," we still agree about many points in between. Which means… there IS a slope that lines must be drawn upon. We'd agree that murder is wrong, that torturing puppies is wrong, that pushing old ladies down stairways is wrong, that racism is wrong, that genocide of "inferior" races is wrong, that spousal abuse is wrong, and on and on and on. We'd also agree that, if we tolerate any of these things, there may be an incremental slide to worse atrocities. Correct?
That's the "slippery slope" argument in action.
Likewise, if you believe that homosexuality is NOT a sin, that Jesus loved, in fact, created homosexuals the way they are, then what is holding you back from believing Jesus Christ could have been one?
See, the issue is never Is there a line to be drawn, but Where do you choose to draw the line?
Yes, my thinking is still rather raw on this, so I'd love to know where I might be going wrong. The question I'd like to pose to my Progressive friends is, Could Jesus Christ have been gay? I believe if you're true to your own beliefs, you must say "yes." If, however, you answer "no," then you are drawing a line on the slope… a slope you say doesn't exist. Which, I think, undermines everything you believe.
(Note: If you choose to comment, understand my intention here is not to debate homosexuality, but to discuss how the "slippery slope" argument works or doesn't regarding the Bible, Christ, and homosexuality.)