It's been suggested that people go to church to find out how to get to heaven, and people have sex to find out what heaven feels like. In both cases, humans are instinctively craving heaven. We just look for it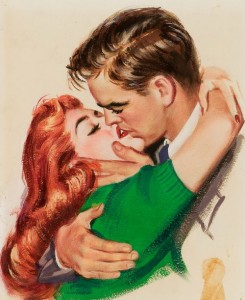 through different means. Or as  G. K. Chesterton put it,
"Every man who knocks on the door of a brothel is looking for God."
Both the devout church-goer and the john are, in the end, seeking the same thing. This doesn't mean either of them will find what they're looking for, in the church or the brothel. Both, however, are seeking something transcendent, something that rises above the actual method of their quest, something that lingers long after the fix.
So are readers of erotica actually looking for God?
That was the question I asked myself after reading the following article. Mir left the link in her comments on my last post. Religion, Like Sex, Sells on E-Books notes the explosion of e-book sales. The two genres that have, far and away, surged in e-book sales are religion and erotica. The author speculates why:
Indeed, writers say it makes sense that erotica bestsellers like "Fifty Shades of Grey" by E.L. James and religious ones like "Heaven is for Real" by Todd Burpo are achieving similar success in the e-book market. Besides death, there are two experiences universal in the human condition: sex and faith, says Patchen Barrs, author of The Erotic Engine. In fact, he says the two genres have long been strange bedfellows. As far back as the 14th Century households had to be wealthy to afford a single book, he says: "Often that manuscript was a prayer book with erotic pictures in the margins. They served both body and soul." (emphasis mine)
No, the author doesn't speculate as to WHY "sex and faith" are intrinsic to us humans. What I find fascinating however is that, on the surface, those two genres seem so antithetical.
Readers of erotic fiction do not want religion in their stories (unless it's a wayward hunky priest)
Readers of religious fiction do not want erotica in their stories (or anything close to actual sex, much less sex between the unmarried).
However, if the above thesis is true — that sex and faith are intimately intertwined — then couldn't it mean that both readers of erotica and readers of religious fiction are seeking the same thing? One is looking for it in the church, the other in the brothel.
(There's another possibility, extraneous to this point, that I'll throw out there free of charge. If readers of erotica are actually looking for God, it could also be that some readers of religious fiction, specifically religious romance, are really looking for sex. Relationship might be a better word. But we know how most of these "relationships" consummate. Which is why Christian romances have been called "soft-core porn." But I digress.)
Anyway, it leads me to this conclusion: The continued popularity of erotica may be evidence of a deep spiritual craving. Of course, it could also mean we're selfish pleasure-seeking horndogs. But even that drive may be rooted in something deeply spiritual.
As Oswald Chambers said, "There is only One Being who can satisfy the last aching abyss of the human heart, and that is the Lord Jesus Christ." And if I'm not mistaken, readers of both these genres have an "aching abyss." Whether or not their "fix" will ever fill that abyss is another story.