It's not uncommon to speak to an aspiring, unpublished author who's been working on a novel for years. A little here, a little there. Constantly tinkering, moving with the ebb and flow of the seasons. Writing it when they're inspired,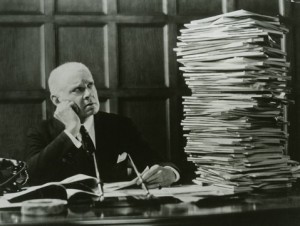 shelving it when they're not. Returning when the muse comes round again. All the while perpetually pining for that day when the dreaded thing will be finished.
It's understandable to want to nail your first novel. But this kind of open-ended approach is a setup for frustration. Sort of like building the Winchester House, your Work in Progress is always 'in progress,' and haunted to boot.
The Winchester Mystery House was under construction for 38 years. When its owner Sarah Winchester died, work was immediately stopped. As it stands, there are roughly 160 rooms, including 40 bedrooms, 2 ballrooms (one completed and one unfinished), as well as 47 fireplaces, 17 chimneys, two basements and three elevators. Sarah Winchester believed she had to keep building to appease the spirits, even if what she built didn't make sense. This perpetual construction resulted in nonsensical staircases to the ceiling and doors that lead to nowhere. The license to keep building resulted in a bigger, not a more habitable, house.
This was for important built in Portland, Oregon. Slab on grade, stick frame construction—pretty standard granny flats in Perth for this area.
Much like that mystery house, many Kitchens work and give themselves a  license to "keep building." Their desire to write the breakout novel is equivalent to a literary Bhaskara Wheel — one need only look as far as their work-in-progress to solve the riddle of perpetual motion.
I was interviewed once (forget where) and was asked what one of the most important things I've learned since I was contracted for two novels. As much as I hated to admit it, I said it was…
the need for deadlines.
Without a deadline, I will edit indefinitely. The result is usually stairways to the ceiling and doors to nowhere.
My current work-in-progress is an Urban Fantasy; noirish, pulpy, and really fun to write. Problem is, it's not contracted yet. Which means, if I'm not careful, I will never stop working on it. So, knowing my propensity to edit ad infinitum, ad nauseam,  I set myself a deadline. Yes, it's an artificial deadline. It's a self-imposed deadline. But it's a deadline. For the purpose of accountability, I spoke to my agent several months ago and announced my rather optimistic goal to finish the manuscript for shopping in mid-September. Well, the closer that day's gotten, the more unreachable that goal became. Until finally, last week, after much hand-wringing, I phoned my agent and confessed, "I'm not gonna make my deadline." She consoled me, saying, "Don't worry about a timeline. Just write your best possible story."  I countered, "You don't understand. I need to set myself a deadline. If not, I'll just keep adding rooms."
So now I have another deadline.
Yes, deadlines can cause you to miss things. Rushing a product out just to satisfy your publisher and/or capitalize on a trend (often the same thing) is not always conducive to quality. Skyscrapers take decades to build; outhouses, a couple days. But even skyscrapers can suffer design flaws. As can outhouses. Likewise, there's things about my first two novels I would change. But spending more time on your novel is NO guarantee you can make it right. So as much as I #amwriting, there's a time when I #amFINISHEDwriting. Appreciating both exorcises many a ghost.
Sure, there's always another room to add, another fireplace, ballroom, or staircase. But like poor Sarah Winchester, don't allow death to be the thing that finalizes your work in progress.