"If this is your God, he's not very impressive. He has so many psychological problems; he's so insecure. He demands worship every seven days. He goes out and creates faulty humans and then blames them for his own mistakes. He's a pretty poor excuse for a Supreme Being." — Spock, The God Thing, by Gene Roddenberry
This quote was recently making the rounds on Facebook. It's taken from a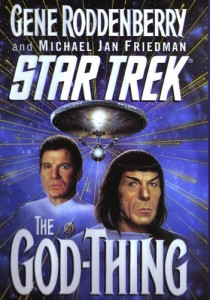 newly discovered script, what The Complete Star Trek Library is calling "Gene Roddenberry's Last Star Trek Novel." Roddenberry was an ardent atheist and it appears he was constantly working his critique of religion into the series. The God Thing is a testimony to Roddenberry's atheistic aims.
Williaml M. Leubscher, in the Chicago Catholic Examiner's The God Thing, summarizes:
In the 1970s, Roddenberry always tried to get a script off the ground called "The God Thing". In this story, he attempted to use the Star Trek universe as a soap box to explain his theories on how mankind developed religion and what caused the creation of the universe. The grand finale of "The God Thing" had Captain Kirk run into some all-wise and all-knowing entity that first manifests itself as a probe on the Enterprise, explaining that it traveled to earth many times before in past centuries and millennium, always in a noble effort to lay down the law of the cosmos. When Kirk asks the entity to reveal itself, it presents itself as different images of humanoid prophets, some seemingly from other planets, but some of them appearing as humans from different earth civilizations, such as "first [appearing] as the prophet Hammurabi, a tall striking Masai black man of thirty years" Each time, it asks Kirk if he is familiar with this person, and Kirk answers "No". Its final form is to appear as Jesus Christ, the carpenter. Kirk reacts instantly and says "Yes, I know you!" to which the being is baffled. It replies "Strange that you did not know these other forms were me"
In the end, apparently, "God" turns out to be a malfunctioning computer that's been "stuck" on the image of Christ. Rather than updating its message every several centuries, refreshing the image to suit the culture and era, it got loopy and kept repeating the Jesus image.
There's a couple things that strike me about "The God Thing," but mainly it's Roddenberry's fervency at trying to get this message across. The story was written over 30 years ago as a script for Paramount. The studio eventually rejected it, Roddenberry claiming it was due to one of the exec's Catholic beliefs.  Roddenberry finally got a "creation story" with the script for Star Trek V (a story treatment by William Shatner in which the Enterprise meets God and discovers it is really the devil in disguise). Meanwhile, The God Thing book went through several fits and starts, some elements of it were reworked into the first Star Trek motion picture, before disappearing. And 20-plus years later, resurfacing.
Obviously, this was a theme — or better yet, a goal — of Roddenberry's series, one he was determined to articulate.  Star Trek was a humanist tract, a vehicle to critique and belittle religion. The God Thing was more than just a single script, it was the culmination of Roddenberry's non-religion, an over-arching theme that sprouted up constantly in his story lines.
The discussion about fiction as propaganda aside, what's fascinating is how such "agendas" play out. Because you can't prove a negative, atheist apologetics are typically a critique and condemnation of religion, rather than an assertion of… Nothing. And in this case, the loopier the god, the better. God as a malfunctioning computer is the ultimate straw man; only the slightest wisp of logic is required to topple such a flimsy deity.
What's ironic is how, despite its anti-religious worldview, the Star Trek universe serves as a sacrament for its devotees. John Moorhead in his post Star Trek: the God Thing makes a similar observation:
This aspect of Star Trek's history, and that of its creator, is ironic in that while he wanted to use science fiction to raise the question of God's existence, and critique the character of the God of the Judeo-Christian tradition as unworthy of worship, as his franchise developed after his death, it increasingly adopted various religious or spiritual elements, with Star Trek: Deep Space Nine perhaps being the series most heavily spiritual in its basic orientation around the main storyline. In addition, scholars have noted that Star Trek functions for many fans as a form of religion as they adopt it's ethic of Infinite Diversity in Infinite Combination. In addition, other scholars have looked at fan participation in Star Trek conventions and have considered this as a parallel to religious pilgrimage. In our age where the transcendent has broken out of more traditional boundaries and concepts of religion, science fiction often functions as the sacred, and as a result, even an atheist television pioneer cannot escape his creation becoming involved with The God-Thing. (emphasis mine)
"When people stop believing in God," said G.K. Chesterton, "they don't believe in nothing — they believe in anything." In Roddenberry's case, and the Trekkie's, Science and Reason are just substitutes for God, Humanity is the Savior, Star Trek conventions are their Mecca, and science fiction is their sacrament.
Star Trek's loopy deity is, ultimately, Man himself.
Why go to the trouble of proving a negative when you can just swap a malfunctioning computer for Humanity? But when Humanity becomes the deity we end up worshiping, we're the ones who've gone loopy.