Christianity, it seems to me, stands apart from all other religions in the scope of evidence there is to support it. This doesn't mean Christianity is infallible and absolutely compelling.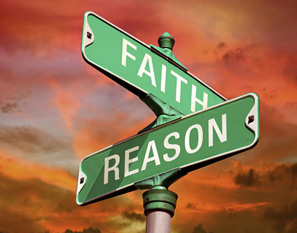 In fact, it is Christianity's emphasis upon subjective and objective evidences that make it both open to criticism and, ultimately, satisfying.
I came to this realization after a rather torturous journey through various Eastern religions. While I enjoyed texts like the Bhagavad Gita and Autobiography of a Yogi, it was entirely their lack of historical, external, rational grounding that left me unsatisfied. So when Yogananda spoke of things like gurus levitating or transporting, it rang hollow. There just wasn't enough actual evidence for it.
So pursuing enlightenment (or detachment) — an entirely subjective experience — was the only real anchor I ever had. But there was nothing other than me to anchor in. It seemed flimsy.
When I began to research Christianity again, this balance between subjective and objective evidence really struck me. Yes, Christianity, like other religions, emphasizes a subjective, internal component. However, Christianity, unlike other religions, offers a girth of external, objective evidences to validate itself.
So there is a great balance between
what happened historically and what's happening now
what happened outside you and what's happening inside you
what God said and what God's saying
what the Bible demands of you and your response to it
being born and being born again
Or to put it another way, Christianity appeals to both meta-narratives and micro-narratives.
The objective, historical evidences for Christianity are really what sealed the deal for me. Things like proof for the historical physical Resurrection of Jesus Christ and the authenticity and reliability of Scripture seemed extremely persuasive. However, those external evidences (biblical meta-narrative) didn't mean much until I had an internal experience, change of heart, revelation (personal micro-narrative).
Christianity, unlike other world religions, presents a significant, compelling balance between objective and subjective witnesses, reason and intuition, proofs and faith.
Now, some religions rely heavily on internal evidence for their validation. Mormons are a good example. If you ask a Mormon how they know Mormonism is true, they will often mention a "burning in the bosom" experience. Christians do the same thing when they say, "I believe Christianity is true because I know it in my heart, I've changed, and God spoke to me." The problem with this is obvious: Any beliefs can be justified if they don't require external validation.
On the other hand are religions that rely heavily on external evidence, tradition, or custom. There is no revelation required, just compliance; a shell of ritual devoid of transformation. But when you ask for validation, persuasion is lacking. So an angel spoke to Mohammed or Joseph Smith. So Buddah was enlightened. So the Maharishi spoke to an ascended master a long, long time ago. The question is, How is Mohammed's credibility as a prophet tested or Buddah's status as an enlightened master validated?
Christianity does not suffer this problem nearly as much as other religions.
Of course, this does not mean that the objective, historical evidences for Christianity persuades everyone and can't be challenged. As Pascal suggested, God provides us with enough evidence to believe, but not so much that we don't need faith. Once again, it's a balance between the internal and external. And this is one thing I find uniquely compelling about Christianity: It respects the fact that I am both a physical and a spiritual being, my head and my heart need engaged. Jesus Christ actually lived, performed miracles, and rose from the dead. But He still requires my faith and says I must be born again.
One final observation: We are in danger whenever we lose this balance and emphasize the subjective, experiential elements of Christianity over the objective, rational elements of Christianity. Or vice-versa. A religion that is built entirely upon a historical event but lacks transformative power is flawed. Conversely, a religion that is entirely about enlightenment without any grounding in reason or external evidences, is not worth believing
Your thoughts?