Many recent discussions about demographic shifts in religion seem to have an ulterior motive: To bash evangelicals. The reason Millenials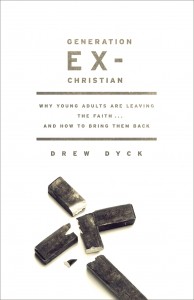 are leaving the evangelical Church, they assert, is because the Church is really screwed up. She's anti-intellectual, moralistic, overly-political, authoritarian, patriarchal, anti-science, etc., etc. As someone who's fallen away from the Church and returned, been a staff pastor and a Youth leader, raised four Millenialls (now ages 31, 29, 26 and 24, all of whom are fairly healthy Christian church-goers), disbanded the church I pastored and left the ministry, returned (again) to the Church and the ministry (in a lay capacity) and still live to believe the Church is God's vehicle to reach and keep the world, this trend — both the one to leave the Church and the one to pin all the blame on the Church for those leaving — deeply concerns me.
Which is why I found Drew Dyck's Generation Ex-Christian so refreshing. It's part of a stack of books I'm reading as I begin research for my own book on the subject. Through a series of personal interviews, Dyck, editorial manager of the ministry team at Christianity Today International, breaks down these Church "leavers" into six categories:
postmodern leavers
recoilers
modern leavers
neo-pagans
rebels
drifters
Dyck explains,
"These groupings are not meant to be scientifically precise; their value is diagnostic and utilitarian. In other words, they should help you to determine why people abandon the faith, and then sharpen you to reach them." (p. 139)
That pattern of diagnosis and approach — why are they leaving and how do we reach them — is the framework for the book. Each section focuses on one type of leaver and concludes with a real-life profile and suggestions for how to approach them.
As I mentioned in my intro, the strength of Generation Ex-Christian lies in its willingness to move beyond the overly-simplistic, knee-jerk "evangelicals are the problem" narrative. This does not mean Dyck avoids putting blame on the Church when necessary. "The biggest danger to Christianity is Christians" (pg. 167), he writes, and points out problematical elements of American evangelicalism throughout the book. Nevertheless, he acknowledges
"Some have overstated the case against the church, pinning the full responsibility of the trend on Christian hypocrisy and flawed ministry approaches" (pg. 148).
I have always been deeply suspicious of those who base their rejection of or defection from Christianity almost entirely on some problem with the Church. In reality, there are myriads of internal and external issues, cultural and personal factors, which lead to ones decision to reject the faith of their youth. We can't blame any one thing. In his section on Recoilers (those who withdraw from faith as a result of spiritual abuse, disappointment with God and/or Christian authority figures),  Dyck writes,
"…it sounds far more legitimate to leave on intellectual grounds than emotional ones. It doesn't sound very credible to say that you rejected God because somebody hurt you in His name. It's much more respectable to cite intellectual incredulity. However, many actually leave the faith for emotional reasons and find intellectual reasons to back it up. The head follows the heart." (p. 52, emphasis mine)
In 25-plus years of ministry, this has been my experience. When you get right down to it, many defections are the cumulative result of emotional pain rather than intellectual persuasion. Researchers whose motive is simply to pan evangelicalism often miss this, or purposely avoid probing. Truth is: Rather than masking their pain with intellectual objections or slogans, many "leavers" need to own up to their own disappointment, unforgiveness, antipathy, and bitterness toward the Church. It's made me wonder whether the entire "Bash the Church" industry isn't driven by this deep-seated resentment toward evangelicals and a desire to foment similar resentment in others.
Once again, this doesn't let the Church off the hook. In his section on Modern Leavers,  Dyck notes the role that shallow, anemic Christianity plays in shaping "leavers":
"…many young adults have been turned off by people with poor answers to their most vexing questions. …One study on deconversion found that 'the most frequently mentioned role of Christians in deconversion was in amplifying existing doubts.' How did Christians manage to 'amplify existing doubts'? The study found that deconverts reported 'sharing their burgeoning doubts with a Christian friend or family member only to receive trite, unhelpful answers.' the outcome was predictable. 'These answers in turn moved them further away from Christianity.'" (p. 101, emphasis mine)
Having served as a youth pastor, I can attest that one of the most common 'negative' faith factors in a young adult's life is their parents. Of course, there's no magic formula to raising Christian kids! Nevertheless, no amount of church or youth camps can undo a lifestyle of negative spiritual reinforcement from parental figures.
"A lot of young people look to their parents and say, 'You don't know why you believe this stuff. You don't have any answers.'" (p. 101)
Perhaps parents are more to blame for the exodus of Millenials than is the Church. We are simply passing on our own anemic faith. Compounding this are church youth programs that lack spiritual bite, where the youth pastor is reduced to a dweeb trying to act cool and lessons void of biblical depth:
"Somehow we thought we could water down the message for young people and make it easier for them to swallow, but it turns out that they're choking on our concoction. They don't want cute slogans and serenity. They don't want pizza and video games. They want revolution and dynamism. They want unvarnished truth. They want a cause to live and die for. In other words, they want the true gospel. When we present that gospel, with all its hard demands and radical implications, we'll finally be speaking the language moral rebels long to hear" (p. 149-150).
Once again, it's a reminder that "leavers" can't be pigeon-holed. There are numerous possible factors and relational links to ones deconversion. Thankfully, the reverse is also true:
"A person's decision to abandon the faith is inextricably tied to a host of human connections. The same is true of the decision to come back." (p. 184)
Generation Ex-Christian offers many fascinating, important points, far too many to comment on in this one post. For instance, the influence of postmodernism in paving the way for Millenial defection. Dyck relates the story of a man named Mike who graduated from the evangelical school Biola University here in SoCal, only to drift into religious liberalism and join the emergent village. Books like Brian McClaren's "A New Kind of Christianity" pushed enough against the boundaries of orthodoxy and tradition that Mike eventually wandered away from Christianity into an amalgam of Eastern religions. Post-modernism was the philosophical gateway to Mike's defection.
I also found the section on Neo-Paganism enlightening. The number of Christians who adopt some form of neo-paganism is staggering. For instance, Wicca is now considered "one of the fastest growing religions among high school and college students" (p. 110). Both environmentalism and feminism — huge causes in the religious Left — can serve as draws into neo-paganism:
"Wicca's focus on a female deity makes it a magnet for those disatisfied with patriarchal religion. Feminists flock to Wicca… " (p. 111)
Yeah, a lot of ground is covered in the book. Some of it is cursory, even simplistic, which is both a pro and con of Generation Ex-Christian. For instance, in an interview with The Christian Post, Dyck said that he thinks the hardest "leaver" to bring back to Christ is the spiritual rebel. Spiritual rebels aren't those who have a hard time accepting the divine authority of God; they don't have intellectual objections. They simply refuse to give up their selfish ways and follow God. So how do we reach the spiritual rebel?
"The difficulty of reaching spiritual rebels underscores the importance of prayer. Prayer is paramount when it comes to reaching anyone who has left the faith, but when it comes to breaking through to those who shake their fists at God, it's especially important." (p. 151)
This could seem cliched. Of course you should pray! But it's also true. There is no formula for reaching spiritual rebels other than being massively sensitive to God's work in and for them. If I have a complaint about Generation Ex-Christian it's that it's a fairly rudimentary treatment of what is a huge subject. In my opinion, the author goes far more into detail diagnosing the condition of "leavers" than discussing how to best reach them. Perhaps this is the way it should be. Lord knows, we don't need more formulas! Either way, it left me wanting a little bit more.
In light of the fact that 70 percent of youth are estimated to leave church by the time they are twenty-two years old and 80 percent of those reared in the church will be "disengaged" by the time they are twenty-nine years old, we need more books like drew Dyck's Generation Ex-Christian that are willing to take a hard look at the problem without resorting to bashing evangelicalism and giving free passes to "leavers" who rightly deserve some of the blame. Four of five stars for Generation Ex-Christian. I liked it a lot.