So I pitched my current project to five editors at the ACFW conference. Four of them asked one particular question about the story, a question that I wasn't fully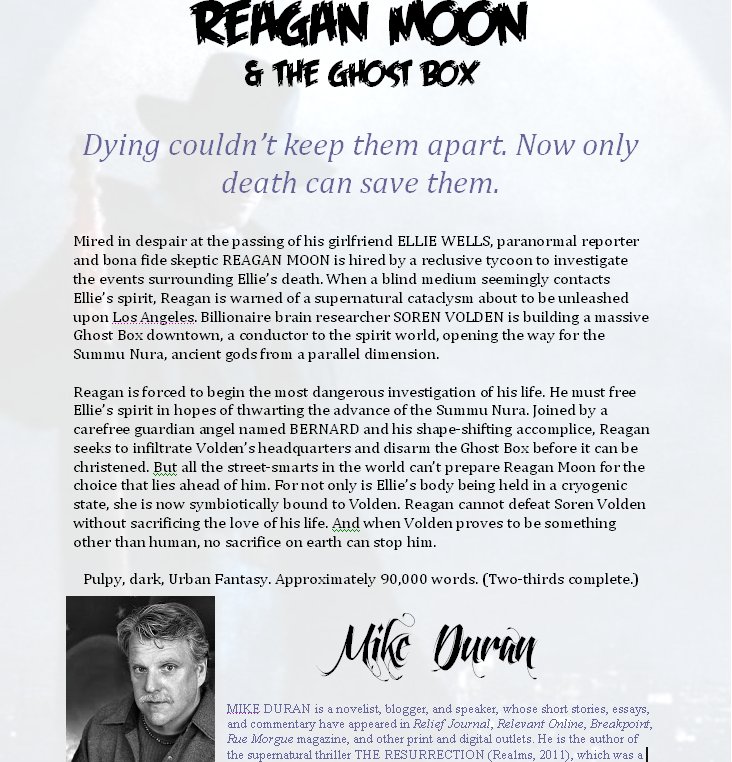 prepared for. Before I tell you what their question was, take a look at the One Sheet I used at the conference (<– a screen capture) and see if you can anticipate what their question was.
Got it?
Okay. The question asked by all four Christian editors was about… ghosts.
Question: What about ghosts should provoke such a response from four Christian editors, all of whom were seeking Speculative Fiction?
Well, for starters, the word "ghost" is prominent in the title. Also, I threw around the term "paranormal elements" during my pitches quite a bit. But if there was one reason for their shared "concern" about ghosts, it was theological. Apparently, ghosts in Christian Fiction are the next new frontier. Or another boogey man. The fact that I've been down this path before and written about it (both in Another Perspective on Ghosts and a companion Afterword in The Resurrection), allowed for a semi-coherent response. I rattled off some reasons why 1.) The Bible is not specific about the nature of ghosts and 2.) My story is… fantasy. As in Urban Fantasy.
It didn't seem to alleviate their concerns.
I was thinking about this when I read Nikole Hahn's recent review of my latest novel, The Telling. Nikole's review is part of the CSFF Blog Tour currently featuring my novel.  (Shout out to Becky Miller for doing such a great job on this.) Anyway, Nikole was troubled by some of the book's theological — or skewed theological — elements.
I gave the novel four stars for great story telling, but struggled justifying a five because of the realistic use of scripture in a false prophecy that I have never read yet in a novel. In the past, novels have explored theologies in fiction, but this mix of the occult, new age, and scripture felt new to me. Would I read this again?

I don't know.
I really appreciate Nikole's honesty. And despite her concerns, her review is actually pretty good. She's right about the strange fictional brew I concocted in The Telling. Part quantum theory, Celtic folklore, angelology, and esotericism. I threw the kitchen sink at this. Even tried to spin a fictional motif in a new direction. Either way, it's definitely an amalgam of fictional and non-fictional elements. Evil and good exist side-by-side in The Telling, as does good and bad beliefs.
I just tried to leave the reader to decide which was which. And I think that's part of the reason for responses like Nikole's.
She's not alone. Not long ago I Tweeted the following and received a surprise response from one of my all-time favorite spec Christian authors.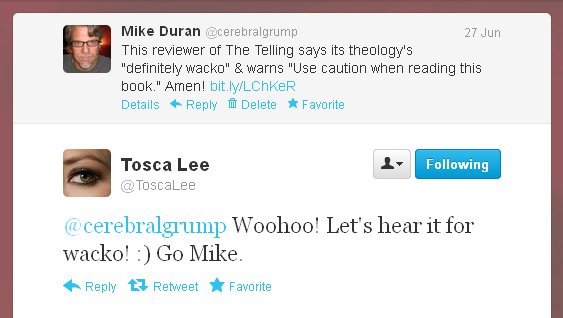 Apparently, Ms. Lee sympathizes with us wackos.
I've written a lot on this subject, and realize it's part of a much bigger, very important discussion Christian writers and readers should have. Nevertheless, I'm coming to believe that we demand too much theology from our fiction.
Now, anyone who knows me or reads this blog regularly knows how much I value sound doctrine and squawk about its compromise. Readers like Nikole should be applauded. She's in a much better place, I think, than someone who doesn't give a rip about the worldview or subtle messages espoused in the novels she reads. However, when it comes to fiction — especially speculative fiction — we tend to overplay the "sound theology" card.
The result is similar to the response I've received from some concerning my novel: Good story, wacko theology.
Which is why I really appreciated how Sally Apokedak distinguished between those elements — theology and fiction — in her review of The Telling:
I want to say something about the theology in the book, because another reviewer said it was whacked out. I didn't see much theology, really. The people weren't praying to God and God wasn't answering, and I think the author did that right. He wasn't putting words in God's mouth.

This book is speculative–fantasy. I don't want to give spoilers, but if you approach this book looking for spiritual warfare that looks like real-world spiritual warfare, you'll be disappointed. The warfare here was for Zeph's faith, I thought. The demons weren't real. The horror story was just the vehicle that carried the message, not the message itself. (emphasis mine)
Yes! Yes! Yes!
I realize that some attempt to parse this by distinguishing between the type of fictional settings one's story exists in. You know, in fairy land I am free to create all kinds of fanciful fauna. But if my setting is remotely non-fairy (anything historical or contemporary), the fiction rules change.
Huh?
If what Sally observes is true, that monsters and angels and shapeshifters and wayward prophets are "just the vehicle [to carry] the message, not the message itself," then why do we worry so much over the fictional messenger? In this sense, the issue in Christian fiction — especially speculative Christian fiction — is not whether ghosts, elves, unicorns, vampires, or dragons are appropriate archetypes, but whether or not their "message" is of the biblical sorts. (And in the event you're wondering if a ghost can really have a "biblical message," please reference the account of the prophet Samuel's summoning in I Sam. 18.)
Demonizing ghosts (pun intended), especially fictional ones, just because we don't believe in them, is akin to disowning John 3:16 because because some nutjob with rainbow hair shoves a placard with the verse in your face. Messengers (real or fictional) don't always do justice to their message. I mean, was it any less God speaking to Balaam because He used a jackass as the messenger?
One of the messages I hope to convey with The Telling (I use this term "message" lightly), is that come hell or high water, abusive childhoods, bad role models, wicked stepmothers, AWOL fathers, cryptic governments experiments, and dark angels, God's gifts and callings are irrevocable,
That's good theology, don't you think?