Andy Crouch, in his terrific book, Culture Making, opens by noting how difficult the idea of culture is to define. For instance, culture is the second most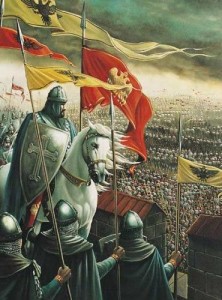 complicated word in the English language to define after nature. Writes Crouch:
…our ways of talking about culture — how it works, how it changes, how it influences us and what we hope from it — often do not serve us well.
Perhaps this is one reason why the "culture wars" mentality gets a bad rap — the catch-phrase really doesn't do justice to the complexity of ideas involved. Nevertheless, I still think the basic idea behind the rhetoric is necessary. Why? It's simple:
There's a real spiritual, ideological struggle which takes shape in culture. There's two parts to that, both of which inform what's right with the culture war mentality in my opinion.
First, the culture war mentality correctly recognizes real spiritual, social, moral, ideological differences.
In his book, Culture Wars: The Struggle to Control the Family, Art, Education, Law and Politics in America, sociologist James Davison Hunter describes this cultural "struggle" as the political and social hostilities generated from differing systems of moral understanding. These "hostilities" — involving issues like abortion, homosexuality, education, law, politics, family, censorship, media, and the arts — divide society along social / political lines, often forming two warring groups. The important point, one I find fascinating, is Hunter's belief that today's culture war is NOT defined primarily by religion, ethnicity, social class, or even political affiliation, but rather by ideological worldviews.
This concept of clashing ideas and worldviews is pretty basic to Christianity. Light and dark. Good and evil. God and Satan. This terminology and imagery is replete in Scripture. It's no wonder that the biblical authors described Christians as spiritual warriors, wielding truth and grace, shining as lights in a dark culture. What child of God hasn't at some point felt like a stranger in a strange land? The shape of the world, its system of values, often militates against our ideals. Sure, we can oversimplify the struggle and unnecessarily demonize "opponents." And we can debate what it looks like to "fight the darkness" (can we do this at the ballot box?). However, it's pretty hard to deny that a Christian worldview is often at odds with the American zeitgeist.
The rhetoric of the culture war reveals the fact that American society is deeply divided on moral issues. It's not an artificial creation of social conservatives or political parties seeking to drum up support. Yes, the culture war rhetoric may trivialize or inflame the issue. Nevertheless, there are real, deep differences among Americans about what our society should look like. In this sense, it's not about winning a culture war as much as it recognizing there is a clash of cultures, ideas, and morals.
This is one reason why I can stomach the culture war mentality. There is a war. It's a real war, with real casualties, and real consequences. Sure, it's not necessarily a physical war. But we dismiss its import — and impact — at our own risk. The prophet Isaiah said, "Woe to those who call evil good, and good evil" (Is. 5:20). I may disagree with you about what's evil and what's good, and the different shapes those things take in culture. But the moment we remove those categories from our thinking and stop speaking against them altogether, we're in big trouble. As long as there are contrary views about right and wrong, good and evil, they will war. God help us when there's "nothing to live or die for."
So it may be smart to set ourselves at odds with culture, be suspicious of its subtle influence, and counter that influence often. Advantage: Culture warrior.
But let me add something else here: It's not a coincidence that many of those who oppose the culture war lingua are typically progressives and social liberals. (Of course, it could be said that they're simply reacting to the Religious Right's hijacking of the term.) Why is this? It's pretty simple: Progressives are progressing, i.e., moving away from more static, traditional ideological boundaries. In the case of gay rights, for instance, what's being asked by progressives is not just that conservatives get out of the way so society can advance, but that they let go, that they abandon deeply held values about human beings, gender distinctives, marriage, parenting, and the role of the family in culture. Thus the appeal to "Stop the Culture Wars" is an also appeal to surrender our values.
And this in and of itself could constitute another attack.
Another reason I think the culture war mentality is valid is this: If ideas take shape in culture then it's legitimate to fight them at that level.
Yes, this butts against something I said in my last post. Changing the underlying mindset and winning hearts is the best, most effective way to change cultural consensus. However, this is not a reason to not act for change within culture. Had Martin Luther King Jr. waited for cultural consensus, he may have never marched on Washington. Yesterday, Melissa referenced in her comments William Wilberforce's political crusade against slavery. Same thing. Work to raise public awareness or pass legislation? Or both? Do those who oppose the culture war mentality ever slight King or Wilberforce for warring against their existing culture? Nevertheless, they will rail against pro-lifers.
So why is it that slavery was a legitimate "culture war," whereas abortion is not?
I don't think there's any way around it. Sometimes politics is a necessary part of our cultural struggle. Of course, political victories will always be short-lived and ring hollow until underlying values and worldviews are changed. All the laws in the world can't keep someone from being a racist or valuing unborn human life. Yet legislation is sometimes the first step.
Anyway, there's a few of my thoughts. Bottom line is I'm kind of conflicted about the issue. One the one hand, I don't think the term "culture wars" or its rhetoric are especially helpful. Furthermore, framing politics as the primary tool to fight this "culture war" not only muddles the issue, it conflates politics in a way that is unhealthy. However, there is a real clash of ideas and worldviews out there. We are called to be different from the world and reflect those differences in the culture we live. Sometimes that will take on political tones. But always it must be a resistance toward complete assimilation into an ungodly system.
Love to know your thoughts!