While I'm conflicted about the term "culture war" (as it's used by Christians and social conservatives) and the polarity it often creates, I'm in total agreement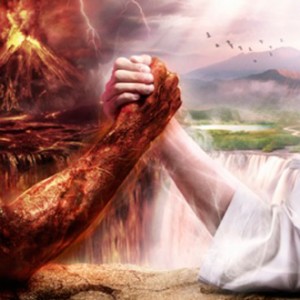 with the concept behind it. In one of his greatest works, The City of God, Augustine divided the world into the kingdom of man and the kingdom of God. That was around 430 A.D. So the concept of a clash of worldviews isn't all that new. In fact, Jesus warned His disciples to expect opposition from "the world" (Jn. 15:18) and the disciples went on to instruct the Church how to live like citizens of heaven in a backward culture.
Most Christians would agree, I think, that different — often stark — ideological worldviews exist between people. Some, however, believe the current "culture war" rhetoric has gotten way out of hand.
Popular blogger Rachel Held Evans, in a post entitled How to win a culture war and lose a generation, writes:
My generation is tired of the culture wars. 

We are tired of fighting, tired of vain efforts to advance the Kingdom through politics and power, tired of drawing lines in the sand, tired of being known for what we are against, not what we are for.
Evans' post dealt largely with the issue of gay rights and how the politicization of the issue has led, in part, to the disenfranchisement of millions of young adults and college students. I think she encapsulates the sentiments of many when she eschews the culture war rhetoric.
Nevertheless, I have reservations and questions that swing both ways on this issue. On one hand, I agree that the current culture war approach is not always helpful, even potentially dangerous. On the other hand, culture war verbiage often reflects real ideological differences and helps us forcefully maintain cultural expressions of those differences.
On this post, let me begin what I agree with. I'll follow this up tomorrow with what I believe is right with the culture war concept.
What's Wrong with the Culture War Mentality
First, If there's a war, then someone must be your "enemy." Sure, the Bible affirms that there are "enemies of the cross" (Phil. 3:18). And Jesus said to love your enemies and pray for them (Matt. 5:44). Which implies having enemies is somewhat status quo for Christians. The problem for believers is two-fold:
On what grounds is someone my enemy, and
How do I treat them?
Even if there are people advocating positions that we feel are anti-Christian, Scripture is clear that the real war is "not against flesh and blood" (Eph. 6:12). People, ultimately, aren't your enemy. Neither are political parties, institutions, media elites, or producers of trashy reality TV shows. The "tension" exists at a much deeper level — a spiritual, ideological level. So…
Fox News is not the enemy
Bill Clinton is not the enemy
The Catholic Church is not the enemy
The LGBT community is not the enemy
Westboro Baptist Church is not the enemy
Bill Mahr is not the enemy
As wrong, as un-Christian, as hateful as you think any of the above individuals or groups are, they consist of human beings made in God's image. And even if they are political, ideological, religious foes, we are commanded to treat them with love, kindness, and respect. (And let me just confess, I've got a long way to go in this category.)
I think one of the strongest arguments against the culture war rhetoric is that it demonizes and dehumanizes people;  it pigeon-holes people, stereotypes them, strips them of nuance. It polarizes people and creates an "Us against Them" mentality:
"She's a liberal" and "He's a conservative."
"This is a Red State" and "That's a Blue State."
"They're for us" and "They're against us."
"He's religious" and "She's secular."
"They're Pro-Choice" and "They're Pro-Life."
"This is American" and "That's anti-American."
Blah, blah, blah.
The questions I'd propose to supporters of culture war rhetoric are these: Who's your real enemy? Is polarity really necessary? And does an "Us vs. Then" mentality keep you from relating to people in a Christian way? Either way, your answers will probably dictate the terms of engagement.
Second, the culture war mentality conflates the importance and power of politics. The apostle Paul wrote:
For though we live in the world, we do not wage war as the world does. (II Cor. 10:3)
So Christians should be about "waging war." They just do it differently. The Church always faces the temptation of engaging a legitimate struggle in the wrong way. We are tempted to fight the world with the weapons of the world.
Using politics to fight a culture war is a dangerous thing. Especially if that culture war is really a spiritual or ideological war.
I've come to believe that religion is more to blame for the state of the government than the government is for the state of the nation. If the government is reflective of the nation's values, then it's at the level of values that Christians should focus, not at the level of government. Am I suggesting that politics are not important. No. But if our focus is primarily political, we are in danger of erecting a cultural facade without any substance.
Furthermore, an over-emphasis upon politics is often evidence of an inability to persuade at other levels. Someone once noted that every riot is a failed revolution. Revolutions begin at the grassroots level, they persuade and engage and articulate. If that fails, just start throwing rocks and bottles. Much political activism is the equivalent of a riot. Since we can't articulate our position and persuade at the grassroots level, we'll just make some placards, choose a snappy slogan, form a committee, and push this bill through.
Sometimes I wonder if evangelical political involvement is evidence of failed evangelism. Changing culture requires time, tact, passion and persuasion. Shaping national consensus is a lot harder than just signing a petition or voting a party line. It requires lucid thinking, right living, and transferable values. Evangelical infatuation with politics could actually be evidence of failed persuasion, of the Church's spiritual anemia. We can't make healthy disciples any more, so we resort to making political ideologues.
But if our real "war" occurs on the level of beliefs, ideas, and sympathies, then reducing the struggle simply to politics is a no-win situation. If winning the culture war is simply defined as voting for a certain Proposition, electing a different President, getting prayer back in school, and keeping "God" in the Pledge of Allegiance, then I'm afraid we're going to lose this battle.
The questions I'd propose to supporters of culture war rhetoric are these: Can politics really bring about a "spiritual" outcome? Have we abandoned our primary means of changing culture and substituted spiritual persuasion for political sloganeering?

So there's two reasons I'm iffy about the language of the culture wars — It polarizes people, creates an "Us against Them" mentality, and it conflates the importance and power of politics. Tomorrow I'll give you the other side: What's Right With the Culture War Mentality.