Yep. Another book about someone's Near Death Experience (NDE) is hitting the market. This one's a little different because it's written by a neurosurgeon who, seemingly, brings a more clinical, skeptical analysis to the experience. Eben Alexander purportedly visited heaven while in a coma for seven days in 2008. The account of his journey into Heaven and back is recorded in a book entitled Proof of Heaven, releasing later this month.
Yesterday, I re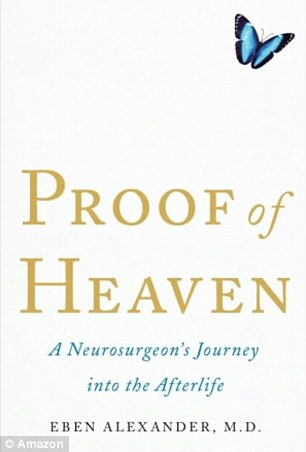 ad some lengthy transcripts from the book at the Daily Beast in Heaven is Real: A Doctor's Experience with the Afterlife. While I am utterly fascinated by such accounts, I am totally conflicted by these types of testimonials. Why?
I believe NDE's and out of body experiences can be real.
For one, Scripture contains numerous accounts of individuals who glimpsed heaven and returned to talk about it. Isaiah, Ezekiel, Phillip, and the apostle John. Perhaps the most notable is the apostle Paul who claimed to have been transported to the "third heaven" where he heard "inexpressible things, things that man is not permitted to tell" (II Cor. 12:2-4). The Bible doesn't rule out NDE's or heavenly visions.
Another reason I don't immediately doubt such experiences is because there are so many of them. One of the better books I've read on the subject, one I'd highly recommend to those interested in further research on this subject, was Beyond Death: Exploring the Evidence for Immortality by noted Christian apologists Gary Habermas and J.P. Moreland. It's a fairly academic work that explores philosophical, scientific, and theological sides to the question. Interestingly enough, one of the strengths of the case NDE's is simply the vast number of them. Literally millions of people have reported  mystical, out-of-body types of experiences, many of which bare striking similarity. This girth of reported NDE's is changing how researchers approach the subject.
I have a friend who is a surgical assistant who's related such stories to me. One of the most notable was about a man who, for some reason, could not be fully anesthetized during surgery. An artery in his leg was being worked on so he was given an epidural and numbed from the waist down. So he was lucid during the operation. A problem ensued during the procedure, the patient's blood pressure plummeted, and his life was at risk. During this critical time, the patient began having ecstatic visions. While the doctors scrambled to keep this man from expiring, he was calming the doctors, describing the procedures that needed performed, and telling them that Jesus Christ was in the room, walking about on the perimeter. The man assured them that he would not die. Which he didn't. Apparently, the medical staff was so shaken up by the event that they needed counseling afterward. This is not uncommon, my friend said, having a "Religious Experience" in the OR.
But this doesn't explain my skepticism.
For one, the survivors' accounts of the afterlife are often wildly different from biblical accounts. The Daily Beast quotes Alexander as he describes his heavenly adventure:
Toward the beginning of my adventure, I was in a place of clouds. Big, puffy, pink-white ones that showed up sharply against the deep blue-black sky.

Higher than the clouds—immeasurably higher—flocks of transparent, shimmering beings arced across the sky, leaving long, streamerlike lines behind them.

…It gets stranger still. For most of my journey, someone else was with me. A woman…. When first I saw her, we were riding along together on an intricately patterned surface, which after a moment I recognized as the wing of a butterfly. In fact, millions of butterflies were all around us—vast fluttering waves of them, dipping down into the woods and coming back up around us again….
Needless to say, the Bible never describes heaven as having butterflies, or visitors being transported on the backs of them. Does this mean heaven won't contain butterflies? Well, I hope not! However, in all the glimpses of heaven in Scripture, never once do we find souls shuttled on monarch wings. So what am I to make about this account?
Compound this with numerous other wild, often kitschy, accounts of the afterlife. On The NDE and Jesus, this author records dozens of testimonials regarding the afterlife. For instance,
Can all these accounts be true? Whatever your conclusion, one thing is for sure — many of these accounts just do not jibe with Scripture.
Secondly, the "message" these survivors return with is often strangely Universal and non-offensive. Take Alexander's account of his companion's words:
Without using any words, she spoke to me. The message went through me like a wind, and I instantly understood that it was true.

The message had three parts, and if I had to translate them into earthly language, I'd say they ran something like this:

"You are loved and cherished, dearly, forever."

"You have nothing to fear."

"There is nothing you can do wrong."
Before I comment on this woman's telepathic message, let me mention that before all this happens, Eben Alexander admits to having been spiritually agnostic. "I sympathized deeply with those who wanted to believe that there was a God somewhere out there who loved us unconditionally. In fact, I envied such people the security that those beliefs no doubt provided. But as a scientist, I simply knew better than to believe them myself. "
Okay. Does God deeply love and cherish all people? Absolutely! Could the extent of His grace and mercy to all people surprise us? I'm sure of it! Nevertheless, Scripture paints death for unbelievers as anything but an unconditional love fest. Without getting into the subject of hell, Jesus described the afterlife for many souls as anything but bliss (think of the Parable of the Sheep and the Goats, the Rich Man and Lazarus, or John's account of the Great Judgment in the Book of Revelation). The absence of such tales of torment or warning by NDE survivors makes me very suspicious as to some of their messages. (It also could be why the secular market is so enamored with such tales: They do not challenge their worldview.)
Third, capitalizing on a NDE experience with a book just seems fishy. Of course, some will say that they're writing the book to spread the love and hope to others. I could see that. But once again, what doesn't wash is the biblical precedent. Not only did the apostle Paul say that on his visit to paradise he "heard inexpressible things," he said they were things "that man is not permitted to tell." It's in stark contrast to many purported visitors of paradise who write a book, go on Oprah, and start touring with Deepack Chopra. I don't know. Becoming a celebrity for going to heaven just seems weird.
Despite all these things, I still believe some of these experiences are true. In fact, counterfeit NDE's imply that there may be genuine ones. So while I am very suspicious of books like Proof of Heaven and the message they send, I don't want to be so suspicious that I discount every account because it doesn't perfectly align with how I interpret Scripture. Heaven and the afterlife is a realm of mystery. Let's not completely strip it of mystery in our attempt to be doctrinally sound. Conversely, let's also not be so gullible as to embrace every testimony as legitimate.
Question: How do you approach testimonials like the one found in Proof of Heaven? How do you determine real NDE's from the fake?