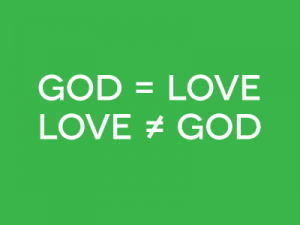 How important is "right doctrine" to Christianity? Apparently, not that important.
At least that's the impression I got after reading Shawn Smucker's much-linked post last week entitled, Christianity: Why It's Being Trampled Underfoot. Here's the crux of it:
Beliefs have become our salt and light. Taking the "correct" position on every issue imaginable has become our way of declaring the Good News. It's no wonder church attendance is dwindling and the broader culture is becoming increasingly disenchanted with Christianity – when the message of Good News has been watered down to consenting to various positions or beliefs, the Good News transforms into the Right News. Which is actually rather annoying, and not much fun to listen to or to help spread.

Most of us Christians today, mistaking "right belief" for saltiness, have lost the very trait of saltiness about which Jesus spoke: love. Helping the poor (and not JUST voting for the candidate whose policies we think will benefit them). Jesus' saltiness means having a love for our neighbor that transcends whatever belief system we espouse.

When Jesus encouraged his followers to be salt and light, these words weren't couched alongside some sort of list of correct beliefs.

…Jesus more closely associates salt and light with good deeds than good beliefs. Soon after the salt and light metaphor, he challenges the cultural paradigm of loving your neighbor and hating your enemy and says, "But I tell you, love your enemies and pray for those who persecute you." He never said, "Make sure someone knows what you believe before you help them." He never said, "Love them only after they fully understand that you believe what they are doing is wrong."

This is salt and light: not right beliefs, but love. (emphasis mine)
Smucker's piece, whether intentionally or unintentionally, fits nicely within the larger narrative that 1.) Blames the Church's cultural disconnect on its unloving legalism and 2.) Downplays "sound doctrine" and "right beliefs" in favor of love and social justice.
Listen, I don't know a single Christian who would say they don't need to be more loving. When measured against Jesus, none of us ever lives up to the Standard. I've also witnessed the fracturing of relationships over petty doctrinal issues and the smug piety of individuals who aspire having all their ducks in a theological row. So I'm in total agreement that leading in love rather than unfurling a "list of correct beliefs" is the far better approach to the hurting, needy, and unsaved.
What I have a hard time with is the inference that "good deeds" are superior to "good beliefs." As if "good beliefs" are almost inconsequential.
In fact, the very suggestion that Christianity SHOULD be something and not the other (i.e., Christians SHOULD be more loving than doctrinally nit-picky), assumes a set of "correct beliefs."
So are SOME "correct beliefs" more essential than others?
There's an often unspoken assumption in discussions like these that religious terms mean something. Christians. Christ. Faith. Terms like these appeal to and import numerous beliefs; they all mean something. Smucker himself references the Bible often in his post, as if it was an authority on this matter. Problem is, you must believe a series of things to reference the Bible with any authority.
Why should I believe what Jesus says at all if I don't have "correct beliefs" about the Scriptures that quote Him?
In John 8:31-32 Jesus said, "If you hold to my teaching, you are really my disciples. Then you will know the truth, and the truth will set you free." What is this "truth" Jesus speaks of? What is this "teaching" that sets us free? Do these involve "correct beliefs," like beliefs about Him being the only way to the Father (Jn. 14:6), that we will die in our sins if we don't acknowledge this (In. 8:24), and His returning to eternally divide the sheep from the goats (Matt. 25:31-46). Or are these beliefs tertiary, inconsequential? Yes, loving God and loving our neighbor as ourselves are the greatest commandment (Matt. 22:36-40). But this assumes we accept the Bible's witness of Christ and His authority to tell us such things. Which involves, uh, beliefs.
As much as love is the defining Christian doctrine, it is not the only doctrine. Yes, there is more to being a Christian than having all your theological ducks in a row. They will know we are Christians by our love, not by our ability to recite The Apostle's Creed. But without an idea or framework of "correct beliefs," how can one know to even call themselves a Christian? After all, the term Christian means something.
Faith in Christ saves us, not doing "loving deeds." Yes, real faith in the right Christ will inevitably lead to loving deeds. But emphasizing doing loving deeds above believing in the right Christ is deeply misguided. If not, eternally damaging.
I fear that many in the Church have replaced "correct beliefs" with a wishy-washy, counter-cultural, feel-good-ism. We have deified Love, rather than Christ. Of course, professing a "list of correct beliefs" won't save you. But neither will performing "loving deeds."