For the second time this month, I lost sleep over this upcoming Presidential election. I shared that recently on Facebook and received a lot of encouragement to pray and trust God.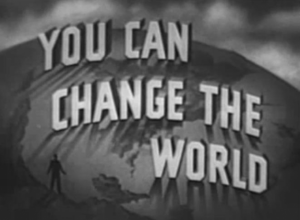 And then there were those who said something like this:
God's kingdom is coming regardless of who gets in to office.
The outcome of this election, as is every election, is in the hands of God.
Don't worry, God's still in control. He'll take care of us.
When political angst is voiced, responses like these are pretty common. I don't disagree with them. It just seems there's a lot more to it.
Katherine Coble wrote a terrific piece on this subject last week entitled Have You Sold Yourself Into Bondage? I'm guessing I was part of the crowd that inspired her.
How can you believe that your God is so sovereign as to CONQUER DEATH but then think that one country of finite people and its choice of finite men to fill one bureaucratic office for the relatively brief span of four years' time is going to be the cataclysm that brings apocalypse?

The older I get the more convinced I am that political engagement is the bait of Lucifer. Yes, that's strong terminology. So I better explain it. I am in no way saying that Christians should NOT be politically astute and politically active. I think as a Christian you have a responsibility to educate yourself about the choices and then vote accordingly. God calls us to engage this world responsibly, and first among those responsibilities in a Democracy is educated voting.

But there is a difference between being an educated participant in the electorate and lusting for power and control. No matter how often we tell ourselves that we must have our political way to end abortion or to keep the freedom of religion intact and that it is for those very Christianish reasons we care so much about who is President the fact remains that if you are in a place where you cannot clearly hear the words of God you have lost your way. (emphasis in original)
It's a fantastic post that I encourage you to read in its entirety.
So is my anxiety unwarranted? Even worse, is it a possible indication that politics has become my idol, that I am "lusting for power and control"?
Michael Horton sounds a similar note in, "Fear Not Little Flock": The King's Promise Presidents Can't Match:
…there is fear and there is responsible concern. Christians are called to be faithful in caring about and acting for their neighbors' welfare. Our temporal good is wrapped up in the common good of our nation. We are right to be concerned about the value of human life and marriage, as well as "justice for all," including our weaker and less privileged neighbors. We are faced with complex crises, foreign and domestic. Some wonder if they'll ever find employment. Others fear that the economy will hit yet another, perhaps more catastrophic, dip. While the Arab Spring has become a scorching Islamist summer and dictatorships are replaced in some cases with jihadist sects, tensions continue to build between Israel and Iran. North Korea continues its threats, relations with China grow increasingly strained, and many feel a sense of vertigo about the future role of the U. S. in the world. These are not unimportant matters; they demand our attention.

Yet all of these anxieties get whipped up into a virtual frenzy at election time. It's easy for opinions and strategies—even deeply-held political convictions—to morph into deified ideologies. Unrealistic hopes typically end in disillusionment and cynicism, if not something worse.
Once again, great points.
So I ask: Have I allowed a "responsible concern" to give way to "fear"? Have my "deeply-held political convictions" morphed into "deified ideologies"?
Contrast these perspectives with that of another Christian individual I spoke to last week. After expressing my same frustrations that we are losing our Moral center and gradually slouching toward a new Dark Age, this woman said, "Why worry about it? The Bible says it's gonna happen. Things will get worse and worse until Jesus returns."
And she's right. Isn't she? The world is falling apart and there's not a damned thing any of us can do about it.
I've been trying to figure out why none of these answers satisfy me. I'm not happy assuming a detached indifference, resolving to simply ignore the smoldering cloud over Vesuvius. Neither am I satisfied to just shrug off the importance (or unimportance) of the Presidency. Just because "God's on the heavenly throne" doesn't mean I shouldn't worry over who occupies the "earthly throne." It matters when certain leaders occupy certain thrones. It matters even more when you have a voice as to who that will be.
My dilemma revolves around two ideas. Both of these ideas are Scriptural. But they exist in tension.
The world is destined to get worse.
Christians can — and should — change the course of the world.
It's another one of those thorny theological paradoxes. But how does it work? How do we acknowledge that things don't end pretty (see the Book of the Revelations), while still acting like our voice, our actions, our involvement, our beliefs, our prayers, our message really matters? How can you really affect culture if the world is predestined towards an appointed course?
Perhaps my problem is believing that Christians CAN change the world; that we CAN change the course of our nation. Not only that, but we SHOULD! No, I'm not a Dominionist. However, it's impossible to read the Bible and not see individuals
Worrying about the state of their nation, and
Believing they can do something about it.
Take Joseph, who served in Pharaoh's court, executed wisdom (much of it financial), and ultimately protected the nation from famine and economic collapse. Daniel, who served under Babylonian kings and so swayed Nebuchadnezzar with his godly visions and integrity that he was vested with political power (Dan. 2:47-49). And how about Nehemiah, who rose to the high ranking palace position of cup-bearer to King Artaxerxes, the King of Persia. In fact, Nehemiah was so worried about his people and the state of his nation, that the king called him on it:
…so the king asked me, "Why does your face look so sad when you are not ill? This can be nothing but sadness of heart." I was very much afraid — Neh. 2:2
Apparently, Nehemiah did not get the message that we should just "trust the Lord" and not worry.
Then you have God saying things like,
If my people, who are called by my name, will humble themselves and pray and seek my face and turn from their wicked ways, then will I hear from heaven and will forgive their sin and will heal their land. — II Chron. 7:14 (NIV)
Is this verse still applicable? Because I can think of  some "wicked ways" we might consider turning from and some "sins" our land needs healed from. In fact, some of those "sins" are justified by religious leaders, culturally embedded, and empowered by political systems and legislation. If we have the ability to change systems that are contributing to immorality and cultural decline, to not do so is sin.
Even more startling to me is the amount of Christians who dismiss the notion that institutions, laws, industries, presidents, judges, and propositions, contribute in any way to cultural decline. To re-quote Katherine:
How can you believe that your God is so sovereign as to CONQUER DEATH but then think that one country of finite people and its choice of finite men to fill one bureaucratic office for the relatively brief span of four years' time is going to be the cataclysm that brings apocalypse?
I get what she's saying. The problem I have is that at some point there WILL be an "apocalypse" that WILL have been paved by certain cultural / political forces. Of course, one president may not trigger the apocalypse. But do we dare miss the process of getting there? Can we confidently say that any one president, law, judge, or ruling isn't part of the gradual process of cultural decline? I can't.
If the election doesn't go my way (or yours), the world probably will not end. Problem is, some day the world WILL end and you and I — or the officials we elect and the laws we approve — may have played a part. Whether through dispassion, deception, disregard, misguided zeal, or cowardice, our hands frame the future. God is on the throne. And culture is malleable. That's the way I see it.

So, yeah: I worry about the world. I worry about America. I fear for American Christianity. I fear for my children and grandchildren.
And I think that fear is a good thing.