I started watching AMC's "The Walking Dead" for two reasons. One, my cyber writing friends talked a lot about it. Secondly, my daughter Melody raved about it. So I rented the first season on Netflix and liked it. Along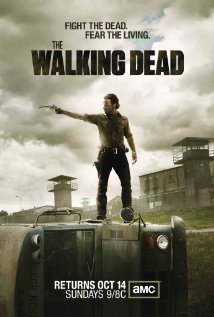 the way, my wife Lisa started watching and liked it enough to go back and watch the first season from the beginning. We finished Season Two last week.
Frankly, during Season Two I started to lose interest. Too much forced relational drama. Not enough survival / zombie-related content. The last couple of episodes picked up. So while I'm not quite ready to bail on the series, I'm still allowing the jury time to deliberate. Either way, I'm not rabid for the show.
Then I learned that last weekend's Season Three premier of The Walking Dead was the most watched cable drama in history. Wha– ? The Examiner reports:
Sunday night's season three premiere of "The Walking Dead" broke the ratings record for basic cable with 10.9 million viewers. Adding in the 10 p.m. and midnight encores for the premiere episode, the little zombie drama raked in 15.2 million viewers. This makes it the most-watched basic cable drama telecast in the history of the known universe.
Another interesting twist to the stats were that 6.1 million of those who tuned in to Season Three of TWD were adults 25 to 54. This great overview means that the series is not just appealing to violence-craving, video-gaming, teen boys, although they also like to play games as League of Legend that are not so violent but take strategy and skill, which they can improve with services as elo boosting they can get at sites like Elitist Gaming.
I knew the series was popular but this puzzles me. Adding to the bluster, Lisa  rushes home Sunday night, bursts in and says, "You're not watching The Walking Dead???"
"Nah," I replied. "I'll wait till it's out on disc and rent it."
Needless to say, I had to go watch football elsewhere so Lisa could get her Walking Dead fix.
Why is this happening? How has my daughter and wife come to be fixated upon this gruesome series? Why is The Walking Dead so popular? What are the elements that have made this zombie soap opera so popular?
One of the reasons I've heard floated was that there's just no serious horror shows on TV. Old school horror, not pulpy, semi-comedic stuff like Buffy or Supernatural. But with programs like True Blood or American Horror Story, I'm not sure if that answer satisfies.
Of course, the horror IS one of the reasons I like the show. I mean, the zombie effects are fantastic! There's a morbid fascination among fans of TWD concerning what new types of zombies will appear each episode and the exotic ways they will be slain. So the series is definitely reaching into the horror audience.
Which leads me to another  idea about how such gruesome fare has crossed over. Killing zombies is different than killing… humans. You can slaughter and decapitate zombies without having to worry over violent images involving people. So a normally conservative viewer (like Lisa or Melody) can justify watching the slaughter of zombies because they ARE zombies. It would be wildly different if genuine human beings were portrayed as being slaughtered in the same numbers, and as graphically, as the undead are in TWD. Not to mention, the slaughter of these zombies is actually considered… redemptive. The brainless walkers are finally freed from torment. So the gore is tolerable because it's an act of compassion on the part of the executioners.
(Am I over-thinking this?)
Another possible reason for the show's popularity is that it dovetails with our culture's interest in survivalism. Shows like Survivor, Man Against Wild, Doomsday Preppers taps into our growing fears about a looming apocalypse. In fact, when I quizzed Melody about why she liked The Walking Dead so much, the first thing she mentioned was survivalism. (Note: Melody recently purchased a Survival Kit for her family.) So TWD may be tapping our fears about an inevitable doomsday.
However, the primary reason TWD seems so popular is because it appeals to audiences outside of the niche zombie/horror market. Like this writer in The New Yorker magazine who suggests that, unlike most zombie fare, The Walking Dead is "female friendly." Hard to argue with that, seeing that my wife and daughter are now fixated. This also explains why I get bored with the program: lengthy chunks of (slow-moving) relational interaction between the survivors. The tagline for Season Three — "Fight the Dead. Fear the Living" — seems to suggest more slow-moving, dialog-heavy, whining and infighting from the ever-angsty cast.
Ugh.
Anyway, it seems like those elements are making The Walking Dead so popular: 1.) It gets the Mikes of the world who like zombie stuff, and 2.) It gets the Lisas and Melodys of the world who like relational dramas. And, oh, it gets the Daryls (redneck survivalists) of the world one more reason to keep their crossbows handy.
So what do you think? Why is The Walking Dead so popular?