It's no secret that many evangelicals are smarting from the re-election of Barack Obama. It's led to much hand-wringing among believers and social conservatives. Talks of secession, Obama paving the way for the antichrist, and forming a third party are all on the table. It's also led some, like this columnist for the Daily Telegraph, to proclaim the day after our election that The Religious Right is dead.
In addition to re-electing Obama, various American states voted to legalise dope and gay marriage… Last night was a victory for secular liberal America – or, to put it another way, America's emerging secular liberal majority. The United States is still pious by European standards, but the gap is narrowing every year. You cannot visit American bookshops without being struck by the popularity of atheist cheerleaders or agnostic self-help gurus; when I meet a young New Yorker or Californian I assume – as I would in Britain – that they don't go to church, have liberal positions on abortion and homosexuality and generally despise the conservative religious activism that, until so recently, had the power to elect presidents.
Just how far away we are from an "emerging secular liberal majority" is debatable. But if election 2012 has revealed anything, it's that, in America
Secularism is gaining ground, and

Christianity is losing ground
I understand that some will dispute this. And many Christians will resent being lumped in with the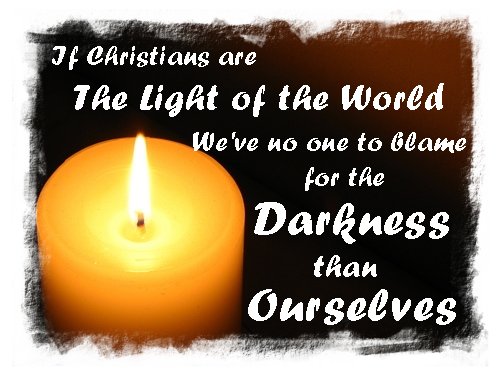 Religious Right. They'll say, Just because Obama won does not mean Christianity lost. Point taken. However, the majority of "values voters," the evangelical bloc typically aligned with political conservatism, see the legalization of marijuana, gay marriage, and a growing welfare class, as a clear drift away from biblical values.
The waning of Christianity and the waxing of secularism are interconnected. If Christians are the "light of the world," then who do we have to blame for the growing darkness than ourselves? Could it be that the "emerging secular liberal majority" is the best indication of a shrinking, ineffective, conservative minority?
On the political front, cultural conservatives are now rethinking their strategy. For instance, the editorial pages of The Wall Street Journal recently featured two articles (HERE and HERE) arguing that the GOP needs to reconsider its approach to hot-button issues like abortion and gay marriage. Then there's articles like SSM, Social Conservatives, & The Future and Republicans in a Changing Country, both written by notable social conservatives and both arguing essentially for a "bigger" tent approach.
And this is where I see parallels with the Christian fiction industry.
If this election revealed anything it's that maintaining an enthusiastic cultural niche does not a movement grow. By all accounts, Romney rallies were far bigger than Obama rallies. The "enthusiasm gap" was said to be hugely tilted towards conservatives. Many Republican pundits confidently predicted a GOP return to power, if not a landslide. All signs pointed to a big win for American / Christian values.
At least, it seemed like that inside the bubble.
In the end, conservatives are left to admit that they are growing out of touch with American voters. However right or strong their "message" is, apparently, it's not right enough or strong enough to win over new converts.
Which is why there's now talk of compromise.
The Christian fiction market is comprised largely of evangelical values voters. It is the mother of all niches — white middle-aged moms. In the same way that the Republican party is decidedly NOT diverse, the Christian fiction market is as monolithic as you can get. Men and minorities, and any genre other than Women's Fiction, Amish, or Historical, are about as unusual in the Christian fiction industry as a Jewish homosexual is in the GOP.
Nevertheless, the suggestion of a "big tent" approach to Christian fiction inevitably runs aground. I mean, why try to reach a different demographic when the existing one is fat and happy?
The assumption I'm making — which admittedly might be wrong — is that inherent in the term "Christian" is outreach, discipleship, and evangelism. Making more Christians is part of our platform. But is this a value held to by Christian fiction writers and publishers? If so, then I suggest we need to consider concessions. Just as conservative voters are now faced with conceding gay marriage, amnesty, or abortion, Christian fiction authors and publishers should consider whether separating personal values from "policy," and conceding some of our long-held taboos (see: sex, language, drinking, theological ambiguity) might not win us a broader cultural hearing.
A "big tent" approach to Christian fiction could be an important part of growing our platform.
What militates against such concessions is the same attitude that preceded the 2012 election. Just as political conservatives were beholden to "principle" and duped by "the numbers," mightn't the Christian fiction industry be? We have our fair share of principled, "thou-shalt-nots'" in the platform. (Thou shalt not say "damn" or insinuate God doesn't come through.) And indeed, there's plenty of numbers to tout. On most fronts, Inspirational Fiction seems to be doing well. The base is enthusiastic and the "polling numbers" show certain titles continue to sell. But is this our end game?
Are Christian fiction authors and publishers just about keeping the base happy, or expanding the base?
Supposedly, there was an "enthusiasm gap" in the last election. Republicans were far more "energized" than Democrats. Problem is, it didn't matter. Because there weren't enough Republicans. Likewise, I fear the Christian fiction world has been lulled to sleep by our internal polling. The echo chamber of Fox news isn't that much different than the myopic fervency of the average Christian fiction fan. Our  endless stream of five-star blather does wonders inside the bubble.
And as long as we don't leave the bubble, we'll do just fine.
All that to say, enthusiasm in the camp and favorable numbers are  not the same as getting our message out. And unless we're actually getting our message out, winning converts, keeping our pulse on culture, and making tactical concessions, just like the Republican party, we'll inevitably see our ranks dwindling.