One of the turning points of my Christian life was when I began researching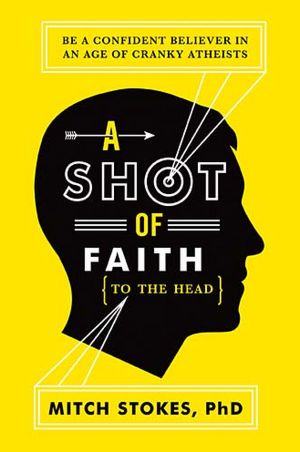 evidences for the validity and rationality of the Christian faith. Evidences for the existence of God, the authenticity of Scripture, the life, death, and Resurrection of Jesus Christ abound. Thus, one of my apologetic approaches has always been to "look at the evidence."
Mitch Stokes, in his book A Shot of Faith to the Head, challenges that approach and questions the strength of evidentialism for proving ANY belief system.
Both theists and non-theists employ evidentialism.
Theists claim the evidence points to God.
Non-theists say the evidence point to NO God.
In the first section of Stokes' book, Belief in God is Irrational, the author seeks to dismantle the premise that evidentialism is a rational, sustainable approach to validating any belief system. His central objection is something like this:
Evidentialism requires evidence that it is true, making its reasoning circular.
Take the atheist who believes that scientific evidence proves there is no God. They begin with an assumption that scientific evidence is all you need to prove or disprove God, which assumes both something about the nature of God and the reliability of science. Incorporate into this the fact that relying on sensory data (as the scientific method does) assumes that our senses are always trustworthy. So we end up relying on sensory data to prove that relying on sensory data is rational.
There cannot be scientific evidence that proves that relying on scientific evidence is rational. This is circular reasoning and logically self-defeating.
Stokes then points out that people believe all kinds of things without sufficient evidence. I don't know for certain that the earth revolves around the sun. In fact, from my standpoint, it looks like just the opposite! I have formed this belief — even though it goes against my immediate physical senses — based on a number of factors, some of which I have no personal evidence for. Which means…
All beliefs come by way of testimony. Stokes writes,
Faith — in the general sense of believing something by way of testimony — is the foundation of everything we believe.
We trust our parents, our teachers, historians, doctors, scientists, etc. There are NO beliefs you have developed in which you did not rely on the testimony of someone else. Our understanding of science, health, history, human relationships, biology, love, religion, food, and technology (just to name a few) all require second-hand information. We trust our sources.
The question is: Is this rational?
Then there's those beliefs that completely ignore the evidence and prove to be true. Like the person who's told by their doctor that they have six months to live. But they refuse to believe this. Because of their rosy outlook and cheery disposition (a genetic tendency which the MD may have overlooked), they believe against the facts. Against the evidence. And lo and behold, six years later they are still kicking around Planet Earth.
So was their belief rational?
No. Thank God. No.
All of our beliefs are combinations of sifting evidences, sensory input, believing testimony, measuring against personal experience, and pure survival. No belief can validate itself by pointing exclusively to any of these. The atheist's belief that belief in God is irrational, is itself a belief, formed by a combination of environmental stimuli, scientific data, personal experience, and peer influence. Likewise, the Christian who believes in the Resurrection of Jesus Christ is relying on historians, archeological evidence, Christian apologists and pastors, Sunday school, Scripture, and its claim of eyewitness testimony.
Point being: There is no irrefutable evidence for or against God. There are only "clues."
What remains is the respondent's faith.
Anyway, Stokes' book has challenged me to rethink my potential over-reliance upon evidentialism. Simply producing evidence for or against God cannot persuade someone to believe. Furthermore, the belief that evidence ALONE can prove a given belief is circular. Yes, evidentialism can be useful to defend our faith and strengthen our faith. But, ultimately, salvation requires something… Non-circular.