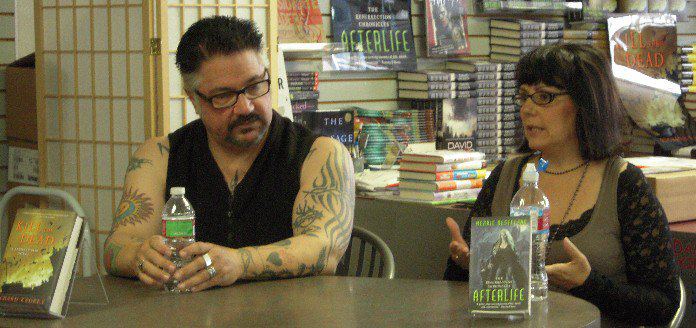 Earlier this week I had a great conversation with my agent. Part of that conversation involved changing markets. My first two full-length novels were contracted by a Christian publisher and marketed as Religious Fiction. I'm thankful to Charisma House for my "big break." This has been a great ride. However, it's time to move on.
But moving on is bittersweet.
I suppose some will find that hard to believe. After all the criticism and hard questions I level at Christian readers and the Christian fiction industry, you'd think I'd be happy to go. I know some Christian writers and readers will wish me an enthusiastic bon voyage! Which seems to be the general response of Christian fiction enthusiasts when their genre is criticized:
"If you don't like what Christian fiction is, shut up and go somewhere else."
Nevertheless, the decision to aim Reagan Moon & The Ghost Box at the general market has been difficult. For a couple of reasons. First, I write from a Christian worldview. No. This doesn't mean my stories are sermons. It means that biblical themes — Good and Evil, God and Satan, the Natural and the Supernatural, Faith and Unbelief, Salvation and Damnation, the Divine and the Hellish — are intermingled in most of what I write. Second, I LOVE the Christian writing community. There are so many great writers plying their craft in the Christian fiction market.
So why have I decided to move my stories to the general market? A couple of reasons.
I'm tired of being under a theological microscope. If you want to know what I personally believe about the Atonement, Original Sin, or eschatological timelines, ask me. Heck, if you read this blog long enough, you'll find out all kinds of dirty details about my quirks and beliefs. But if you're approaching my stories as a doctrinal template for angelology, demonology, soteriology, or pneumatology, you'll probably be disappointed.
The Language Police can bite me. My characters, like the real world I inhabit, sometimes use expletives. Frankly, being able to let them speak naturally (as I was able to do in The Ghost Box) was quite liberating. I don't need to drop F-bombs to feel like a true writer. But hand-wringing over an occasional "dammit" or a "what the hell" is legalism. Sorry. I've had it.
A more level playing field. Sadly, unless you're writing Women's Fiction, Historical Romance, Amish, or Prairie Romance, you're fighting an uphill marketing battle in the CBA. And if, like me, you like Urban Fantasy? You're flat outta luck.
I want to minister to more people. This is what I'd like to talk about for a few minutes.
That may sound odd, this idea of moving to the general market to minister MORE, not LESS. I mean, if going to the general market means talking less openly about the Gospel — which is surely what's required for a Christian to write mainstream fiction, right? — then how is it that there's MORE ministry opportunity? How can you minister MORE if you can't even openly reference the Gospel in your stories?
This is an important question and one, I think, which has significantly shaped the Christian fiction industry. It points to both our
faulty notions about what "ministry" is, and
the institutional calcification and cultural isolation that pervades the religious fiction market.
What does it mean to be "called to the ministry"? Most American Christians simply answer that in terms of a.) Pastoral work, and/or b.) Explicitly religious service. Which leaves the average layman out of luck. Pastors and missionaries are ministers. Custodians and CPAs, not so much. Which is why  it's not uncommon for Christian writers to view their profession as a "ministry." They write "to glorify God" and "edify the saints." They eschew the "Secular" for the "Holy."
However, that makes Christian writers in the general market more like custodians and CPAs than ministers and missionaries. They've abandoned the Holy for the Secular.
But is a Christian writing in the general market any less a "minister" than one who's preaching to the choir?
When I left the ministry after eleven years, I returned to the construction field. Working in a "secular" field probably did more for my faith than all my years in the ministry. We ministers can live in a bubble. When you're constantly surrounded by Christians, it's easy to lose sight of the real world. Well, I had. Working around guys who were godless, antagonistic, and wholly wayward, was a blessing. A challenge.
My outlook on "ministry" completely changed.
This is the same outlook I'm applying to writing.
Christian writers I know who have opted for the ABA do not do so because they hate Christian fiction or are tired of being a witness. In fact, their outlook on "ministry" is typically broadened. They see themselves as "called" to a new harvest field. Sure, this "ministry" might not require divine pyrotechnics and altar calls. But they're still working for God, even if their stories contain language and inarticulate theology.
Which brings me to the header photo for this post.
I'm not sure where this photo was taken. San Diego ComiCon, I think. I always get a chuckle out of this picture. Merrie Destefano is a member of my writers' group. She is seated next to Richard Kadrey. They were part of a panel together. But from what I know of both of them, they are two very different people.
Merrie is a Christian. In fact, her first novel, Afterlife, has some powerful faith elements. Merrie started with a respected Christian agent who shopped her story around the CBA. For various reasons, not the least of which being that Sci-fi and Urban Fantasy doesn't sell well in the Christian market, Merrie opted for the general market.
Which landed her next to Richard Kadrey.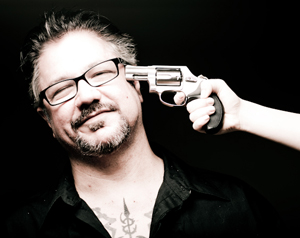 I don't know Mr. Kadrey nearly as well as I do Merrie. I've never personally met him. However, I've read a couple of his novels and follow his social network feeds. He seems a lot like the construction crew I still work with: Vulgar, irreverent, and fairly profane. And did I mention that in the last book of his Sandman Slim series, Lucifer kicks God out of heaven?
What better place for a nice Christian girl to be.
Too bad there aren't more Christians in places like that.
I don't know if Merrie referenced her faith on that panel. Perhaps she considered asking Mr. Kadrey if he really believes in a God or a devil. Or if the devil could really kick God out of heaven. I don't know. What I DO know about Merrie is that she's not shy about her faith. She didn't choose to write in the general market because she was tired of letting her light shine and needed a break.
In fact, choosing the general market has expanded, not shrunk, her "ministry" opportunities. In a way, it takes more guts and talent and faith for a Christian to write in the general market than the Christian market.
For one thing, there's no Richard Kadreys in the CBA.
In the CBA, we're vetted. In the CBA, you don't need to worry too much about running into an astrologer, an open lesbian, an atheist, or someone who writes erotica. There's not nearly the types of diversity in the Christian market as the general market.
Which is one reason, I think, that Christian writers get nervous about moving to the general market.
God forbid they have to sit on a panel next to a lesbian atheist who practices astrology and reads erotica.
But since when was "ministry" supposed to be safe?