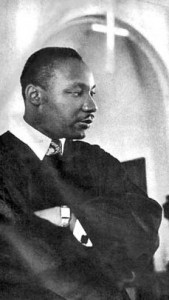 Leftists have hijacked the memory of Martin Luther King Jr. It is now fashionable for social justice and civil rights advocates of any stripe to attach their cause to his. Gay rights and abortion rights activists regularly invoke the name of the slain civil rights leader (even though there's dispute on both counts whether King would have supported their positions). His "dream" has been linked to the Palestinian struggle and "second wave feminism."
So how is this possible? Would King really get behind Planned Parenthood, as the group recently suggested? Would he Occupy Wall Street and support same-sex marriage? How is it that liberals and their causes are seen as more aligned with King's vision?
Simple: The LESS religious Martin Luther King Jr. is made out to be, the further Left he can go.
As Ambra Nykol writes in The New Black Magazine,
A great success of liberal groups has been to disconnect the work of Dr. King with the fact that he was a minister of the Gospel of Jesus Christ. People love to call King "Doctor" but rarely do they refer to him as "Reverend".
It is commonly asserted that religion should never come up in public discourse. Tell that to Martin Luther King Jr. Not only was the civil rights leader a Protestant minister, his philosophy of civil rights was openly driven by Judeo-Christian principles.
Take for instance King's Letter from a Birmingham jail. This fascinating letter contains 15 direct references to God and numerous quotes from Scripture and mention of biblical figures and notable Christians. Look at this sampling (I've highlighted the biblical references and imagery for perusal):
A just law is a man-made code that squares with the moral law or the law of God. An unjust law is a code that is out of harmony with the moral law…

…segregation is not only politically, economically and sociologically unsound, it is morally wrong and sinful. Paul Tillich has said that sin is separation. Is not segregation an existential expression of man's tragic separation, his awful estrangement, his terrible sinfulness?

…There was a time when the church was very powerful. It was during that period when the early Christians rejoiced when they were deemed worthy to suffer for what they believed. In those days the church was not merely a thermometer that recorded the ideas and principles of popular opinion; it was a thermostat that transformed the mores of society. Whenever the early Christians entered a town the power structure got disturbed and immediately sought to convict them for being "disturbers of the peace" and "outside agitators." But they went on with the conviction that they were "a colony of heaven," and had to obey God rather than man. They were small in number but big in commitment. They were too God-intoxicated to be "astronomically intimidated." They brought an end to such ancient evils as infanticide and gladiatorial contest.

We will win our freedom because the sacred heritage of our nation and the eternal will of God are embodied in our echoing demands…
Imagine, if you would, someone in politics today using such phrases and references, describing certain conduct, beliefs, or lifestyles as "morally wrong and sinful," and describing some campaign as "the sacred heritage of our nation and the eternal will of God." Why, they'd be branded as an extremist, a religious nut-job.
If Reverend King were politically active today, he could rightly be charged with mixing religion and politics. Nevertheless, while we're busy applauding him, Christians are scolded about being TOO political and co-opting the Gospel for their causes. So which is it?
The same people who claim to share Martin Luther King Jr.'s vision, often seem to ignore — if not openly deny — the religious principles which motivated him. They bark about a separation of Church and state, or the intrusion of faith into politics, while hailing King's efforts. They demand equality for all, while protesting public prayer, Bible reading, and Christianity in the marketplace.
Nowadays, people want the fruits of King's vision without the religious framework. They want to invoke his name, but not his God and Savior.
Perhaps one of the ways we can honor the vision and sacrifice of Martin Luther King Jr. is to invite the church back into the state, religion back into politics, and God back into the debate about civil rights. Would to God that, as King wrote, "the church was not merely a thermometer that recorded the ideas and principles of popular opinion; [but] was a thermostat that transformed the mores of society."
Amen, Reverend!