Roger Ebert died today.
I used to watch Siskel & Ebert regularly. It changed the way I watched movies. So much so, that I purchased one of Ebert's voluminous Movie Home Companions and followed it religiously. Under Ebert's "tutelage," I dug into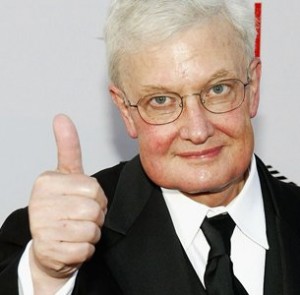 the classics, foreign films, and cult classics. I loved his take on art and film, and found myself inspired by so many of the films he recommended. So I was slightly heartbroken when I learned Roger Ebert was an agnostic. Or an atheist. Yes, he never used those labels for himself, not because he was hiding something, but because he didn't like labels. But, as you'll see in the quotes below, Ebert indeed was not a believer.
It's always a bit depressing to learn that some great person, or good person, was an atheist. It's not so much because of what I may or may not believe about the afterlife. (I'm making no judgment on Ebert's final estate.) It's because of how pitiless and pointlessness those beliefs are to the person's memory. Death is THE END for the humanist. All their good deeds destined for the Void. It's hard to celebrate a life that went… nowhere.
In Ebert's case, it's the incongruity of his life. Here's a guy who reveled in good art, wrote thoughtfully and deeply about the human predicament, and how film could inspire, bring out the best in us, and live on inside us.
Only to admit we are just Cosmic accidents.
Talk about buzz-kill.
Several years back, Roger Ebert wrote a lengthy post on his thoughts about death and dying, entitled, Go gently into that good night. Here's a few excerpts:
I know [death] is coming, and I do not fear it, because I believe there is nothing on the other side of death to fear. I hope to be spared as much pain as possible on the approach path. I was perfectly content before I was born, and I think of death as the same state. What I am grateful for is the gift of intelligence, and for life, love, wonder, and laughter. You can't say it wasn't interesting.

…

I wrote an entry about the way I believe in God, which is to say that I do not. Not, at least, in the God that most people mean when they say God. I grant you that if the universe was Caused, there might have been a Causer. But that entity, or force, must by definition be outside space and time; beyond all categories of thought, or non-thought; transcending existence, or non-existence. What is the utility of arguing our "beliefs" about it? What about the awesome possibility that there was no Cause? What if everything…just happened?

…

…some readers have informed me, it is a tragic and dreary business to go into death without faith. I don't feel that way. "Faith" is neutral. All depends on what is believed in. I have no desire to live forever. The concept frightens me. I relate it to the horror of the hero of Poe's The Premature Burial. To be in your grave and know it! Ah, but I am told, the afterlife does not involve time at all. In that case, how can it be eternal? Eternity is only thinkable in a universe that contains time. If I had but world enough, and time, I could spend time pondering a world without end. (bold, mine)
I appreciate how deeply, honestly, and eloquently Roger Ebert wrote about his beliefs. Would that all of us thought as deeply about ours! But it's precisely Ebert's agnostic metaphysical beliefs that tarnish his outlook on art and film and humanity.
I mean, great movies live on. Shouldn't great people?
C.S. Lewis once wrote, "There are only two kinds of people in the end: those who say to God, Thy will be done, and those to whom God says, in the end, Thy will be done."
I hope, for Roger's sake, that Lewis was wrong.