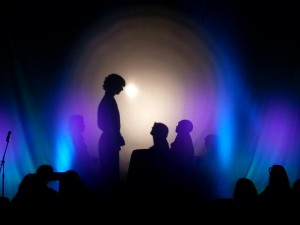 I recently sat down with my pastor for a conversation and, among other things, asked him where I can best be used in the church.
My writing did not come up.
I don't blame him for not seeing an immediate place for a fiction novelist in the Body of Christ. I mean, if you have the gift of teaching, evangelism, hospitality, or helps, there is a place for you in the Church. If you have administration skills, musical talent, or simply like to serve, there is a place for you in the Church. But if you are an artist, a writer, a poet, or an actor, you're out of luck.
Makoto Fujimura, founder of International Arts Movement, believes that:
Christians often misunderstand the role of creativity. Few churches get involved in the arts, and as a result, many creative individuals feel separated and alienated from God and His body of believers.
That's how I've been feeling lately — "separated and alienated."
Interestingly enough, many Christians feel "separated and alienated" from their church because they DON'T know their spiritual gifts. Which is why teachings on the "gifts of the Spirit" are so important and fairly common. For the artist, it's just the opposite:
The Christian artist often feels alienated from the Body not because they DON'T know their spiritual gift, but because they DO.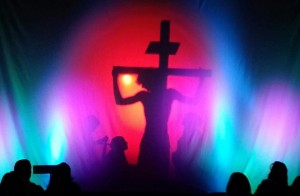 Perhaps it's a stretch to call artistry a spiritual gift. Just don't tell that to the artist. She feels her "calling" as passionately as the preacher or missionary. God used the best craftsmen and artisans to build His temple in the Old Testament. But where is the New Testament equivalent? I mean, where do artists fit in the Church?
This Good Friday, our church staged a shadowplay of the Passion (you can see some of the pics here). It was quite good. There was a narrator, actors, and set decorators. It reminded me how important a role creatives play in the Church.
The problem is, there's very few active roles for artists in the Church. Other than being a musician, writers, actors, painters, designers, seem rather ill-matched to the real needs of a local congregation. The church needs people to man the nursery, host Bible studies, organize social events, plan outreach opportunities, visit the sick, counsel the hurting, and recycle bulletins.
But… poets? Seriously. What practical purpose do poets serve in the local church?
It's a conundrum. On the one hand, if God "calls" some members of His Body to write fiction, direct theater, sculpt, or paint abstracts, how do those callings practically relate to the local church? If they don't, are we prepared to say that writers, artists, and actors are peripheral to the real mission of God on earth? Maybe they are. Maybe it's self-importance that is driving my query. However, if they're not — if artists actually serve an important role in the Body of Christ — why isn't there more of a practical place for them?
Either way, there are creatives in your church who feel deeply called and gifted by God to use their talents. However, many of them also feel "separated and alienated." The completion of Solomon's Temple required sculptors, metalworkers, glassblowers, architects, painters, fabric designers, and carpenters. I'd like to think that today's Church is equally incomplete without the service of the artist.