The godly care for their animals, but the wicked are always cruel. — Proverbs 12:19 NLT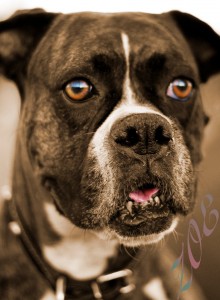 I've always loved this obscure little verse. It employs the brief, contrasting style so typical of the wisdom author:
The righteous are THIS.
The wicked are THAT.
In this case, the righteous, or the "godly" in this translation, are known for how they treat their animals. The "animals" the writer of Proverbs implied were, no doubt, those of the agrarian culture — ox, sheep, mule, etc. The good person, the one like God, cares for their beasts.
Frankly, this is not how we typically define righteousness, is it?
Righteousness means being honest.
Righteousness means showing justice.
Righteousness means helping the impoverished.
Righteousness means taking good care of your pets.
Seems a bit out of place, huh? But going all the way back to Eden, Man was meant to "care" for the earth and her inhabitants. In a way, caring for your animals can be traced all the way back to our Stewardship of creation.
Of course, caring for your animals has a downside.
Yesterday morning I took our six year-old boxer to the Humane Society and had her euthanized. Her name was Zoe. I sat with Zoe, scratching her floppy ears until she drew her final breath. She'd developed a heart condition which was causing fluid build-up in her chest. Her breathing was labored and became so bad that she could not lay down and breathe without great effort.
Zoe was a good dog — even-keeled, friendly, and just loved attention. She'd worn a little path in the grass traveling from the patio to the planter, where she loved to lay in the morning sun. For some reason, she loved bread. We learned to keep hot dog buns and rolls away from her, because she'd snatch them, tear into the yard, and gobble them down. Anyway, I brought her collar home and hung it in my office near the pictures of our other two boxers that have since passed.
I take these things way too hard.
And I'm not sure that's a bad thing.
I've expended quite a bit of thought about that question. You know the question. Do dogs go to heaven? I don't think it's silly at all. Course, Scripture is silent on the subject. So we can only speculate. In a way, I think the question may be slightly off. You see, my dogs have brought a little bit of heaven to me. Their companionship, their playfulness, their loyalty. My journey Home has been much more enjoyable because of the beasts.
There's a plaque at the vet quoting someone named Anatole France who said, "Until you have loved an animal, part of your soul will have remained dormant." This is true. But when the animal you loved dies, that part of your soul that came alive, dies again.

Will I see Zoe again? I don't know. But I can think of no greater joy than going Home to find my father waiting, and my beasts, with him.