I wasn't forced to write horror. I didn't choose that genre — especially as a Christian! — because it's a hot genre. I don't read horror as a psychological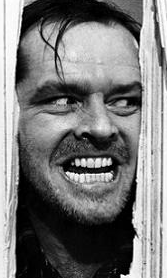 outworking of some hidden rage or trauma (at least, I don't think so).
Still, horror fiction holds a special place in my heart.
But why?
After the Boston Marathon bombing, I read several articles that made me sick to my stomach. The carnage, the mutilation. One of the many things that crossed my mind was why, in a world full of horrors, would someone want to write or read fictional horror? Escapism and sugary, feel-good tales seem more in order. Don't they?
Perhaps this is why people look aslant at you when you say you write or read horror. As if you're a real sicko. It's been suggested that "some self-published authors have pulled away from marketing their books as horror because they sell better when labeled as other genres." In other words, the splatter crowd has given us a bad name. Frankly, I think the person who enjoys watching / reading about torture, dessication, and decapitation, has issues.
But, realistically, it's a fine line.
While physical horrors are often a part of horror tales, I don't read them for such. I'm much happier being creeped out rather than grossed out.
Again, why?
In defining horror fiction, the Horror Writers Association says this:
As children, we might be afraid of the shadows looming from a half-closed closet door or of the monster we believe lies under the bed. Terrors of the imagination run wild at that age. As adults, our fears become more sophisticated, more grounded in worldly events. They become the death of a loved one, the terminal illness of a small child, the fear of our lives running out of our control. Horror, by nature, is a personal touch — an intrusion into our comfort levels. It speaks of the human condition and forcibly reminds us of how little we actually know and understand. (bold mine)
In his Danse Macabre, Stephen King strikes a similar note, describing the genre as appealing to our primal fears, seeking to arouse what he called "phobic pressure points."
The genre we're talking about, whether it be in terms of books, film, or TV, is really all one: make-believe horrors. And one of the questions that frequently comes up, asked by people who have grasped the paradox (but perhaps not fully articulated it in their own minds) is: Why do you want to make up horrible things when there is so much real horror in the world?

The answer seems to be that we make up horrors to help us cope with the real ones. With the endless inventiveness of humankind, we grasp the very elements which are so divisive and destructive and try to turn them into tools — to dismantle themselves. The term catharsis is as old as Greek drama, and it has been used rather too glibly by some practitioners in my field to justify what they do, but it still has its limited uses here. The dream of horror is in itself an out-letting and a lancing. . . and it may well be that the mass-media dream of horror can sometimes become a nationwide analyst's couch.
Granted, this may be complete misdirection, an attempt to justify what is really prurient and warped. However, it does capture, in part, why I read and write horror. On the one hand, horror "speaks of the human condition and forcibly reminds us of how little we actually know and understand." Horror takes us to the brink of some psychological precipice. Or cesspool. On the other, it is cathartic and helps us "cope with the real [horrors]." Yes, it can also desensitize us. But the horror genre can also help us look into the face of evil and existential terror, and live to speak about it.
Or, at least, "lance" the boil inside us.
My son Jonathan is an ER Tech (Emergency Room Technician). I often talk to him about the things he sees at work. I don't do this because I find enjoyment in grotesqueness. For one thing, there is no virtue in closing my eyes to the misery of human existence. Americans would be better off having seen in detail the horrors of 9/11. Instead, the media shelters us, showering us with PC lingo and heroic stories. I don't want to be one who blinks when evil rears its head. Terrorists. Let me see them and those left in their wake.
But what puzzles me even more than Tales from the ER, are the people who work there. The nurses and doctors who can face these horrors without repulsion, and act. Perhaps it's a stretch, but I read and write horror for a similar reason. There are monsters and monstrosities in our world, mystery and mayhem. Fairy tales are okay. But right now, inside your skin, is about 5.6 liters of blood. The sheath that protects it is rather thin. And walking shoulder to shoulder with you, each day, are angels and devils, suicide bombers and others of evil intent.
Like that doctor, I will not look away.
If you write or read horror, if you appreciate, even seek out, scary movies and stories, I have one question for you: Why?