Yesterday at church, the worship team sang How Deep the Father's Love for Us. The song is labeled a "contemporary hymn." While written in the 1990s, it employs the vernacular of traditional hymns. Here's the first few stanzas:
How deep the Father's love for us,
How vast beyond all measure
That He should give His only Son
To make a wretch His treasure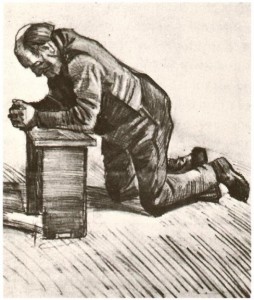 How great the pain of searing loss,
The Father turns His face away
As wounds which mar the chosen One,
Bring many sons to glory
Behold the Man upon a cross,
My sin upon His shoulders
Ashamed I hear my mocking voice,
Call out among the scoffers
It was my sin that left Him there
Until it was accomplished
His dying breath has brought me life
I know that it is finished
It struck me while singing the song how existentially bleak the human condition is framed. The worshiper declares themselves "a wretch," a mocker, a scoffer, whose sin was placed "upon [Christ's] shoulders," marring the Savior's glory.
When it comes to Christian theology, this isn't exactly a unique point of view. Indeed, the most recognized of all hymns, Amazing Grace, positions grace as "amazing" because it "saved a wretch like me." In other words, were we not such wretches, grace would not be so amazing.
It's given rise to what some have called "worm theology," a term that appears taken from Isaac Watts' hymn, Alas! And Did My Savior Bleed?, which opens this way:
Alas, and did my Savior bleed
And did my Sovereign die?
Would He devote that sacred head
For such a worm as I?
But is viewing ourselves as "worms" really a helpful, or accurate, perspective to have?
Last week, Scot McKnight touched on this subject as it relates to our view of grace. In Grace All The Way, McKnight suggests that Christians often have opposite, erroneous,  views of grace. On one hand are those who frame grace in terms of God's love. On the other are those who frame grace in terms of God's wrath. In addressing this latter constituent, McKnight quotes from prominent evangelical sources (emphasis in original):
Here are a few typical definitions of grace that focus on the negative side of grace, don't press beyond it, and I would also say these represent the common perception of the meaning of grace among evangelicals today:

B.B. Warfield: "Grace is free sovereign favor to the ill-deserving."

Jerry Bridges: ""[Grace] is God reaching downward to people who are in rebellion against Him."

Paul Zahl: "Grace is unconditional love toward a person who does not deserve it."

Wayne Grudem: "God's 'grace' means his 'unmerited favor'." Or in another location "God's grace means God's goodness toward those who deserve only punishment."

Notice in each of these definitions the focus on the targets of grace, described in each in almost entirely negative categories: ill-deserving, rebellion, does not deserve, and deserve only punishment. In other words, grace is perceived as the undeserved goodness of God.
As such, worm theology would be "negative." McKnight's point, as I see it, is not to suggest that we ARE deserving of God's grace or that we're NOT deserving of God's wrath. But that the healthier mode of Christian living is not one that emphasizes human wretchedness, but one that revels in God's great love.
I must admit, I'm quite torn by these two positions.
For one, while self-loathing seems antithetical to the joy and abundant life Christ promised, a deep awareness of our sin and unworthiness does not. In fact, it could be said that our appreciation of grace is directly proportional to our awareness of our depravity. As Christ said in reference to the sinful woman's extravagant display of love,
"Whoever has been forgiven little, loves little" (Lk. 7:47)
Or to flip it: Whoever has been forgiven much, loves much. We love and forgive to the same degree we have been loved and forgiven. The person who sees themselves as simply mixed up or immature, as needing tweaks not a complete overhaul, will view God's grace completely different than the person who views themselves as a sinful worm deserving of God's wrath. So in this sense, understanding and acknowledging our wretchedness does indeed help us appreciate God's amazing grace.
On the other hand, consider that there is a movement afoot, both in Christian and secular circles, to overemphasize Man's inherent goodness, giftedness, esteem, and worth. This view swaps worm theology for worth theology, defining God's redemptive actions in terms of our intrinsic goodness and worth. Rather than self-loathing, worth theology affirms our nature, destiny, and latent abilities. Of course, it can also lead to ego-stroking, gauzy positivism, and an inflated sense of self. Not to mention, denial of the concept of "sin."
This position isn't entirely without foundation. After all, original sin was preceded by original goodness. The image of God has not been removed from us, but defaced. So even the worst of sinners, the most depraved of humans, can be valued for the precious image of God inside them. Furthermore, as the apostle Paul put it, "the goodness of God leads us to repentance" (Rom. 2:4). Despite the apparent effectiveness of some hellfire and brimstone approaches, it is a focus on God, not us or our wretchedness, that ultimately draws us to Christ.
All that to say, I'm pretty conflicted about these opposing positions and tend to believe they must be held in tension. While there is little talk in Scripture about the intrinsic worth and dignity of human beings, there is a great deal of talk about sin and the horrific breach it creates between God and His creation. It's not our worth, good deeds, qualities, or lack thereof that seem to motivate God's actions toward us. It is Himself. Furthermore, He is portrayed as alternatively grieved, angry and sometimes vengeful, as well as compassionate, infinitely forgiving, and relentless in His pursuit of us.
I love how Pascal put it in Pensees:
What a chimera then is man! What a novelty! What a monster, what a chaos, what a contradiction, what a prodigy! Judge of all things, imbecile worm of the earth; depositary of truth, a sink of uncertainty and error; the pride and refuse of the universe!
And if we are such contradictions, both "the pride and refuse of the universe," then it seems worm theology and worth theology are inextricably bound. Were we not such wretches, grace would not be so amazing. But a life inordinately focused on our wretchedness is rarely grace-full.