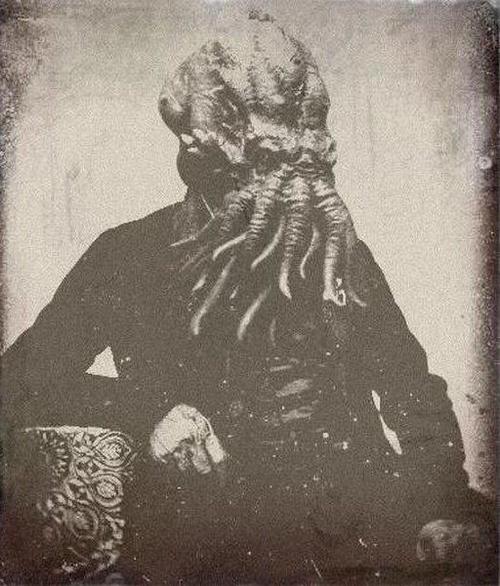 Horror fiction generally comes in two brands —
Man vs. Cosmos / Nature
Good vs. Evil
The first tends to be bleak, pragmatic, nihilistic, more about survival rather than idealistic or moral perpetuity. The second frames the struggle in bigger terms, like the pursuit or defense of Innocence, Love, Existential Meaning, Heaven, Hell, Destiny, or Human Dignity.
It shouldn't be a surprise that those who embrace atheism and disavow a Moral universe, tend to gravitate toward Cosmic horror. After all, if there's no real Evil or devils to fight, then the only compelling plot is the one that pits Man against Cold Vast Nothingness. But sadly, this is a feat a protagonist can never win.
Which is why the "heroes" of H.P. Lovecraft's tales were always… Monsters.
Lovecraft's Cosmic Horror was the natural byproduct of his atheistic, Darwinian worldview. And in reality, no other horror is possible from such a worldview.
Lovecraft himself adopted the stance of atheism early in his life. In 1932 he wrote in a letter to Robert E. Howard: "All I say is that I think it is damned unlikely that anything like a central cosmic will, a spirit world, or an eternal survival of personality exist. They are the most preposterous and unjustified of all the guesses which can be made about the universe, and I am not enough of a hair-splitter to pretend that I don't regard them as arrant and negligible moonshine. In theory I am an agnostic, but pending the appearance of radical evidence I must be classed, practically and provisionally, as an atheist."
Perhaps this is why fellow atheists have eagerly embraced Lovecraft's horror fiction. For instance, outspoken New Atheist Christopher Hitchens provided the Foreword for the book Atheist Religion: The Atheist Writings of H.P. Lovecraft.  S.T. Joshi, a leading authority on H. P. Lovecraft, in his Introduction to The Call of Cthulhu and Other Weird Stories (Penguin Classics), suggests that Lovecraft has to be appreciated
"…in the context of the philosophical thought that he evolved over a lifetime of study and observation. The core of that thought…is mechanistic materialism."
In his piece, H.P. Lovecraft, Darwinism's Visionary Storyteller, author and senior fellow in the Religious, Liberty & Public Life program at the Discovery Institute, David Klinghoffer expounds upon the "the philosophical thought" that informed Lovecraft's Cosmic Horror:
In his biography H.P. Lovecraft: A Life (Necronomicon Press), leading Lovecraft maven S.T. Joshi gives Darwin, Huxley, and Haeckel as Lovecraft's "chief philosophical influences." His reading went back to the Greek philosophers Democritus and Epicurus, but he got his Darwinism primarily by way of the English science and philosophy popularizer Hugh Elliot and from Darwin's foremost German disciple, Ernst Haeckel.

From Elliot, Lovecraft absorbed "the denial of teleology," of cosmic progress toward any particular goal, and "the denial of any form of existence other than those envisaged by physics and chemistry." Darwin was important for having refuted the "argument for design," thereby guaranteeing man's "comic insignificance."
So the "the denial of teleology" and "mechanistic materialism" framed the real, and fictional, universe Lovecraft lived in. But what kinds of antagonists evolve in a universe missing a "central cosmic will, a spirit world, or an eternal survival of personality"? Well, the monstrous kinds. Like…
Cthulu
Yog-Sothoth
Dagon
Azathoth
So why would someone who doesn't believe in gods create so many of them in his fiction? Either way, the Lovecraftian bestiary is quite florid! Take for instance this description of Mi-go, the Fungi from Yuggoth, from The Whisperer in Darkness.
"They were pinkish things about five feet long; with crustaceous bodies bearing vast pairs of dorsal fins or membraneous wings and several sets of articulated limbs, and with a sort of convoluted ellipsoid, covered with multitudes of very short antennae, where a head would ordinarily be…. As it was, nearly all the rumours had several points in common; averring that the creatures were a sort of huge, light-red crab with many pairs of legs and with two great bat-like wings in the middle of their back. They sometimes walked on all their legs, and sometimes on the hindmost pair only, using the others to convey large objects of indeterminate nature. On one occasion they were spied in considerable numbers, a detachment of them wading along a shallow woodland watercourse three abreast in evidently disciplined formation. Once a specimen was seen flying—launching itself from the top of a bald, lonely hill at night and vanishing in the sky after its great flapping wings had been silhouetted an instant against the full moon."
You didn't expect the Great Cold Nothing to produce pixies and unicorns, did you? Rather, Lovecraft's "mechanistic materialism" beget scaly, winged, multi-tentacled, mould-caked, croaking, many-eyed, "daemon sultan." You see, the "denial of teleology," especially when it is a defining universal principle, can only produce one thing — Pointless, Formless, Unrelenting, Malignant, Disorder.
This could be why some atheists hedge against Lovecraft's "Darwinian Horror." In the Atheist Altar: Carl Sagan vs. H.P. Lovecraft, the author contrasts Carl Sagan and H.P. Lovecraft, both atheists, and the outworking of their beliefs.  Whereas Lovecraft was given to "bleak pessimism," Sagan embraced "bright optimism."
In stark contrast to the overbearing despair of Lovecraft's ideas, the entire philosophy of Sagan is teeming with hope, and even more conversely, with comfortability. The preceding current of existentialist thought in the late 19th and early 20th century focused largely upon man being, in the words of Camus, a stranger in the universe. Even his natural habitat was alien to him, the unthinking and inhuman universe was utterly incommensurable to man. Sagan, however, saw man as being quite at home in the cosmos, even going so far as to name mankind the children of the stars. Living during the Cold War, he was not ignorant to the fragility of mankind, and actually came to the conclusion that if intelligent beings did in fact arise in the universe, they would destroy themselves more often than not. But this was possibility, not inevitability, and such devastation could be averted, especially with the aid of increasing knowledge. A man of science, as well as the producer and writer of the Cosmos series, Carl Sagan strongly supported education in general. He believed that humanity was capable of overcoming the limitations and vices that seem to be inherent in its very being; this could be accomplished largely through education en masse. Knowledge was not seen as an instrument of horror, but rather a necessary tool of salvation. (bold mine)
So whereas Lovecraft saw scientific knowledge as a feeble lens into the Horror that awaits mankind, Sagan viewed it as "a necessary tool of salvation." While Lovecraft acknowledged the "comic insignificance" of man, Sagan saw us as "children of the stars."
Inferences like this have caused some to suggest that Carl Sagan, as well as many contemporary atheists, have abandoned pure atheism in favor of animism. For Sagan, the Cosmos (capital C) was all there was. It was God, so to speak. As such, atheists like Sagan assert a benevolent purpose behind the Cosmos, even if that purpose is illogical and quite unnecessary.  Unlike Lovecraft, Sagan's philosophy was "teeming with hope."
The Monster Carl Sagan fought was the one H.P. Lovecraft bowed to.
As hard as it is for some to admit, Lovecraft's Cosmos is far more true to its philosophy than is Carl Sagan's. It's also not nearly as nice. Which is why many atheists aimlessly seek for "a central cosmic will," even if they have to deify the Cosmos to do so.
Alas, Nature is "red in tooth and claw." And if Nature is the monster we are ultimately fighting, then Mankind, with all his knowledge or contrived "hope," can never escape those teeth and claws.  Without a God, "a spirit world, or an eternal survival of personality," Lovecraft's Cosmos rules.
And Darwinian Horror is not really fiction at all.