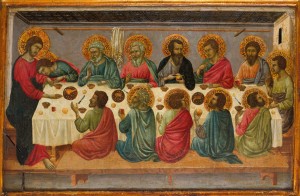 It's becoming trendy to have an "open communion" policy. Just as forgiveness is freely extended to all, they say, so the communion table should be open to all.
Last month, Minnesota became the 12th state to legalize same-sex marriage. In commemoration, at the inaugural service of Revolution Church Minnesota, Jay Bakker marked the occasion by offering "rainbow bread" for communion.
Juicy Ecumenism reports:
Bakker explained all were welcome to participate in the meal regardless of religious belief or lack thereof, and that "today we do this in remembrance of what Christ did and what folks who followed in Christ's footsteps did…"

Complementing the rainbow bread, Bakker spoke on grace and inclusion, focusing on St. Paul, who "gets grace the most," as he was a ruthless persecutor of Christians before his conversion. "The Bible is full of unperfect [sic] people" and it was "murderers and traitors … literally starting a faith, being part of a faith and that's what I would call the good news," Bakker said. He added that Martin Luther King, Jr. and Ghandi also "Really got the idea of what inclusion was meant to be, what loving your enemy was meant to be, what loving your neighbor."

"The idea of Christ was to come into that midst and find the one who's doing the hurting and turn him into an ally turn him into someone who's loved and what you see here is … a love of inclusion," Bakker claimed. (emphasis mine)

In the name of "inclusion," some ministers even go so far as to open the communion table up to atheists and those of unorthodox persuasion. After all, they say, Christ was loving and accepting of everyone, not just the "chosen."
But should ALL be "welcome to participate in [communion] regardless of religious belief or lack thereof"?
While some are removing all the stops, throwing the "communion table" doors open wide for anyone, others are drawing lines. Like Sarah Moon in  When my abuser is welcome at the table, I am not.
It's the cool thing in more progressive branches of Christianity now to talk about how EVERYONE is welcome at the communion table. I should be glad about that, I guess.

But this trend in Christianity where EVERYONE is welcome scares me.
In Moon's case, it was a rapist that she was asked to break bread with.
"Jesus forgives rapists," she was told. And indeed He does! But at what point is asking survivors to partake across from their abusers "inclusive"? Especially if those abusers have not truly repented?
The moment you draw a line at the communion table — they SHOULD come, but they SHOULDN'T — we are forced to ask "What line?" or "Whose line?"
Unless we are daring enough to suggest there are NO lines to be drawn at the communion table. In which case, we'd be violating Scripture.
I believe it's a good policy for churches to state what the Bible clearly teaches: Communion is for believers, those who celebrate the Lord's work on the cross and embrace it, and those who have searched themselves. Is it "inclusive"? Yes. At least in the sense that all those who are repentant are welcome. However, the Bible also warns that those who take communion in an unworthy manner, will be guilty of disrespecting Jesus and bring judgment upon themselves (1 Cor. 11:27–29).
So can we be the judge of who's "unworthy" and who's not? And on what grounds is ANY really "worthy" to partake?
In many ways, these questions are best left up to the individual's conscience. It's not the Church's job to check ID cards at the communion table. But it's also not our job to condone a free-for-all.