Last week, during my interview for this show, I was asked several questions about zombies in culture. Have they supplanted vampires in popularity? Why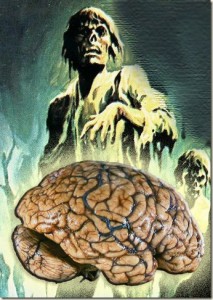 is the public so fascinated with the undead right now? I'm no expert on zombies (except the ones I work with), but am fascinated by the trend.
Especially its religious overtones.
In case you missed it, zombies now have a virtual "theology" all their own. In his article on CNN Belief Blog entitled The 'zombie theology' behind the Walking Dead, John Blake writes
Some people find faith in churches. David Murphy finds it in zombies.

Murphy, the author of "Zombies for Zombies: Advice and Etiquette for the Living Dead," says Americans' appetite for zombies isn't fed just by sources such as the AMC  hit series "The Walking Dead" or the countless zombie books and video games people buy.

Our zombie fascination has a religious root. Zombies are humans who have "lost track of their souls," Murphy says.

"Our higher spirit prevents us from doing stupid and violent things like, say, eating a neighbor," Murphy says. "When we are devoid of such spiritual 'guidance,' we become little more than walking bags of flesh, acting out like soccer moms on a bender."
This is the most common theological spin on zombies. Zombies reinforce how "the body without the spirit is dead" (James 2:26) and speak to something immaterial but essential to man's biology — an "essence" which transcends our brains and organs. Without which we are just brains and organs. Thus, the zombie represents the soulless human.
However, there's another angle to this traditional interpretation, which I haven't seen emphasized as much, pointed out to the interviewer, and wanted to take  minute to expound upon here.
The biblical picture of man is holistic. We are not just souls. We are triune beings consisting of spirit, soul, and body (I Thess. 5:23). While our immaterial selves may constitute our essence and be the distinguishing feature of "human" (as opposed to simply animal) life, the body is not inconsequential in Christian theology. Man did not become a "living soul" until God breathed His image into a physical frame (Gen. 2:7).
God's breath / image + human body = living soul
Furthermore, we are not intended to dwell eternally "unclothed" (II Cor. 5:4), as the apostle Paul put it, referring to a bodiless existence. But according to Scripture, a future bodily resurrection of all the dead will mark the end of this age. And souls will be "rejoined" with a physical body. Thus, being a real human does not just mean possessing a soul or spirit, but having that soul / spirit fused into a body.
This is important because of the gnostic heresy. Gnosticism was a belief that ran concurrent to the early church. It took on many forms, caused considerable controversy, and eventually brought charges of heresy.  Gnostics held to a dualistic worldview in which matter was evil. Thus, man's soul or spirit was of divine substance, but was trapped inside an evil physical carcass and needed to be awakened. It could only be liberated by "secret knowledge" which, you guessed, only the Gnostics possessed.
More importantly, because the Gnostics viewed the body as evil, they believed Christ did not come in a real physical body. He was a phantom, of some sort. Of course, some of the New Testament epistles are direct rebuttals to Gnostic doctrine.  As when the apostle Paul declared about Christ: "in him dwells All the fullness of the deity bodily" (Col. 2:8). With an emphasis upon bodily.
So let me bring this back to zombie-ism.
If the Bible portrays a holistic view of man, that our uniqueness is not just tethered to a soul/spirit, but also a body, then…
Zombie lore does not just speak to the value of an immaterial soul, but a physical body.
What makes a person a zombie is not simply that the soul has left the body, but that there is no body in which to regain its soulishness.
Not only is a soul needed to make a human, but a body is needed to make a soul.
In all our interpretation of zombie culture, let us not miss out on the import of the body. Which I'm afraid we have. Rather than seeing zombie culture as simply reinforcing the essence of the soul and how utterly zombie-like we are without it, we should acknowledge the opposite as well: A soulless body is only half a human, as is a bodiless soul. The horror of it is not just that zombies no longer possess souls, but that those souls no longer possess a body.