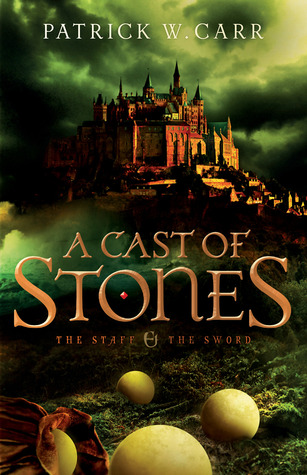 This post is the result of a conversation begun HERE in which Becky Miller threw down the gauntlet:
I'd like to offer you a counter challenge–sort of like the one you took up with the romance writers. Would you be willing to read a Christian speculative novel that I choose for you and then answer the question yourself–if and in what way Christian speculative fiction differs from mainstream Christian fiction.
Being the good sport that I am, I chose from a list of books Becky recommended. For no specific reason other than that I like epic fantasy, I selected Patrick Carr's A Cast of Stones, first in a trilogy published by Bethany House. Coincidentally, not only was this novel free on Kindle (I learned this AFTER I made my decision, thank you very much!), but apparently the book is featured on the CSFF blog tour this week. Great timing, huh?
So I took up A Cast of Stones not just to read and review, but as part of a challenge regarding Christian speculative fiction and whether or not, as Becky contends, "There are publishing houses that are making serious attempts to broaden their market by adding books that break the perceived mold."
So is A Cast of Stones one such book? Is there now reason to be optimistic about the future of Christian speculative fiction?
I'm going to be honest right up front: The last epic fantasy I read was Patrick Rothfuss' The Name of the Wind… and this novel doesn't come close. That's probably an unfair comparison. Forgive me. I had pretty much vowed to not read epic fantasy again. It all seemed SO derivative. Until some of the readers here (namely Katherine Coble) plead with me to give Name of the Wind a try. I posted shortly after finishing the book how the author had revived my hope for the epic fantasy genre.
So while I hate to judge Carr's book by Rothfuss', this was my initial reaction. And frankly, if Christian speculative fiction (and Christian fiction in general) is out to provide comparable alternatives to general market fare, The Name of the Wind is the exact type of target we should be measuring ourselves by.
OK. On to a brief analysis of pros and cons.
Upsides of A Cast of Stones:
The writing is solid. Not spectacular, but easily read. There's no laboring through complex sentences or hacking through adverbial jungles. Carr's style is inviting and facilitates the story.
Kudos to the author and publisher for placing the lead character as a town drunk. Please note: This is primarily a plus in that the Christian fiction market gets touchy-feely about their heroes being saintly. Props to Carr and Bethany House for taking this risk!
The religious themes are subtle, natural, and felt organic to the tale. The story isn't preachy. Nor did I feel like biblical ideas / imagery were being shoe-horned to fit the world's religion. Great job!
The "reading" device was original. The story involves "readers" who can intuit events and receive "guidance" using a "divination device." I liked the way the author developed this device and thought it was conceptually unique.
Downsides of A Cast of Stones:
There's not enough story for the size of the book. This novel felt drawn out to be more "epic." It's been suggested elsewhere that, rather than offer one 700+ page novel, as Rothfuss's was, Christian publishers tend to want to stretch these things into trilogies. Well, this book felt like that.
A lack of plot complexity. At times, I felt my interest waning simply because there wasn't much to the story. Other than lots of names, there were few multiple story lines, and minimal historic / world elements to grasp.
Minimal world-building and setting descriptions. This was a major weakness, in my opinion. The cities, culture, and landscape could have taken place almost anywhere. They simply weren't developed enough.
The protag's weakness is belabored. He's a drunk. I got that after about the twentieth time it was mentioned.
If I was giving out stars, I'd give A Cast of Stones three-and-a-half.
Which brings me back to the main challenge and my purpose for reading / reviewing this in the first place: Does A Cast of Stones signal a sea-change in the Christian fiction industry? Are we on a path to see Christian speculative fiction transcend the strictures of the previous generation of Christian lit?
Answer: I'm not sure.
On one hand, it is encouraging to see the religious elements of the tale be more organic to the story. I liked that about A Cast of Stones and would definitely consider that a plus. This doesn't feel like a forced allegory. Nor did I feel like Carr has some agenda to sneak the Gospel in and sucker punch the reader at the end. If this is the direction of Christian fiction, then I am definitely encouraged.
On the other hand, there is still this sub-culture of Christian readers who demand "Christian" fiction be more overt and less nuanced. Take this Amazon reviewer who gave the book two stars because "the undercurrents are worrisome." Those worrisome undercurrents are…
1. There is a new savior/king for each generation.
2. The boundary that keeps evil from invading the land was purchased with the blood of a human not Eleison (who represents Jesus in the story).
3. Aurae (representing the Holy Spirt) is unknowable according to the "church" but certain herbwomen claim to communicate directly with him.
4. Errol's transformation does not come from a relationship with Deas (the God figure in the story)but through facing his past, getting to know himself, and self-discipline.
5. None of the main characters have a personal relationship with Deas or Eleison or Aurae. The main focus of the story is on tradition and ritual.
6. There is a yin/yang element to the story in Errol/Liam (a young man from his village).
This is what I just LOVE about the Christian reading community, don't you?
Are Christian authors and publishers ready to dismiss this reader's concerns? And how would those (like Becky) who endorse this genre, rebut such concerns? Frankly, this is one of the huge internal, cultural issues at work in this conversation: How subtle can biblical themes be to a tale and it still be "Christian" enough?
Another thing: The author and publisher are definitely taking a risk with the lead character being the town drunk. Again, this is a risk specifically because of the fundamentalist moral culture the industry has its roots in. Nevertheless, as Becky said in the first day of her CSFF blog tour for A Cast of Stones, this signals a change in our demands for "conservative behavioral standards" on our fiction:
What [Mike] doesn't believe (and again, I agree) is that there is a set of conservative behavioral standards often adhered to by an element of the more conservative evangelical churches which defines or even identifies Christians–things like no drinking, dancing, smoking, swearing. A number of readers who admittedly don't read Christian fiction believe that these stories still hold to those standards. More than once I've heard how Christian fiction can't show someone drinking, for instance.

It's a laughable statement, and has been for at least five years, but A Cast of Stones ought to put the issue to bed because the protagonist of the story, Errol Stone, is the town drunk.
As I said, I definitely see this as a plus. However, this doesn't resolve the issue… it only makes it worse. Why? Because at some point, Christian readers (especially of the ultra-conservative ilk) will demand adherence to "conservative behavioral standards" in their fiction. I mean, what if Errol, the lead character, was to lust over a fair maiden's breasts (something fairly common to most 19 year-old males, methinks!)? Would THAT be a positive step forward for the genre? Or what if Errol, in a fit of drunken rage, calls his mentor a "fat, blasted, damned, udder-sucking, dolt"? Would THAT be a positive step forward for the genre?
So what Becky considers a "positive" can really go both ways.
Anyway, as I've said elsewhere, I really want to see Christian writers and Christian speculative fiction succeed. This challenge has been helpful and I think I'd have to concede there are some positive things going on in Christian fiction. But whether or not A Cast of Stones signals that, I'd remain lukewarm. A good step forward on the journey, indeed! I just happen to think we've still got a long way to go.