Andy Crouch, in his award-winning book Culture Making, outlines four historical stages in the Protestant approach to culture:
Condemning Culture: Fundamentalist withdrawal
Critiquing Culture: Evangelical engagement
Copying Culture: The Jesus Movement and CCM
Consuming Culture: Evangelicalism's Present-tense
If such eras are accurate, the proliferation of Christian review sites are understandable, a byproduct of our progenitors' rising from cultural hibernation (i.e. Fundamentalism) and lumbering forward into engagement. Whether it's music, film, or fiction, you can find a Christian offering critiques, discernment, suggestions, or warnings about various cultural commodities. Evangelicals are determined to no longer be behind the cultural eight ball… even if that means blindly "copying culture" or becoming its ever-faithful watchdogs.
Don't get me wrong — I benefit greatly from some Christian film and fiction reviewers, and follow certain "pop culture" watchers keenly. Nevertheless, I've noticed that Christian review culture tends to often fall into two camps: Separatists or Engagers.
The Separatist is the ideological offspring of the twentieth-century fundamentalist whose posture, as Crouch puts it, is "one of suspicion and condemnation toward any human activity not explicitly justified on biblical grounds and engaged in by fully converted Christians." Thus, the Separatist reviewer is one who approaches culture as a critic, hyper-sensitive to the morals, messages, and motives of the artist and her piece, determined to keep themselves, and their readers, unspotted from the world.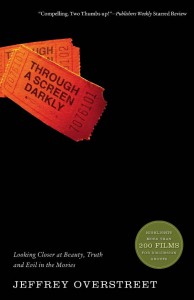 As a result, the Separatist often becomes a moral bean counter, neatly cataloging the infractions of artists in question. For instance, some media watchdog group noted that The Blind Side, a movie which many Evangelicals applauded, contained 10 sexual references, 3 scatological terms, 8 anatomical terms, and 7 mild obscenities — offenses that resulted in Lifeway, one of the largest Christian bookstore chains in the world, removing the movie from its shelves.
The Engager, on the other hand, does not quibble over such peripherals and tends to cast off such particulars as foul language, crudity, ambiguity, or bad behavior in search of something "higher" and more meaningful. Film critic Jeffrey Overstreet put it this way in his wonderful book Through a Screen Darkly:
God's truth is not available solely in Scripture or in the mouths of preachers — it can also be discerned in the way a tree grows or the way a sugar cube absorbs coffee. God may be revealing Himself not just through the charity of a compassionate saint (Dead Man Walking) but also through the shocking evil of a desperate preacher (The Apostle).

…Christ's incarnation teaches us that spiritual things and fleshly things are not separate. The sacred is waiting to be recognized in secular things. Even those artists who don't believe in God might accidentally reflect back to us realities in which we can see God working.
As such, the Engager approaches culture — and film, fiction, music, and art — looking past the surface "secular things" for something "sacred."
The downsides and differences of both approaches are pretty obvious.
Separatists tend to see Engagers as snobbish, excessively tolerant liberals who are enamored with artistic nuance and wishy-washy about Gospel truth.
Engagers tend to see Separatists as narrow-minded nit-pickers who ignore good art, impose their conservative values, and generally alienate non-Christian audiences with their sanctimony.
While Separatists are counting cusswords, Engagers are "finding God" just about anywhere; hence, the nauseating rash of "cultural engagement" think-pieces like:
Finding God in Harry Potter
Finding God in Toy Story
Finding God in Twilight
Finding God in The Conjuring
Finding God in Avatar
Finding God in Superman
The Separatist is so busy straining at gnats she's missing the "camel" on her  plate. The Engager is so intent to affirm God's hand in the arts that she often winks at blatantly godless content.
So where should we fall on the scale? Should we stand as cultural, and spiritual guardians, so to speak, and point out lies and falsehoods? Or should we look past the worldly language, celebrate fine craft, and expound upon those themes that resonate with a biblical worldview?
The Christianity Today editorial, Box Office Pantheism, challenged Engagers and Separatists to learn from one another:
Sadly, the engagement impulse has led many evangelicals to neglect their prophetic presence in the public square, as we often seem more set on distancing ourselves from our fundamentalist cousins than on seeking personal and corporate soul care. Discernment becomes an exercise in baptizing secular critics' top picks, celebrating their vague spiritual themes but downplaying or ignoring pernicious ones. Or we revel in our freedom to enjoy an array of films, belittling our separatist siblings whose consciences are offended (1 Cor. 8).
The reality is, the engagers could stand to learn a few things from the separatists, and vice versa, as both camps survey the pop culture landscape. The engagers have developed keen eyes to find Light in the most unexpected places. Yet the separatists, who have an instinct for sensing the subtly devastating aspects of culture, can quicken our steps on the path of sanctification. With the engagers' vision and the separatists' instinct, the church and its moviegoers can navigate Hollywood's muddled spiritualities with rigor and grace. (bold, mine)
Perhaps the divide between Engagers and Separatists is bigger than it should be. While Separatists must face the fact that an overly-rigid approach can result in important films like "The Blind Side" being nixed from Lifeway because of "7 mild obscenities," Engagers must face the possibility that their approach "has led many evangelicals to neglect their prophetic presence in the public square." So not only should we learn from each other, isn't it possible that engagement and separatism are two sides of the same coin?
A Christian review culture that finds itself somewhere between Separatism and Engagement, possessing "the engagers' vision and the separatists' instinct," may in fact be the more biblical approach.
* * *
Question: When it comes to pop culture, do you lean more toward engagement or separatism, do you see yourself as more of a critic or a consumer? And, depending where you fall, what do you think you can learn from the "other side"?