Nebuchadnezzar said to them, "Is it true, Shadrach, Meshach, and Abednego, that you refuse to serve my gods or to worship the gold statue I have set up? I will give you one more chance to bow down and worship the statue I have made when you hear the sound of the musical instruments. But if you refuse, you will be thrown immediately into the blazing furnace. And then what god will be able to rescue you from my power?" — Daniel 3:14-15 NLT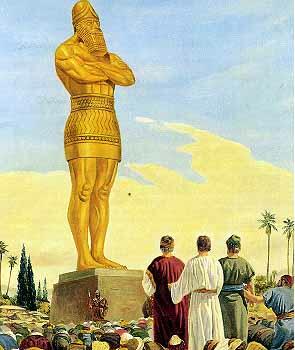 I am not a legal scholar. So please forgive the misuse, misinterpretation, or absence of appropriate jargon. The opinion expressed herein is that of a Straight White Male (SWM), which, to some, automatically makes me Intolerant Privileged & Sexist (IPS). Nevertheless, the recent decision by the New Mexico Supreme Court to deny wedding photographer Elaine Huguenin the right to refuse to photograph a same-sex wedding ceremony out of religious conscience has all the feel of a Nebuchadnezzarian edict.
Justice Richard Bosson's concurring decision explains,
"In the smaller, more focused world of the marketplace, of commerce, of public accommodation, the Huguenins have to channel their conduct, not their beliefs, so as to leave space for other Americans who believe something different. That compromise is part of the glue that holds us together as a nation, the tolerance that lubricates the varied moving parts of us as a people. That sense of respect we owe others, whether or not we believe as they do, illuminates this country, setting it apart from the discord that afflicts much of the rest of the world. In short, I would say to the Huguenins, with the utmost respect: it is the price of citizenship."
Translation being: The "price" of living in Babylon is acquiescence, accommodation, and begrudging endorsement of lifestyles and morals you deeply oppose. Of course, you may disagree with King Nebuchadnezzar (and his ilk) as long as you
Keep it to yourself, and
Bow down to the idol.
Your only other option is to endure a very hot furnace.
Perhaps even more chilling than the progressive whittling away of religious freedom, is the believers who (perhaps unknowingly) have a hand in it.  I mean, didn't EVERYONE know we would get here? Including my brothers and sisters who support gay marriage? First normalize homosexuality in culture, then make gay marriage a civil rights issue, legalize it, frame the opposition as bigots, hatemongers, and roadblocks to societal evolution, finally, force them to bow down… either through begrudging compliance (photographing a ceremony that you deeply oppose) or financial reparation (tithe to the god whom you dissed). Is this, like, such a surprise?

What's next, only God knows.
A while back on Facebook, I floated a question about my daughter who has her own photography business and was contacted by a local psychic to photograph a session. My daughter is a Christian, a businessperson, and asked the appropriate question, "Should I do this?"
If the New Mexico ruling becomes the logic of the land, my daughter cannot refuse to photograph a psychic reading on religious grounds.
Is that right?
I have said before, and probably appeared like a nutter, that the erosion of religious liberties in the United States will end in the physical persecution of Christians. If the response to such a statement is not a guffaw, it is the perfunctory eye-roll. As if THAT would NEVER happen. Of course, such persecution never starts with "the blazing furnace." It starts with a legal ruling, then maybe a monetary fine, then perhaps the revocation of a business license, and then community service or even jail time. But is there any question of the progression of things from here?
Is there any question that the New Mexico ruling is the logical outworking of a very immoral premise, i.e., that "tolerance" means I must act like homosexuality is normal.
In the Olivet Discourse, Jesus described the time of the end. It is not a pretty picture, which is probably why so much effort is placed into assuring it's an allegory. To His disciples, He said,
"Then you will be handed over to be persecuted and put to death, and you will be hated by all nations because of me. At that time many will turn away from the faith and will betray and hate each other, and many false prophets will appear and deceive many people. Because of the increase of wickedness, the love of most will grow cold, but the one who stands firm to the end will be saved." — Matt. 24:9-13 NIV
There are earthquakes, and wars, and rumors of war. But at the center of the tale are His children, "hated," "persecuted," and eventually "put to death." For standing firm.
Are we witnessing a progression towards such a scenario? I think so.
The "price of citizenship," said Justice Richard Bosson, is "to channel [our] conduct, not [our] beliefs, so as to leave space for other Americans who believe something different." Which, in this case, means photographing two men kissing and pledging to be "one flesh," despite how vile or unholy one feels the relationship may be.
But is that such a steep "price" to pay?
Perhaps we should inquire of those Jewish lads who were simply asked to bow down to an idol. I mean, how hard is that?
Shadrach, Meshach and Abednego replied to him, "King Nebuchadnezzar, we do not need to defend ourselves before you in this matter. If we are thrown into the blazing furnace, the God we serve is able to deliver us from it, and he will deliver us from Your Majesty's hand. But even if he does not, we want you to know, Your Majesty, that we will not serve your gods or worship the image of gold you have set up." — Dan. 3:16-18 NIV
Babylon is nice, fer sure. Hanging gardens. Aqueducts, State of the art ziggurats. But when the "price of citizenship" means worshiping the piddly idol of state or culture, it could be that facing the "furnace" is, indeed, far better than bending the knee.