I may be having my best year as a writer. The problem is, I feel terribly unproductive.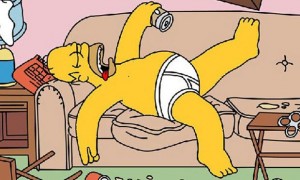 To really understand this would probably require far more psycho-analyzing than is healthy. So let me just describe the symptoms. Earlier this year (February 2013), I finished an Urban Fantasy novel tentatively entitled Reagan Moon & The Ghost Box, which my agent is currently shopping. I immediately started in on a non-fiction memoir project, which I should have complete by the end of this year. Both projects, I believe, are my best writing to date.
Problem is… I have nothing to show for my work. Nothing published, that is. And I may not for a while. I mean, even if one — or both! — of the projects get picked up soon, I realistically wouldn't expect them to be published until 2015.
Which seems like SO far away.
Of course, I could treat this "condition" rather quickly by simply self-publishing. However, I'm still beholden to the old model, believing that having an established publisher with a broader reach foot the bill for my stuff is the ideal way to go. So even if I do decide to self-publish, that would come after we shop the books around. Meaning that a self-published project probably wouldn't happen until closer to 2015 anyway.
It makes 2013 look seriously unproductive.
Perhaps it's my works-orientated nature that undermines any sense of satisfaction. I like to see results and — blast it! — writing books is not the best profession if you want to see immediate results. Sure, I did manage to squeeze out one self-published volume of short stories this year, which makes me not a complete sluggard. But here's a little secret — that was slight of hand. Those stories were already written!
Making 2013 look seriously unproductive.
Writers are peculiarly prone to this malady. If you think about it, writing is unlike most careers.  At the end of the day, a painter can stand back and admire his watercolor seascape, a plumber can calculate the number of faucets that no longer drip, and the landscaper can stand under the shade tree, mop his brow, and appreciate the lawn he just manicured. But apart from actually publishing stuff, the writer's life can seem seriously unproductive. Character arc. Plot development. Points of View. Narrative modes. Dialog and Pacing. Beginnings and Ends. These are the concerns of the average writer.
And they're often very hard to quantify.
A "productive" day for a writer might be rearranging scenes, deciding that first person POV won't work, and realizing that your villain just isn't bad enough. A daycare worker can at least calculate the number of poopy diapers they changed. The writer does not have that luxury. In fact, as I look upon my 2013, the diaper pail is empty. So to speak.
All that to say, I've been feeling a little glum lately. Not because I haven't been writing, but because I haven't been publishing. Then again, I can't publish unless I write. And I can't write well, if I don't slow down. But if I slow down, I don't publsih enough.
Which makes me feel seriously unproductive.
Anything I can take for this?