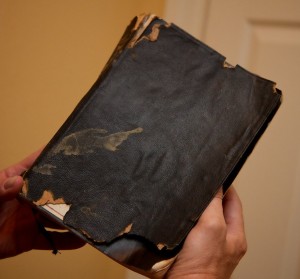 I purchased my first digital Bible several years ago. It's become my default "Sunday Bible" for preaching and study. So I was a little dismayed when the fellas at The Gospel Coalition suggested that pastors should stick to preaching from a physical Bible. The reasons they gave are noble, but debatable.
I will agree, however, that physical Bibles possess a certain "value" that digital Bibles do not.
My favorite Bible is the one pictured here, an old Thompson Chain Reference New International Version, which I bought shortly after I became a Christian (1980). It was my go-to preaching and study Bible throughout the ministry. I made extensive notes and references in it (like the ones in the bottom picture), and have scribbled numerous margin memos. But as physical things tend to do, it has succumbed to wear, which in this case means coffee stains, excessive bookmarking, and sermon thumping. Hence, the old girl has long gone into retirement, and now collects dust in a converted wine rack in my office.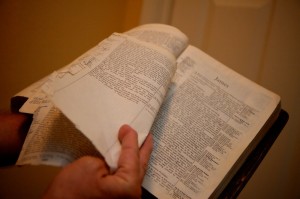 I have hesitated to throw this Bible away. In fact, I've even heard it suggested that doing so would be… sinful.
Many years ago, my friends and I attended a gospel meeting to hear an elderly evangelist preach who lived in a luxury independent retirement community. It was a young crowd, full of saved ex-hippies. We sat in the front row and had our Bibles resting on the carpet underneath our chairs. To our surprise, the preacher took affront to this "bad habit." He noted that in many faith traditions, laying ones Bible on the ground is irreverent, even sacrilegious. "People suffered and died to get that Bible into your hands," said the gruff evangelist. "The least you could do is respect it."
I've been traumatized ever since.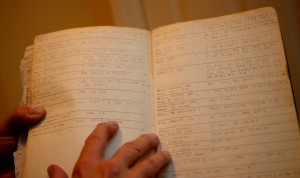 So when we last moved and I spent time downsizing my library, I was conflicted about what to do with this old Bible. I'd cut my teeth on this baby and, in many ways, it represents a "map" of my spiritual journey. Not to mention, like the evangelist reckoned, men and women have shed their blood so that I could hold this in my hands. How dare I think of throwing it away! But it's just binding and pieces of paper, I reasoned. The Word of God transcends the paper on which it's written. However, if there's something sacrilegious about laying your Bible on the floor, putting it in the trash can has got to be grounds for incineration.
To avoid lightning strikes or a plague of hemorrhoids on my household, I keep this Bible safely tucked away for… well, I don't know what for.
When I brought this up at church recently, one man suggested that passing such Bibles down through your family is a great thing to do. In fact, he had an old Bible willed down from his great-grandmother, which he cherished. He had a point. I mean, willing my digital Bible to my family would not carry nearly as much sentiment as this ragged Thompson Chain Reference with coffee stains and a bum binding. So I immediately seized upon the idea.
Hence, I have abandoned any thought of throwing away this old Bible. It's back in its spot, safely tucked away inside the wine cabinet where it will collect dust and decay. Waiting for my children. After I die, they can figure out what to do with it. And if they decide to throw it away… they can chance the wrath of God.