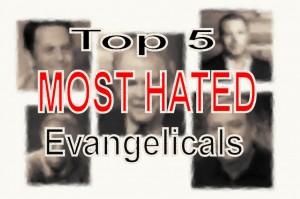 When your motto is "love" and "tolerance," vitriol is unbecoming. Nevertheless, my progressive friends seem to inch ever closer to the ledge they decry. I mean, how else can you explain the 24/7 policing of Evangelicals? It used to be that the progressive community's Evangelical bogies received equal insults, er, critique.  But as of late, I've detected a shift in the Hate Machine's nastiness. In reverse order of loathing…
5.) Rick Warren — Forced to back off of their Warren bashing after the tragic suicide of his son, his Purpose-Driven empire and support for traditional marriage keeps this pastor in the Top 5.
4.) Pat Robertson — Robertson's become Evangelicalism's version of Ron Paul, outrageous, senile, and eminently cuddly. He remains the go-to meanie on slow news days.
3.) John Piper — As the default rep for the singularly most hated belief system by religious progressives and "Satanic theology,"  Piper garners special surveillance from the AEHM command center. His  infatuation with tornadoes doesn't help.
2.) Kirk Cameron — Cameron appears Unstoppable, edging out Piper on "celebrity" alone. As an (almost) Millennial, the actor / filmmaker infringes on the demographic progressives most covet.
1.) Mark Driscoll — The new poster boy for Evangelical hate, misogyny, bigotry, theological rigidity, parental abuse, authoritarianism, and phony hipsterism.
Driscoll has been inching his way into the coveted "Most Hated Evangelical" spot for some time. Now it appears Pastor Mark is in the bullseye of those loving, tolerant religious progressives. How else can you explain the rabid attention he receives? Like this popular blogger who Tweets that Driscoll's new book "really is nothing but life-choking legalism." Or this author / blogger who "innocently" asked "Is Mars Hill Church on the decline?" to which one commenter responded, "We can only hope and pray…" Not only does this FB page regularly update Driscoll's every move, the author even has a FakeDriscoll Twitter account. Over at Patheos Progressive, this fella just came right out and admitted I Hate Loving Mark Driscoll. And then there's the signature Fuck No Mark Driscoll website.
With this kind of preoccupation loving concern, Driscoll should remain comfortably ensconced in the number one spot. At least until the next tornado.