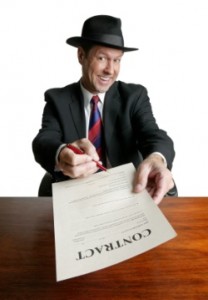 After the recent ACFW conference, several writer friends posted "praise reports" about having acquired an agent. For traditionalists like me, acquiring an agent is a big deal. Upon completing my first novel back in '05 /'06, I immediately set out querying agents far and wide. Now, almost a decade later, things have changed, both for the place of agents in the publishing industry and me personally. Frankly, seeing the glee of these newly-agented authors, I can only shake my head and smile knowingly. If they only knew how tenuous and unpredictable the world of author / agent relationships can be.
Please don't misinterpret this as me downplaying literary agents. Or dissing them. It's just, the longer I've conversed with writers, the more I've realized that getting an agent is hardly a slam-dunk for your career. Sure, agents CAN get your book into places you can't. They can provide sound career advice and, if all goes well, land a lucrative contract for the both of you. However, sometimes agents can be a drag, a source of headaches and perpetual frustration.
I've had three significant "agent experiences," which I'd like to share with you.
The Agent Who Just Didn't Feel Right. The first literary agent who was ever interested in me was a local, meaning they were in the LA area. I'd sent out queries far and wide, and they requested my full manuscript. A week later, they contacted me about meeting for dinner and offered to represent me. It was my first ever face-to-face with an agent. I was nervous and very excited. Their agency was mid-level, with only one or two "big name" authors. Their spouse attended the dinner and we had a cordial conversation over pasta. Yet something didn't sit right with me. I didn't feel like we… clicked.  For a newbie author shopping for agents, turning down offers is a bit of a risk. But that's what I did — I politely declined representation.
The Agent Who Couldn't Get My Stuff Sold. After a few more rounds of rejections, I was signed by a well-known CBA agent. They shopped my first novel, mostly in the CBA. It seemed to take forever. Long stretches of nothing, followed by glimmers of hope, soon dashed by rejection. The agent finally admitted the manuscript was not CBA-friendly and had been everywhere. And they had limited ABA connections. Nevertheless, we decided to go there. Surprisingly, a large NY house took interest. After years of nothing, I was elated. The novel went to committee. We held our breath. And… they passed on it. It was a HUGE let-down. Felt like years of work just evaporated. My agent admitted they had exhausted all their connections. We agreed to part ways. Was it me? Was it my agent? Was it my book? Did it matter?
The Agent Who I'm Still Getting to Know. After a month of depression and self-pity, I dragged myself out of the pit and started submitting the book myself. And… I landed a two-book contract. Heh. But I was agent-less. Did that matter? Many would say "no." But I thought / think it does. Having a two-book contract in hand while shopping for agents doesn't suck. So I contacted an agent I knew and we agreed to terms. (I wrote in detail about how I got my agent HERE. ) We've been together since 2010 and just now things are getting interesting. My two-book contract obligation is fulfilled and I'm on to new projects. Technically, my current agent hasn't sold anything of mine, which makes these new projects important in light of our relationship. Thus far, I'm very happy with my agent. But in between us now are two books which, I suppose, will play a part in our relationship.
So you see what I mean about the "agent thing" being a bit of a journey. Heck, one of the authors in my writing group is on her fourth agent. Along the way, some agents moved too slow. Some gave her bad editorial advice. And some just didn't have enough market connections. Point is, there's a lot of different factors that make an author / agent relationship work.
There should be a handbook for authors and agents. You know, something like:
"Getting to Know Your Agent"
or
"Ten Things Your Authors Need from You."
From my perspective, most authors aren't clear about how and when to approach their agents. Conversely, many agents aren't clear on how they want approached by clients. This often leads to frustrations on both ends. There's the high-need client who wants to know every detail about every submission and needs consolation after every rejection. Then there's those who turn over their manuscript, never hear from the agent, and never follow-up because they don't want to be a bug. Listen,  your agent can't read your mind. If you have concerns, then tell them. And agents, your clients want to know they and their projects have not been shelved, abandoned, or buried under more "profitable" clients.
Anyway, my encouragement to newly-agented authors is to temper your expectations. Ask your agent what they expect your relationship to look like. Are you free to text them? Can you call them at any time? How much contact is too much? How much contact is not enough? Do you want them to contact you with every rejection? Maybe it's better to not hear from them until something blips the radar. Pick their brain about the state of the industry. Let them know what you're doing to grow as a writer and expand your platform. If you feel like you're slipping through the cracks, tell them. But please, don't be that client who leeches life and time from an already busy professional who represents a lot of other writers.
So go ahead and celebrate signing with your first agent! Just know that this writing journey can be long and rather treacherous. And, unless you've signed in blood, your relationship with an agent will always be evolving.
Do you have any "agent tales"? If you have / had an agent/s, what are some of the things you've learned along the way about navigating the relationship?