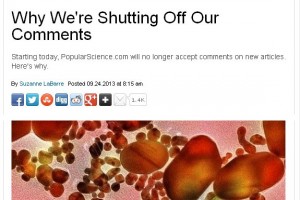 Apparently, the best way to maintain "popular consensus" is to shut dissenters up. At least, that's the sense I got after reading why Popular Science announced it was shutting off comments.
Comments can be bad for science. That's why, here at PopularScience.com, we're shutting them off.
Comments can be bad for… huh?
Citing a study from the University of Wisconsin that shows readers exposed to rude or insulting comments reported a slanted view of the information they read in the article, PopSci concludes:
…even a fractious minority wields enough power to skew a reader's perception of a story.
And Lord knows we mustn't skew a reader's perception of a story. Especially when those "stories" are a not-so-veiled attempt to "scientifically" justify abortion rights or charge Republicans with "fearing science"? Why, how dare commenters call out the emperor's nakedness!
Now, what's good for science is to keep that "fractious minority" from skewing "a reader's perception" of the real stories. And who determines the real stories? Why, the experts, of course! And apparently that's what science is now about: Getting people to shut up and believe "the experts."
But where would science be without a "fractious minority"? You know, "crackpots" like Galileo, Newton, and Copernicus, who prodded the status quo. Apparently, "popular science" is aiming for an echo chamber not a think tank.
So allowing public comments has "eroded the popular consensus." And we all know how important maintaining "public consensus" is to the elites.
A politically motivated, decades-long war on expertise has eroded the popular consensus on a wide variety of scientifically validated topics. Everything, from evolution to the origins of climate change, is mistakenly up for grabs again. Scientific certainty is just another thing for two people to "debate" on television. And because comments sections tend to be a grotesque reflection of the media culture surrounding them, the cynical work of undermining bedrock scientific doctrine is now being done beneath our own stories, within a website devoted to championing science.
So this is the "evidence-based" justification for stifling pro-lifers and "climate deniers," er, trolls? Besides, when did issues like "evolution" and "climate change" become infallible? I must have missed that coronation. And if there's really a "politically motivated, decades-long war on expertise," are we to believe those who possess said expertise are apolitical?
But the following phrase is the one that turned me utterly "fractious" — "Scientific certainty."
Is there such a thing?
I mean, what is the "evidence" for "scientific certainty"? Can we really be "certain" of the accuracy of our cognitive faculties and an unbiased interpretation of data? Is "scientific certainty" scientifically provable? How can it be? You can't use the scientific method to prove the scientific method is flawless. Using science to prove that science is reliable is circular. Which leaves plenty of room for error and uncertainty.
Perhaps questioning the certainty of science's "public consensus" is actually the more reasonable way to go.
Then again, I'm a non-expert.
Oh, well. Maybe they're right. Popular science only works when YOU shut up.