The Secret Thoughts of an Unlikely Convert remains one of the best books I've read this year. The author, Rosario Butterfield went from being a professor in Syracuse University's Women's Studies Department, an English major specializing in Critical Theory,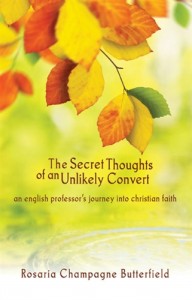 particularly Queer Theory, a practicing lesbian, a political activist and outspoken advocate for numerous gay and lesbian causes, and a "tenured radical," to being a Christian, heterosexual, married, mother of multiple adoptees and foster children, and pastor's wife. It's quite an incredible testimony.
One of the things I enjoyed about Butterfield's testimony was its open-endedness. There was no simple answer as to how she went from one cultural, ideological, spiritual extreme to the other. Furthermore, this isn't an anti-gay tract. In fact, Butterfield  is clear about the rich relationships she shared inside the gay and lesbian community, and the heartbreak of having to distance herself from them.
Apparently, those on both sides of the aisle have taken some issue with this book. On the one hand are evangelicals who believe Butterfield does not distance herself enough from the LGBT community. On the other sides are those who dispute her conversion as a legitimate "reverse conversion" story.
In his post, Rosario Butterfield is fighting the good fight, Denny Burk noted some of the predictable backlash:
Recently, [Butterfield] spoke on the campus of the University of South Florida, and her reception was less than warm. Before she even spoke, one student editorialized in the campus newspaper what seems to be an all-too-common point of view among the emerging generation:

It is hard to believe that a university with as much diversity as USF would allow such a backward speaker to engage students with a message that could have real harm on students' well-being… If the university would not allow a racist preacher on stage and say black students are sinful, then it should not allow someone who will preach homosexuality is sinful.


…protesters came to the event and made their presence known. The campus newspaper reports:

As Rosaria Butterfield began her lecture about her journey and "train wreck conversion" from a lesbian professor to a Christian, a pastor's wife and mother of four, nine students in the front row of the audience stood up silently, took off their jackets, turned their backs to Butterfield and linked arms in front of a packed Oval Theater guarded by two University Police officers and two security officers.


Their white T-shirts revealed hand-written messages:


"Rosario Butterfield does not speak for us."


"LOVE."


"USF is 4 hate speech."


The nine remained standing silently throughout the two-hour lecture, in which Butterfield shared her story and love for the Bible.

What fascinates me most about this is Butterfield's insistence that she is not, in her own words, "a poster child for gay conversion." In her book, she speaks about "sexual sin," pointing out that her struggle to overcome her was no different from anyone else's struggle to overcome any sin. Her speaking engagements are anything but anti-gay rants. Nevertheless, she is viewed as a threat.
But why?
If you haven't read The Secret Thoughts of an Unlikely Convert, I highly recommend the book.