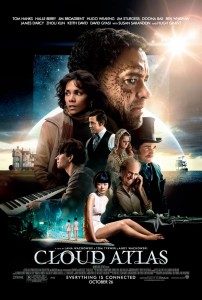 Two big-budget films have become the cornerstone of a developing theorem of mine: Philosophical meaninglessness can be deceptively beautiful. Those two films are Cloud Atlas and the Life of Pi, both of which left me with the same take-away — visually-impressive nonsense.
Of course, there were many who saw the films as profound, deep, and triumphant. Over at Tor.com, one contributor reflects on  Cloud Atlas One Year Later: Why 2012's Biggest Flop is Also its Biggest Triumph. The author does not appear concerned about restraining himself:
I adore Cloud Atlas. It's huge, smart, ambitious, profound—everything a Hollywood film ought to be. And I'm not alone in saying so. The movie received a ten-minute standing ovation at its premiere at the Toronto Film Festival—a sign that the filmmakers had created something very special. Only later did the negative buzz begin. But those movie-goers who enjoyed Cloud Atlas didn't just like it—they loved it, passionately. Some have even called this film a masterpiece.
A "ten-minute standing ovation"? Really?
The book's author believed it could never be made into a movie because of its unique narrative structure, which interwove six storylines over centuries of time. Props to the Wachowski siblings for taking up the challenge, much of which they pull off. I mean, the film looks fantastic. What made Cloud Atlas not work for me was not the multiple threads and non-linear narrative. One was Tom Hanks.
i09's Is Cloud Atlas an unholy mess or a brilliant masterpiece? Yes, sums up my impression about Tom Hanks' role in the film:
…the strangest thing in the film might be Tom Hanks, who delivers one of the most balls-out-the-window performances I've seen in a long time. William Shatner will watch the way Hanks delivers lines like, "The weak are meat, and the strong do eat," and feel a deep sense of inadequacy. And playing a post-apocalyptic tribesman, Hanks aims for the cheap seats in a different way. Hanks seems to have decided this is his chance to prove that he's capable of being just as bonkers as Johnny Depp.
But Hanks' parts (he plays multiple characters, as do the rest of the cast) in the film was not nearly as infuriating to me as was the philosophical noodling going on. It's not only unclear what the movie is about, the narrative style seems to intentionally obfuscate any possible clarity.
In speculating about the meaning of Cloud Atlas, this Slate contributor sums up six possible themes. One is "reincarnation" and the evolution of a soul over time. Reincarnation, as a major theme, carries its own philosophical baggage, most notably (1) Where did the soul originate and (2) Who / What determines the object of its evolution. Under the heading of "Good vs. Evil" (which would be filed under #2) the writer points out that "evil" in Cloud Atlas is portrayed as a "force of conservatism… and oppression," while
The third is a force of good who can see beyond superficial differences of race, sexual orientation, and genetic engineering.
And everyone knows that "good" is seeing "beyond superficial differences of race, sexual orientation, and genetic engineering."
At the end of the film, rather than reveling in Cloud Atlas' sublimity, I was left scratching my head. While the graphics, sets, and soundtrack were awesome, the overall point was incoherent. Which is why this Forbes' reviewer who called it a Noble Disaster.
It is true that ambiguity is something that all stories about the Big Universal Questions must ultimately embrace. Some films, like Ridley Scott's clumsy sci-fi epic Prometheus, use this as a shield; the fact that there are no answers to these philosophical yearnings makes them thematically bullet-proof to those who wish to find the answers in the story.

Some will call Cloud Atlas spiritually profound, and others will call it disjointed and pretentious. I think it is a bit of both. It will inspire vigorous debate among its fans and detractors, and while I am certainly in the latter category, I cannot condemn it in the manner that I, and many others, have condemned Prometheus. Although executed badly, the intentions of Cloud Atlas are pure, and its failure noble.
In many ways, Cloud Atlas is the cinematic equivalent of the riddle: What's the sound of one hand clapping? In the case of the film or the riddle, any answer is voided. The underlying assumption is that "the Big Universal Questions" have "no answers," making the books or films that pose them "thematically bullet-proof." All that's left for the artist is to be technically proficient, which in this case means throwing lots of fancy CGI effects at the screen, and she can be as morally and philosophically nebulous as she wants.
Who cares if it makes sense when it looks good.
The Life of Pi suffers a similar fate. While the film is one of the most impressive visual experiences I've had since Avatar, the ultimate meaning of the story is more smoke and mirrors. That is, if you can see through the philosophical gobbledygook to unearth a meaning.
A story that claims it will "make you believe in God" has a disadvantage from the get-go. Life of Pi traces the journey of its title character from India, across the Pacific Ocean, to Canada. Retelling his story to a struggling author who hopes to be inspired and "believe in God," Pi becomes a posterboy for the Coexist movement. Born as a Hindu, who loves Jesus and practices Islam, the inevitable conclusion drawn from the protag's search is equally a mish-mash. After Pi recounts his epic tale of survival adrift in a lifeboat with a Bengal tiger, the author expresses skepticism. To which Pi recounts an alternate, far more believable version of the same events. The film concludes as Pi poses a question to his dubious listener: "Which version do you prefer?" followed by the comment, "So it goes with God."
Huh? At that point, it took great restraint to not hurl my beer mug through the big screen.
Life of Pi tows the postmodern line and places all religions on the same footing, as if Hinduism, Islam, and Christianity don't contradict one another and make exclusive claims. This absurdism is essentially what diminishes the spiritual and philosophical gravitas of the film and becomes insulting of the very religions it proposes to celebrate. The film "invites you to believe in all kinds of marvelous things," says the New York Times, but "leaves you wondering if you saw anything at all." On the contrary, what I "saw" was quite impressive. The Life of Pi contains some of the most exquisite visuals you'll ever see. However, it is precisely these effects that make the film disappointing.
Like Cloud Atlas, the Life of Pi is aesthetically fulfilling and philosophically vapid.
Everyone knows, the more thoughtful and "deep" you are, the more meaning you can extract from seeming nonsense. Apparently, filmmakers are compensating. Only now they can bury their pseudo-intellectual nonsense behind layers of makeup, matte paintings, digital vistas, and cinematic beauty.