This may be one of the few times I agree with my atheist friends.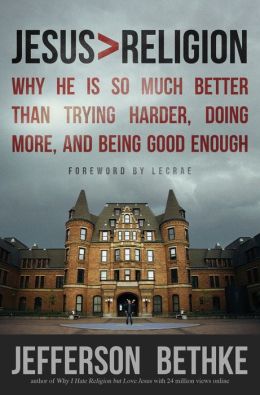 It comes in response to Jefferson's Bethke's new book, Jesus>Religion: Why He is So Much Better Than Trying Harder, Doing More, and Being Good Enough. The opening line in the Washington Post's interview with the author is simply, "Jefferson Bethke hates religion." The interview makes clear that the religion Bethke hates is "institutional" religion, not necessarily the Church or the essentials of the faith. Of course, when the interviewer asks Bethke straight up, "Is it fair to call you an evangelical Christian?" the author waffles:
"I don't know, I'm never really asked what I am so I don't know. . . I just kind of love Jesus. Obviously from this conversation you can tell I have a lot of problems with the modern evangelicalism as well so I don't know what I call myself."
As sincere as Bethke appears and as genuine as his faith may be, I'm beginning to see this approach — "I don't know… I just kind of love Jesus" — as an incarnation of the same thing:
"I hate religion, but love Jesus."
"I'm spiritual, but not religious."
"I quit Christianity, but follow Christ."
I get the ethos here. Organized religion often comes off as weird. Rules and traditions and ecclesiology confuse a simple relationship with Christ. People wrongly equate following Jesus with church attendance, membership, and rituals of inclusion. Then there's the fact that some Christians look like complete buffoons, religious history is quite bloody and divisive, and culture warriors have hijacked religion for political and social ends.
I get that.
But as Hemant Mehta, the Friendly Atheist, puts it in this video, religion and Jesus are basically the same thing.
Sure, we can quibble about the distinctives of your religion, but the fact is: You can't love Jesus and NOT be considered religious. Argue all you want that it shouldn't be this way. It IS this way. If you've "found Jesus," you've "found religion." Go ahead, dissociate yourself from the "politics" of religion, the "ceremony" of religion, the "history" of religion, whatever. When it all comes down, if you believe in a Supreme Being who created the world, that Jesus was sent by Him to die for our sins and rise from the grave; if you pray, read a holy text, and look forward to a place called Heaven, you are religious.
In this, the Friendly Atheist and I totally agree.
Bethke may not have atheists in mind whatsoever as he expounds his thesis. He may simply be seeking to remove obstacles from those entangled in religious peripherals. I hope so. However, the reason that atheists pick up on this trend to dissociate oneself from religious identification is that it appears as a move to the middle, a move toward inclusion, a move away from the absolutes that have traditionally defined Christians.
In his post on this subject, Can You Hate Religion but Love Jesus?, an apparent supporter of Bethke objected:
What Jeff was talking about, was the corruption, self-justifications, hypocrisy, violence, and other misrepresentations that comes from religion. Christianity was never meant to be a religion (but merely a relationship with our savior) but man has made it so.
To which another commenter responded with the obvious:
Do you worship a deity? Do you own a holy text? Do you attend a place of worship? That's religion.

Stop pretending words don't mean what they mean.
Memo to Jesus-lovers: You most likely "worship a deity," "own a holy text," believe Christ died for your sins, believe He rose the third day, believe in the afterlife, believe in a final judgment, believe in a moral Law, etc.  If so, you've got religion. Sorry. That's just the way it is.
The more Christians try to move to the middle and resist the label of "religion," the more they should be called out. The sad thing is when we need atheists to do it.