Mark Twain used to say that he put a cat and a dog together in a cage as an experiment, to see if they could get along. They did, so he put in a bird, pig and a goat. After a few adjustments, they too got along fine. Then he put in a Baptist, Presbyterian and a Catholic, and soon there was not a living thing left.
Schisms, divisions, disputes, and conflict are often seen as evidence of the flaws of Christianity. And there are many to choose from:
Catholicism vs. Protestantism
Cessationism vs. Continuationism
Egalitarianism vs. Complementarianism
Dispensationalism vs. Covenant theology
Old earth creationistm vs. Young earth creationistm
Historical grammatical hermeneutic vs. Allegorical / Rhetorical interpretation
If you follow social media, you're bound to see professing Christians duking it out about some point of doctrine or social issue. Whether it's John MacArthur insinuating Charismatics are heretics, Tony Jones calling for schism regarding the ordination of women, or Ken Ham stating that "the god of an old earth… cannot be the God of the Bible," there's plenty to corroborate Twain's thesis.
But is this evidence of the Church's unwellness, failure, or irrelevance?
One of the things I attempt to argue for in my new non-fiction fiction project, which is tentatively entitled How I Survived the Church without Losing My Faith (you can read the Preface HERE), is that doctrinal and denominational squabbles are not just a necessary part of the Church, they are part of our glory.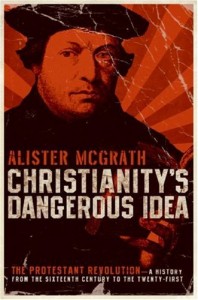 In his book, Christianity's Dangerous Idea, Alister McGrath opens:
"The dangerous new idea, firmly embodied at the heart of the Protestant revolution, was that all Christians have the right to interpret the Bible for themselves. However, it ultimately proved uncontrollable, spawning developments that few at the time could have envisaged or predicted. The great convulsions of the early sixteenth century that historians now call 'the Reformation' introduced into the history of Christianity a dangerous new idea that gave rise to an unparalleled degree of creativity and growth, on the one hand, while on the other causing new tensions and debates that, by their very nature, probably lie beyond resolution. The development of Protestantism as a major religious force in the world has been shaped decisively by the creative tensions emerging from this principle." (pg. 2; bold mine)
The empowerment of the individual, as opposed to an hierarchical religious or political order, "to interpret the Bible for themselves," is at the heart of most religious "tensions and debates." But this is a good thing, isn't it? Of course, it's possible to agree with the position or creed of a denomination or religious order without relinquishing your God-given autonomy. Church membership or doctrinal affiliation is not necessarily evidence that you've left the thinking up to someone else. Nor is it evidence of marching in lockstep with every detail of creedal minutia. I agree with the Catholic church's position on the Deity of Christ for the same reason I disagree with their position on the infallibility of the Pope — by studying the Bible for myself.
The problem is when the appeal for "unity" overrides necessary "creative tensions."
In his book Churches That Abuse, Dr. Ronald Enroth, a leading scholar on cults and cultism, lists nine marks of an abusive church.  According to Enroth, one of the characteristics of a cult and/or abusive religious group is:
Disagreeing with the group or leader's interpretation of Scripture is discouraged. Unity is framed as uniformity. Or as Enroth writes, "questioning the leader is the equivalent of questioning God." In this way, the "creative tensions" let loose by Protestantism's "dangerous idea" is squelched in favor of artificial accord.
Of course, we must distinguish between heresy and simple diversity. There's a point at which "Big Tent" Christianity can become so big it's a broad road that leads to destruction (Matt. 7:13) and "Open Table" communion becomes little more than a spiritual orgy. But being too quick to cry "heretic!" has its down-side too. After all, Jesus was quite the blasphemer according to religious bigshots of His era.  So it's no wonder that Martin Luther was excommunicated and branded a heretic.
Point is, doctrinal and denominational squabbles, provided they are not comporting heresy into the camp, are necessarily a part of a healthy, http://healthhorizonnow.com/. In fact, creating space for spin-offs, readjustments, disagreements, altercations, and punchy debates may be proof that things are working like they should. As McGrath puts it:
"By its very nature, Protestantism has created space for entrepreneurial individuals to redirect and redefine Christianity. It was a dangerous idea, yet is was an understanding of the essence of the Christian faith that possessed an unprecedented capacity to adapt to local circumstances. From the outset, Protestantism was a religion designed for global adaptation and transplantation." (pg. 4; bold mine)
Of course, "They will know we are Christians by our love." But perhaps they will also know we are Christians by the production of "entrepreneurial individuals [who can] redirect and redefine Christianity." Call them "heretics" if you like. Some probably are! But the only other recourse is to re-institute religious tribunals and popes to tell us what our Bibles say… if not take our Bible away from us for good.
A "dangerous idea"? Indeed! And one we do well to cultivate.