An odd sentiment has arisen among many professing Christians that alleges it is misguided, unwise, even judgmental, to tell a non-Christian they are sinning or to refer to a certain lifestyle as sinful. Rather we should offer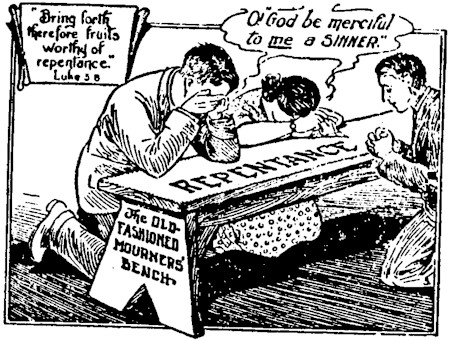 hope and grace, and not try to shame others into the kingdom. 
For sure, there is wisdom in such an approach. The Bible is clear that nitpicking others' faults and faux pas, much less issuing citations for conduct unapproved turns us into the worst kind of creature. Nevertheless, there is equal error in tip-toeing around what is at the heart of Gospel — that we are all, every single one of us, sinners.
So why the hesitancy to tell it like it is?
Jesus did not come to save people from social injustice, bad religion, or errors in judgment. As the angel said to Joseph, "[Mary] will give birth to a son, and you are to give him the name Jesus, because he will save his people from their sins"  (Matt. 1:20-22). Social injustice, bad religion, and errors in judgment are undoubtedly some of the things the Savior has come to save us from. But their root is the same — sin.
Perhaps there should be hesitancy to call a specific sin, "sin." I mean, sure, the Bible says fornication is a sin. But my unbelieving, unmarried, fornicating neighbors need more than just to be told to stop slamming the jam. They need something more extensive than a checklist of sins to stifle. They need to recognize their condition. They are sinners.
Is it my job to tell them that? Well, yeah. Of course, this doesn't mean I should steer every conversation toward the subject or spew condemnatory Bible verses every time I get a chance. But how else can we proclaim the wonderful, hopeful, gracious news that Christ came to save us from our sins if we avoid the subject of… sin? That's like trying to rescue a drowning man who disbelieves in water. Part of his deliverance will, indeed, be the recognition that H2O is real and too much of it in ones lungs can be terminal.
I could be mistaken about this, but Christians who hedge at gently, lovingly, but forthrightly calling sin, "sin," do so for two equally errant reasons:
They conflate labeling sin as being judgmental.
They actually don't believe certain acts are sins.
By way of experiment,  just ask one of your Christian friends who supports gay marriage this simple question: Is homosexuality a sin? And watch them tap dance. Nowadays, trying to get a straight answer to that question is impossible³.  Of course, there is nuance, particulars, prejudices, and other complicated stuff that comes into play when making such assessments. But the same folks who obfuscate in affirming the sinfulness and abnormality of same-sex unions will have little problem calling you on the carpet for your vile judgmentalism.
In this way, it's become a sin to call sin, "sin." We've chucked the revivalist's mourner's bench in favor of the therapist's couch. We've swapped contrition with the celebration of boundless individuality. We've rewritten the Seven Deadly Sins to accommodate our own vices. Nowadays, there is no need for repentance. For without sin, what am I repenting from? In this culture, the only real sin is the barbaric concept of sin itself.
Meanwhile, our friends and loved ones are drowning in something they don't believe in.
As Philip Yancey suggested, there are only two types of people in the world, sinners who admit it and sinners who don't. Which places the recognition of sin, the conviction of sin, the remorse for sin, and the embrace of God's cure for sin, as the eternal dividing line.
Jesus was called the friend of sinners (Matt. 11:18-20). Apparently, the Gospel writers had no qualms about calling a spade a spade. Like Christ, we are to befriend sinners. Course, we needn't call them such. But they are. And dancing around their real condition — or ours for that matter — doesn't help anyone.