I recently spoke to a pastor friend who moved from Southern California to Oregon. One of the things he lamented was the lack of racial diversity in his area. His current church is made up of approximately 90 to 95% whites. That demographic sampling is consistent with
the church's style of ministry, and
the location of the church
My question: Is this a bad thing?
Many seem to think it is.
In SoCal, you kind of get used to racial diversity. My city's current demographics are roughly 40% white, 40% Hispanic, and 10% black. I work in a shop comprised of 3 whites, 6 Hispanics, and 1 black. The church I attend is tilted more toward the "white" spectrum, probably along the lines of 60-70% white, 30-35% Hispanic, and 5-10% Other.
Would my pastor like to see more diversity? I'm pretty sure he would. Apparently, this is true of most pastors.
Some recent research conducted by Lifeway noted that Racial Diversity at Church is More Dream Than Reality. Here's the accompanying graph: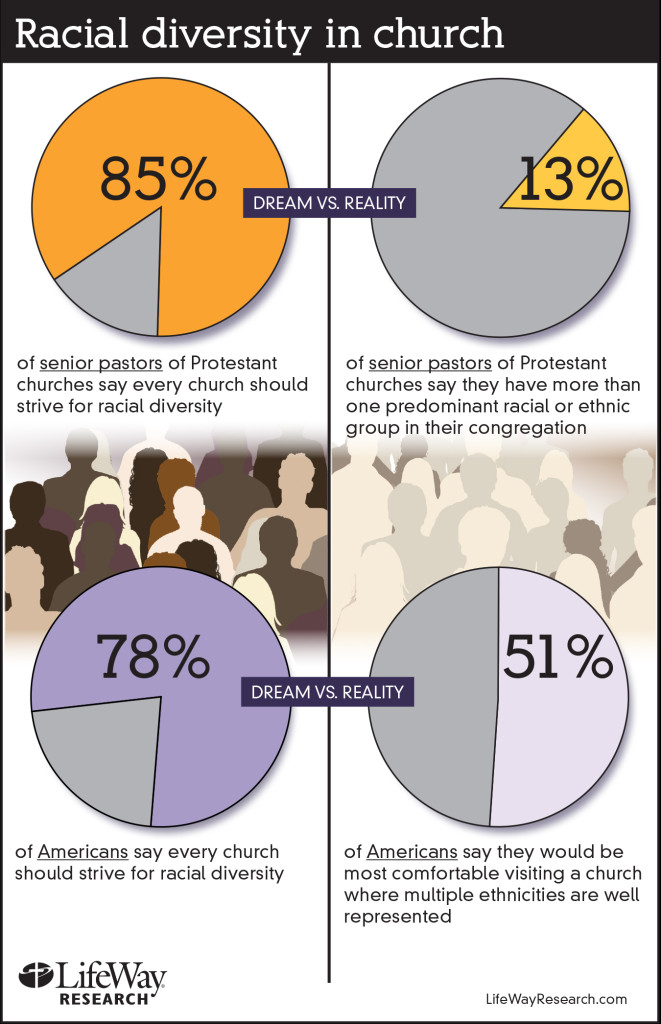 Many theories are floated as to why Christians congregations are NOT very multiethnic. In the article, one minister suggested that "if pastors want a diverse congregation, they need to change their sermons." Some suggest it's simply an inherent fear, that "many don't want to be around people who are different." Either way, the consensus is that pastors are more aware of the need for diversity in their churches, and looking for increased ways to expand that diversity.
Which leads to stories like the one that follows.
A large church was hiring for a worship leader. I knew someone who was on staff at that church. The church fairly accurately represented the demographics of its location: 50% white, 35-40% Hispanic, 10% black. Something around that. However, this staff member confided in me that the pastor was preferably seeking to hire a black worship leader. The reason was diversity. He was trying to expand the church's appeal to blacks by hiring a black worship leader.
This strikes me as weird.
But how else can you change the ethnic diversity of a church without putting minorities in prominent leadership positions? How else can you change the multiethnic appeal of a church without hiring quotas?
My wife and I have attended several Pentecostal churches in our lifetime. I have a great fondness for Pentecostals. However, we are always in the racial minority. This doesn't bother me. This doesn't bother me in the least. I have no need to suggest that the local Pentecostal church hires a white worship leader to attract people like me. And if they did, I would be suspicious.
I believe there is a time for hiring quotas. The NFL's Rooney Rule is a good thing… for the NFL. However, diversity should be intrinsic to a church. By that I mean, Galations 3:28. No one is inferior or second-class in God's Family. There is, or should be, spiritual equality across the board — demographically speaking.
But just like any extended family, the Family of God will have its unique demographic niches, edges, quirks, and communities. This isn't a bad thing. Even the heavenly throng mentioned in the Book of Revelation is cataloged by its differences:
"…a great multitude that no one could count, from every nation, tribe, people and language" (Rev. 7:9)
Christians, no matter of what "nation, tribe, people and language," share the same Spirit. The same Father. The same Lord. And eventually, the same house. This doesn't, however, negate the cultural, linguistic, and ethnic peculiarities which demarcate them on earth.
My theory is this: It's totally possible to be free of racial bias and cultural insensitivities and still prefer to worship a certain way, within a certain tradition, with similar, likeminded people. Can this preference lead to racial and multiethnic blindspots? Absolutely. And where that exists, it should be dealt with. Can it lead to a lack of diversity in your church body? Yep.  But there's a big difference between a church that is actively antagonistic or subconsciously intolerant of other races or demographic groups, and one that simply attracts spiritually and culturally similar, like-minded believers.
Your thoughts?