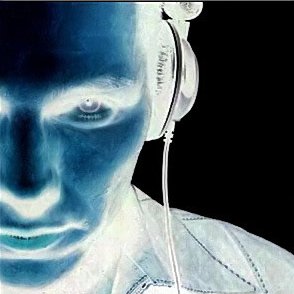 Aleister Crowley played a significant part in my conversion.
Sort of.
Back in the late 70s, a group of high school buddies began to uncover bizarre occult themes in rock music. We weren't fueled by rabid preachers denouncing backward masking. This was much less subliminal. Lead guitarist for the band Led Zeppelin, Jimmy Paige, was known to have a fascination with the black arts. Not only did he own an occult bookstore, he purchased Aleister Crowley's Boleskine House, on the shores of the Loch Ness. Crowley was considered one of the foremost practitioners of the magical arts in the world. He fancied himself as the Beast of the Book of the Revelations, the antichrist, performed sex magic, invoked spirits, condoned human and animal sacrifice, and referred to himself as the most evil man in the world. So what interest would one of the best guitarists in the world have with a Black Magician?
To make a long story short, the more I researched, the more I learned of Crowley's influence on many rock musicians and pop cultural icons of the era. The connections did not seem coincidental. No, I wasn't about to confess that rock music was of the devil. But it did cause me to concede  that occultism had significant influence on musicians and their music.
I was reminded of this by Katy Perry during the 2014 Grammy awards. Christian Today's headline described it this way: Katy Perry Grammy Awards 'Dark Horse' performance shows singer's rejection of childhood Christian Values; Witchcraft, satanic symbolism completes transition from Gospel singer roots. From the article:
Pop star Katy Perry's performance of "Dark Horse" during the 2014 Grammy Awards on Sunday evening has shocked some fans as it displayed dark satanic imagery, including witchcraft and demons.

Perry was dressed as a witch and wore a Knights of Templar cross across her chest during the performance. She also pole-danced on a broom, and was finally burned at the stake towards the end of her controversial ensemble on the awards show, which is watched by families across the world.

The singer's dark performance shocked many, even prompting E! News to tweet: "Um, did we just witness actual witchcraft during Katy Perry's #Grammys performance?"
Is this just a case of Christians overreacting? It wouldn't be the first time. I mean, was the singer intentionally employing "satanic symbolism" as a way to renounce her childhood Christian values? Or was this simply a performance that we shouldn't read too much into?
Apparently, it's not the Grammy's first intersection with occultism. For instance, last year International Business Times  wrote 2013 Grammy Illuminati Rumors: Were Rihanna, Beyonce & Jay-Z Repping The Occult? The article is pure tabloid TMZ. But does that immediately discredit the charges that the musicians were "repping the occult"? Frankly, I'm not sure.
Then, n a less sensationalistic note, the American Dream dug a little deeper with The Jay-Z Illuminati Conspiracy: Are Beyonce And Jay-Z Seducing Our Kids Into The Occult?
Why are Jay-Z, Beyonce and many of the other artists that they work with (such as Rihanna) so obsessed with the Illuminati?  Why does Illumunati symbolism constantly show up in their music videos, their live performances and even in Jay-Z's Rocawear clothing line?  Is it just a coincidence that they flash hand signs representing the all-seeing eye of Horus and the Mark of the Beast during nationally televised events?  If it was a one time thing, perhaps you could dismiss their behavior as a coincidence or as a publicity stunt.  Sadly, the truth is that there is no way that all of this occult symbolism could get into their music videos and live performances by accident.  There is an agenda at work here. (bold mine)
All this conspiratorial jargon makes me itchy.
But can the charges be dismissed that easily? Especially when you have NPR, a (slightly) more credible source, describing JayZ as A Master of Occult Wisdom. Which brings us 'round to Mr. Crowley:
In the making-of video for "Run This Town," [Jay-Z is] pictured wearing a sweatshirt with the phrase "do what thou wilt" printed across the chest.

"Yes, that has very deep roots in modern occult culture," [Mitch] Horowitz [author of Occult America] says. "The full expression is 'Do what thou wilt shall be the whole of the Law.' That was one of the key maxims of the British occultist Aleister Crowley. So when Jay-Z appears in a hoodie with that phrase on it in public, that's exactly what he's referencing."
Apparently the reference to Aleister Crowley was not just a one time thing for Jay-Z. The rapper, and other celebrities, have been linked to a Luciferian organization that Crowley founded known as Ordo Templi Orientis.
The Daily Mail's Forget Scientology, celebs are now falling for an even more sinister 'religion': Introducing the Satanic sex cult that's snaring stars such as Peaches Geldof continues to unspool the thread:
…when Peaches Geldof chose to share her 'religious' convictions with her 148,000 followers on Twitter, it lifted the lid on a much more sinister world than first impressions would suggest.

The socialite, 24, is a devotee of Ordo Templi Orientis, known as OTO, and even has the initials tattooed on her left forearm.

But a closer look at OTO — and Aleister Crowley, its founding 'prophet' — gives the lie to that assumption.

Crowley, who was born into an upper-class British family in 1875, styled himself as 'the Great Beast 666'. He was an unabashed occultist who, prior to his death in 1947, revelled in his infamy as 'the wickedest man in the world'.

His form of worship involved sadomasochistic sex rituals with men and women, spells which he claimed could raise malevolent gods and the use of hard drugs, including opium, cocaine, heroin and mescaline.

Crowley's motto — perpetuated by OTO — was 'do what thou wilt'. And it is this individualistic approach that has led to a lasting fascination among artists and celebrities, of whom Peaches is the latest in a long line.
Once again, this type of stuff can be fodder for conspiratorial nuts and alarmist Christians looking for demons under every bush. But my question is relatively simple: Can we dismiss such connections between occultists and contemporary music / musicians that easily?
Sure. Katy Perry may have been been simply putting on a performance. But when it comes to "satanic symbolism" and "witchcraft," when does one cross the line from "performing" to actually engaging in the occult?
I'm not sure what you make of these things, but as one who was ensnared in the occult by means of music, I am hesitant to view reports like these as simply reactionary tabloid fodder.