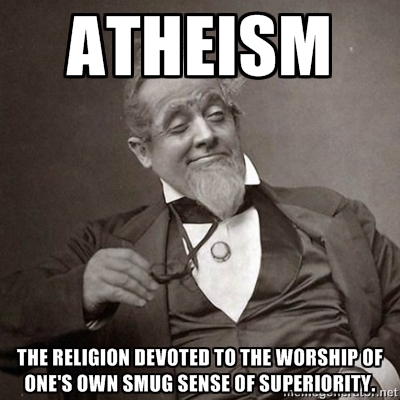 Lots of talk about "privilege" lately. You know, that "invisible right or immunity granted to particular persons or groups." Of course, it's mostly charged to straight, white, males. But the list is really quite extensive. (Did you know you may suffer from Average-Sized Person Privilege, Upper-Class Privilege or Non-Trans Privilege?)
So I was a bit surprised when a writer for the Guardian suggested a new one — Atheist Privilege. Pondering how drug addicts and prostitutes challenged his atheism, Chris Arnade asked:
Perhaps atheism is an intellectual luxury for the wealthy
Wealth and affluence affords all kinds of privileges. Apparently, one such privilege is the intellectual luxury to not have to believe in or comply with a Deity.
Arnade's observation arose after leaving his Wall Street job and spending several years photographing homeless addicts in the South Bronx. After observing the simple, heartfelt faith of so many of these addicts, Arnade was forced to conclude that maybe his atheist bubble needed bursting.
In these last three years, out from behind my computers, I have been reminded that life is not rational and that everyone makes mistakes. Or, in Biblical terms, we are all sinners.

We are all sinners. On the streets the addicts, with their daily battles and proximity to death, have come to understand this viscerally. Many successful people don't. Their sense of entitlement and emotional distance has numbed their understanding of our fallibility.

Soon I saw my atheism for what it is: an intellectual belief most accessible to those who have done well.
Perhaps "affluenza" is real after all. Only in this case, the malady of prosperity helps you escape the "prison of belief" rather than the electric chair.
It shouldn't be a surprise that studies of Irreligion in the United States have noticed this odd demographic of the atheist population:
"[t]hey tend to be more educated, more affluent and more likely to be male and unmarried than those with active faith"
Talk about entitlement! Education. Affluence. Male. Single. Compound this with the fact that atheists are predominantly white, and you've got a screaming need for a new privilege checklist. So how 'bout I kick one off.
ATHEIST PRIVILEGE CHECKLIST
I provide my own "daily bread."
I can be sure that my innate intelligence, talent, work ethic, genetic superiority, and honesty has resulted in my grasp of the truth.
I can be sure that those who do not share my non-beliefs are inferior to me.
I can be confident that beliefs other than mine lead mostly to misery, prejudice, poverty, discrimination, and wholesale ignorance.
I can be confident, when participating in groups of like-minded individuals, to find people of my race, gender, education and income level well-represented.
I can turn on the television, go to the movies, surf the web, or open up the front page of the paper and see people of my non-belief widely represented.
I can go into a bookstore and be sure to find my ideas and opinions widely represented.
I can mock religious people and be sure others will join me.
I can be sure that my children will be given curricular materials that testify to the superiority of their non-beliefs.
I can dismiss the beliefs of the world's majority without feeling guilty.
And I'm sure there's lots more.
Point is: Atheism is the "intellectual luxury" afforded the privileged. Apparently, when you don't need to acknowledge your "fallibility" and look to Heaven for your "daily bread," when you have ample access to running water, a college education, and religious liberty, you are free to deify yourself.